---
The Morning Coffee – 19 September 2014
Posted: 18 Sep 2014 07:32 PM PDT
The reading list is short this Friday morning.
The post The Morning Coffee – 19 September 2014 appeared first on The Digital Reader.
iOS8 Launch Could Ignite Apple's eBook Efforts.
Posted: 18 Sep 2014 03:16 PM PDT
Millions and millions of iPhones are expected to ship tomorrow, but as far as ebooks are concerned the major milestone happened yesterday with the launch of iOS8.
Apple recently reported selling over 800 million iDevices, and thanks to the new update the vast majority could soon be sales platforms for the gadget maker. As I reported back in June, Apple is now bundling iBooks into all iOS8 updates. This potentially gives Apple (at a conservative guess) upwards of 600 million active iBooks apps, or more than 4 times iBooks's latest estimated userbase.
I have long argued that Apple has more ebook revenues than B&N, and with the spread of iBooks that will only be more true. Apple is promoting iBooks on iOS8 with an extensive free books promotion which will include popular titles like James Patterson's Privates, Lost in Shangri-La by Mitchell Zuckoff, and The Way of Kings by Brandon Sanderson. Apple is even offering free exclusives, including a contemporary romance by Bella Andre. Apple is running their Great Free Books promotion in 30 countries in all, with titles in 9 languages.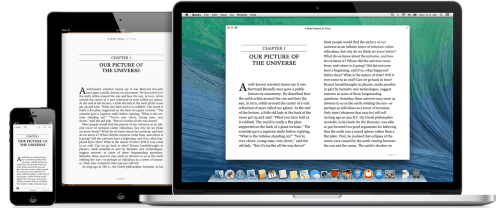 What's more, one of the new features to launch with iOS8, Family Sharing, will also help boost iBooks use. Like Amazon's recently announced Family Library, Family Sharing enables iDevice users to share purchases from iTunes and iBooks without sharing accounts. This enables parents to share apps, music, and most especially ebooks with their kids without having to also share their credit card.
As anyone who has followed the brouhaha over in-app purchases can tell you, that new level of control is very appealing to parents as well as anyone who has been asked or required to share an account.
The post iOS8 Launch Could Ignite Apple's eBook Efforts. appeared first on The Digital Reader.
Instapaper Goes Free in Time for iOS8, Adds Text-To-Speech and User Profiles
Posted: 18 Sep 2014 11:28 AM PDT
One of the best save for later reading apps got a little bit better yesterday when it was updated with quite a few new features like user profiles, TTS, an improved navigation experience, and some iOS8-exclusive goodies which could tempt some to upgrade iOS 8 users.
The new update includes:
The ability to save to Instapaper from any app in iOS8
A redesign of the "Browse" section, combining streams from The Feature, Daily, and Friends into a single feed
User profiles, give you easy access to your liked articles and connections (and can be set to public or private)
Text-to-speech, so your phone or tablet can read your articles to you.
Your most recently saved articles shown in iOS's Today section of the notification drawer
The app is free to download for both Android and iOS and can be found in Google Play and iTunes. Some features, including playlists, are only available with a paid subscription ($2.99/month or $29.99/year).
The post Instapaper Goes Free in Time for iOS8, Adds Text-To-Speech and User Profiles appeared first on The Digital Reader.
Amazon Just Conquered the Kids Tablet Market with the $150 Kindle Fire HD Kids Edition Tablet
Posted: 18 Sep 2014 10:28 AM PDT
With Kindle Freetime, Kindle Freetime Unlimited, and an investment in an ed tech startup, Amazon has long shown an interest in the footie pajama customer base. On Wednesday they targeted those customers with a new kid's tablet option.
The Kindle Fire HD Kids Edition is not so much a new tablet as it is a customized version of the Kindle Fire HD 6 or HD 7 tablets which launched Wednesday night.
This tablet has the exact same hardware as the HD 6 and HD 7, only with a few additional features. It costs $50 more than the cheapest ad-subsidized models, and in exchange for that extra cost Amazon will sell you a tablet with a thick rubber shell, a one year subscription to Kindle FreeTime Unlimited, and a two-year "we double dog dare you to break it" warranty.
This tablet will ship on 21 October, and costs $149 and $189 – a very good deal.
Amazon is not the first to release a tablet built just for kids; this market has been around for at least 4 years now. But Amazon has launched a  tablet which could dominate this market.
If I had a kid and were planning to get them a Kindle Fire, I would go for this one. Between the cost of the warranty, the year's subscription (which usually costs up to $60 itself), and the rubber shell, Amazon is offering a killer deal here. The warranty along justifies the price; SquareTrade is asking $50 on Ebay for a two-year warranty for a $100 to $150 tablet, and that is a more limited warranty.
But not everyone wants to get their kid a game and media tablet like the Kindle Fire, so it's not perfect for everyone. If I were looking for a more academically focused tablet, I would not buy this one. Instead I would look at what Fuhu had released lately, and see what names are mentioned as competitors.
Even so, I expect Amazon is going to sell bunches of the Kindle Fire HD Kids Edition.
The post Amazon Just Conquered the Kids Tablet Market with the $150 Kindle Fire HD Kids Edition Tablet appeared first on The Digital Reader.
B&N Removes Download Buttons from Website, Stranding Millions of Customers's eBooks
Posted: 18 Sep 2014 09:12 AM PDT
Reports are coming in from multiple sources today that Barnes & Noble is locking down the Nook platform.
Nook customers on MobileRead Forums and on B&N's own support forums are reporting that the download buttons for their Nook ebook purchases are no longer present in the My Nook section of the B&N website. These buttons enabled readers to download a copy of their ebook and transfer said ebook to another app or device. (While B&N is known for having mutant DRM, there are a number of apps that support it.)
Many of the reports echo this post from MobileRead:
I have a Sony, Kobo, and Nexus tablet, but not a Nook. I have purchased books from B&N in the past (mostly due to some good sale prices) and they have the books I purchased from Fictionwise there (I think it was Fictionwise. It was one of the multitude of now closed stores anyway).

It seems they have suddenly removed the "download" option from all of the books in my library.
There are numerous other reports, and I can confirm myself that the buttons are gone – for the most part.
I can't speak for other B&N customers, but I checked my Nook account and noticed that one particular subset of the ebooks in my account could still be downloaded.
While I can't download the ebooks I bought from B&N, I can download some of the titles which had been transferred to B&N when they shuttered Fictionwise. In particular, the ebooks which had been self-published through Fictionwise can still be downloaded.
I don't know why some of the buttons are missing, but I can add that I have apprised B&N of the problem and asked them to fix it. I will update this post if I receive a response.
Update: I just read on MobileRead that an official Nook Twitter account tweeted, the following, confirming that this was not a technical snafu.
@steve_in_ms We're sorry, but the ability to sideload NOOK purchased content has been discontinued. We apologize for any inconvenience

— NOOK Customer Care (@NOOK_Care) September 17, 2014
But until they say they can fix it, let's assume they can't or won't and start looking for a workaround. I'm not throwing dirt around, just suggesting that readers look out for their own interests.
One could download the ebooks o the Nook for PC app (and then strip the DRM), but since that has been formally abandoned I don't know how long before B&N decided to cut off that app. It's also illegal here in the US.
There is also talk over on MobileRead about a GreaseMonkey script which added the download button to all of the purchased ebooks; sadly that script has itself gone missing.
Do you know how we can solve this?
I'd like to know for my own sake, and I also want to help readers. The comments are open.
The post B&N Removes Download Buttons from Website, Stranding Millions of Customers's eBooks appeared first on The Digital Reader.
Amazon Upsets the Budget Tablet Market with a $99, 6″ Android Tablet
Posted: 18 Sep 2014 06:42 AM PDT
Proving for one and all that there can be a fire without smoke, Amazon launched a new 6″ Kindle Fire HD tablet on Wednesday. The new tablet is both the cheapest and the smallest tablet ever made by Amazon, and I may or may not be getting one.
The Kindle Fire HD 6 is a cut down version of the new Kindle Fire HD 7, with all of the same software and much of the same hardware. It sports a 6″ IPS display with a screen resolution of 1280 x 800, and it runs Fire OS 4 Sangria.
Sangria is Amazon's newest version of Android. Based on KitKat, it adds a number of under the hood improvements as well as profiles, enabling a household to share a tablet by giving each member access to their own individual email, Facebook, and Twitter accounts, as well as personalized settings options.
It will also have all the new reading features which Amazon announced for the Kindle platform yesterday, and the software features found on last year's model.
The Kindle Fire HD 6 runs Sangria on a quad-core 1.2GHz CPU with 1GB RAM, 8GB or 16 GB internal storage. Like Amazon's previous tablets, there's no card slot, but this tablet does have a couple cameras: a VGA resolution webcam, and a 2MP rear-facing camera. That's better than most $99 tablets on the market (and better than last year's camera-less KFHD).
This tablet also sports a single rear-facing speaker (a major step down from the $139 2013 Kindle Fire HD), and while it doesn't have an HDMI port it does have a microUSB port which Amazon says can take an HDMI or VGA adapter.
Weighing in at 10.1 ounces, the Kindle Fire HD 6 measures 6.7″ x 4.1″ x 0.4″.  According to the spec page it has up to 8 hours of battery life, and it comes in five different colors (Black, White, Cobalt, Magenta, Citron).
Retail will be $99 for the ad-subsidized model with 8GB internal storage.  It's expected to ship on 2 October.
So will you be getting one?
I will probably need to get one so I can review it, but I'm not sure yet that I'll get one for myself.
I see the Kindle Fire as a media tablet, and I do have one. But one of the key features I want in a media tablet is good quality sound. The Kindle Fire HD 6 only has a single rear speaker, which suggests that the sound quality will be lacking.
I don't know of any budget Android tablet that has a single rear speaker with good sound, so that is one of the details I would want to learn about the Kindle Fire HD 6 before I committed to a purchase.
Sure, I like the cameras and expect them to be of good quality, but I see the Kindle Fire as a media tablet first.
What do you think?
The post Amazon Upsets the Budget Tablet Market with a $99, 6″ Android Tablet appeared first on The Digital Reader.
Kindle for iPad and iPhone Updated for iOS8
Posted: 18 Sep 2014 04:57 AM PDT
Do you know all those nifty-sounding new reading features Amazon announced last night alongside the new ereaders and tablets? Well, they haven't added the features to the Kindle app yet, but Amazon did roll out a few other goodies.
In addition to support for iOS8, Amazon also added a new widget for your iDevices home page, copy&paste, and more:
Kindle Today Widget (iOS 8 only) – Multi-book readers can now surf between books from anywhere on the device by pulling down the 'Today' view and tapping on one of the three titles in the Kindle Widget. They can choose from their most recently opened library titles, like the 'jump' function on a TV remote.
Copy & Paste – Customers asked and we listened. Version 4.5 includes the ability to copy passages from your books and add them to the iOS clipboard for pasting into a text message, e-mail, social media, or other iOS applications outside of Kindle.
Smart Lookup Translation Card – Authors often include phrases in other languages to add depth or meaning to a story. Readers can now get a full understanding by selecting the word or phrase and viewing the translation card.
You can find the update in iTunes. The app requires iOS7 or iOS8; if you're like me and have yet to upgrade from iOS6 you will need to deal with that first.
The post Kindle for iPad and iPhone Updated for iOS8 appeared first on The Digital Reader.
You are subscribed to email updates from The Digital Reader
To stop receiving these emails, you may unsubscribe now.
Email delivery powered by Google
Google Inc., 20 West Kinzie, Chicago IL USA 60610