---
The Morning Coffee – 11 September 2014
Posted: 10 Sep 2014 07:56 PM PDT
The Thursday morning reading list includes Hugh Howey's take on B&N,  cell phone book clubs and literacy, and more.
The post The Morning Coffee – 11 September 2014 appeared first on The Digital Reader.
One in Six US Students Are in 1:1 Programs
Posted: 10 Sep 2014 07:36 PM PDT
The LA school district's boondoggle to spend a billion dollars on iPads may have given one to one programs a bad name, but they're not the only program in the US. A new survey report has revealed that 16% of kids in the US are in a one to one program in their school – and most of them are not using a tablet.
The 60 page report (PDF) is based on a survey group of 2,252 kids aged 8 to 18. The survey was conducted by Harris Poll, and was sponsored by Pearson. There's far too much detail to cover in this one blog post, but I can give you the highlights.
Device Ownership
Over half of the survey group own a smartphone (54%), with high schoolers more likely to have them than middle or elementary school students (72%, 49%, 22%, respectively)
53% own a laptop, and like smartphones high schoolers are more likely to own one (66%, 49%, 34%)
Just under half own a tablet (45%); middle and elementary school students were more likely to own one than a high schooler (51%, 51%, 36%)
Those figures are for device ownership, not usage, which is higher. Almost three quarters of the survey group use a computer on a regular basis (at home or in school) while 62% use a smartphone and 53% use a tablet.
According to the report, both usage and ownership are at record highs, showing that the ownership figures from the Pew Research Center's latest survey are understating the actual usage of said hardware.
Gadgets & Schoolwork
63% would like to use mobile devices more often in class
90% believe tablets will change the way students will learn in the future
58% reported using a laptop for school work at least 2 to 3 times a week
Half as many (29%) use a tablet at least 2 to 3 times a week
30% use a smartphone at least 2 to 3 times a week
Among tablet users, high school and middle school students are more likely to have a larger tablet, while elementary school students are more likely to have a smaller tablet. High schoolers were also more likely to have a keyboard.
Like device ownership, the use of gadgets reflect distinct differences among the age groups, with high schoolers more likely to use a smartphone or laptop, and elementary school students more likely to use a tablet.
The age differences suggest that the older students are primarily using devices that were new and popular when they were younger, while elementary school students are adopting the tablet because it is new and popular right now. If that analysis is correct then there will probably be a significant increase in tablet ownership and use among kids over the next decade.
One to one
Now, of the students that use a device in school, only 16% reported being able to use it all the time. Ten percent report that a laptop is provided for their use, and another 6% say that they use a tablet.
The prevalence of laptops comes as no surprise to me; I noted a couple months ago that Chromebooks were probably outselling iPads in the educational market. But what did surprise me was the detail about BYOD programs.
An additional 12% of the survey group reported that they are in BYOD (bring your own device) programs and carry in a device from home. This group is quantified separately because it's not clear how often they have the device or what type of mobile device they're using.
—
All in all, it's a long read. You can find the announcement here, and the report here (PDF).
images by flickingerbrad
The post One in Six US Students Are in 1:1 Programs appeared first on The Digital Reader.
Nvidia Inadvertently Confirms HTC-Made Nexus 9 Tablet
Posted: 10 Sep 2014 03:14 PM PDT
Rumors have been circulating for most of the summer that Google planned to release a new and larger Nexus tablet, and thanks to Nvidia we know those rumors are true.
Nvidia is embroiled in a lawsuit with Qualcomm at the moment, and they let a couple important details slip in a legal filing. According to the filing, which you can find screenshotted at the end of the post, the Nexus 9 tablet will be made by HTC, and it will have an Nvidia Tegra K1 CPU.
This matches closely with rumors from earlier this month when anonymous tweeter @upleaks revealed that the HzTC T1, aka the Nexus 9, would be available in Wifi and LTE models. He also said that this tablet would have a keyboard case, which thanks to Android Police we now know to be true.
No one knows when this tablet will ship, but the leaks from early in the summer have suggested that  it will feature an 8.9″, 2048 x 1440 resolution display with  2GB RAM, 16GB internal storage, front-facing speakers, and a pair of cameras (3MP and 8MP).
That's going to make the Nexus 9 a larger version of the $299 Nvidia Shield tablet. In fact, given the similarities in screen sizes (8″ Shield tablet vs 9″ Nexus 9) they could will be direct competitors.
I would hope that comes true; more competition means lower prices for consumers.
The post Nvidia Inadvertently Confirms HTC-Made Nexus 9 Tablet appeared first on The Digital Reader.
Introducing Superbooks – Another Attempt to Reinvent Interactive eBooks
Posted: 10 Sep 2014 01:16 PM PDT
CNN has an article up this morning about a UK-based ebook startup called Inkle Studios and its new type of ebook. Saying that "your reading habits are about to change", the article gushes:
Imagine you could tell Romeo that he doesn't need to take the poison to be with Juliet, warn Streetcar's Blanche Dubois not to rely on the kindness of strangers, or suggest that Jonathan Harker take his vacation somewhere other than Transylvania.

The power to influence and interact with the stories in classic literature is a tempting prospect, and this is the premise of Inkle Studios' audacious attempt to apply the full possibilities of digital media to fiction. The result is an updated form and experience for the stubbornly progress-proof novel.
While CNN might describe this as innovative and new type of ebook, what we're really looking at here is another take on interactive ebooks. (Actually, i would describe the app demoed in the video below as a game and not an ebook.) Far from being new, this idea is actually older than me.
What's interactive fiction? The following video should give you a better idea.
Inkle Studios recently released their version of Around the World in 80 Days, and posted this demo video showing how to play it:
If you discount the interactive fiction games run on servers in the 70s then the earliest interactive fiction would be the Choose your own adventure books from the late 1970s and 1980s.
Inkle Studios' work is a pretty smooth implementation of the idea, but it's far from innovative. In fact, this is one of those ideas (along with digital textbooks and enhanced fiction ebooks) that keeps coming back every few years as someone comes up with a new take on how to implement it.
Last year alone there were two different interactive fiction projects, one of which is quite similar in concept to the work Inkle Studios is doing.
Last March Linden Labs released Versu, which I described at the time as being a new twist on the old Choose Your Own Adventure Games. That was actually an engine for interactive fiction, and while it was far more focused on text than the ebooks produced by Inkle Studios, it had a number of similarities in game play.
Later in the year Random House UK released the Black Crown Project. This is an online narrative fiction game which is oriented on first-person decisions rather than making decisions for characters.
If you check out those apps you'll see that they have  much the same idea as Inkle Studios, and you might understand why I am underwhelmed with this latest incarnation of interactive fiction.
Interactive fiction like Superbooks can be fun, but radical? innovative? new? Those are adjectives which don't fit. This is an established niche where the book publishing industry overlaps the game publishing industry, that's all.
The post Introducing Superbooks – Another Attempt to Reinvent Interactive eBooks appeared first on The Digital Reader.
Jetbook Color, the First eReader with a Color E-ink Screen, is Officially Abandoned
Posted: 10 Sep 2014 10:15 AM PDT
Here's an interesting historical footnote.
Ectaco customer service recently revealed to one Jetbook Color owner that the device was no longer supported, and that the project had been discontinued.
Announced in the summer of 2011 and launched in 2012, the Jetbook Color was the first ebook reader to feature a color E-ink screen. The device came with a 9.7″ screen and cost $500, and was targeted primarily at the educational market.
Given that this was a two year old ereader, it is not unexpected that it is no longer supported. But this still disappointed one Jetbook Color owner, who had recently asked Ectaco about the possibility of a firmware update. He posted their response over at MobileRead:
Thank you for your email. No, there is no any chance. The project is
discontinued.
The original Jetbook Color was a disappointment when it shipped, and even the two updates from Ectaco improved it slightly. My unit had a gray screen and was never very fast at turning the page.
What's more, it was never able to match the colors or features shown in Ectaco's promo images:
The high price and limited features probably encouraged many to instead invest in an iPad, but in spite of the cool market reception Ectaco pushed ahead, and released an updated model in early 2013. The $500 Jetbook Color 2 had a newer (but still gray) Triton 2 color E-ink screen and otherwise identical hardware, so it is not unreasonable to think that Ectaco could have supported both models.
According to their website, Ectaco is still selling the Jetbook Color 2. It's not clear whether the later model is still being updated, but I doubt there are enough sales to justify it. This thing costs more than an iPad and does considerably less, and that simple fact will discourage many potential buyers.
The post Jetbook Color, the First eReader with a Color E-ink Screen, is Officially Abandoned appeared first on The Digital Reader.
Amazon Sends Out Email Concerning Apple's Antitrust Settlement
Posted: 10 Sep 2014 08:25 AM PDT
It's been just over a month since Judge Cote okayed the settlement agreement between Apple and the DOJ over Apple's role in the 2010 conspiracy  to raise and fix ebook prices, and the first legal notices are starting to go out to consumers affected by the settlement.
Amazon sent out an email to Kindle customers early this morning. I got a copy, and it is quoted below. It's quite long, and if you haven't been following this topic closely it is worth a read. The letter is a legal notice that details a consumer's rights under the settlement, as well as how and when consumers might receive a share of the settlement.
That settlement could range anywhere from $70 million to as much as $450 million, but that will only happen if Apple loses their appeal. Should Apple win the appeal and the case be remanded back to Judge Cote's court, Apple would only have to pay a total of $70 million (according to the terms of the settlement, which were announced in July). And of course should Apple win their appeal outright, they will have to pay nothing.
Dear Kindle Customer,

We previously emailed you about Settlements between several eBook publishers, State Attorneys General and private plaintiffs. On March 25, 2014, Amazon made credits from the proceeds of those publishers' Settlements available to eligible customers. You can learn more about those publishers' Settlements by clicking here.

The Attorneys General and private plaintiffs have now settled similar claims against Apple Inc. The court where those claims are pending has directed us to send the following legal notice to you to advise you of your rights in the Apple Settlement. If you have any questions about this notice, or your legal rights, please visit the E-book Lawsuits website or call the phone number listed at the end of this notice. Amazon's customer service will not be able to answer questions about your legal rights in the Apple Settlement.

Thanks for being a Kindle customer.

==========================================================

Notice ID Number: 

Legal Notice
Benefits from E-books Settlement with Apple
Para una notificación en Español, llamar o visitar nuestro website.
Records indicate that you are eligible for a payment from a Settlement reached by State Attorneys General and Class Plaintiffs with Apple Inc. ("Apple"). The Apple Settlement resolves Plaintiffs' claims for money damages against Apple in antitrust lawsuits about the price of electronic books ("E-books"). Amazon has not been sued in these cases. It is providing this notice as a service to its customers.

What the Apple Settlement Provides
The Apple Settlement provides for three possible outcomes, depending on the decision of an appeal of the District Court's July 10, 2013 finding that Apple violated the antitrust laws ("Liability Finding"). First, if the Court's Liability Finding is upheld, Apple will pay $400 million to Eligible Consumers. Second, if the Liability Finding is sent back to the District Court for further consideration of whether Apple violated the antitrust laws, Apple will pay $50 million to Eligible Consumers. Third, if the Liability Finding is reversed, Apple will make no payments.

If Apple is required to pay Eligible Consumers under either of the first two options and if the Court approves the Apple Settlement, you will receive an automatic credit to your customer account. The credit can be used for the purchase of products or services sold by Amazon. The amount of your payment, if any, will be determined based on the qualifying E-book purchases identified by Amazon in your customer account.

How to Receive your Benefit
If Apple is required to make a payment to Eligible Consumers, you do not need to do anything to receive your credit unless you change your email address. (If you do change your email address, you should update your Amazon profile or visit www.EbookLawsuits.com and click on the "Update Your Contact Information" link.) Because you are pre-qualified, your credit will be applied to your account by Amazon automatically, and you will receive another email letting you know when it's available. If you bought E-books from more than one retailer, you may receive other notices with different instructions on how to receive a payment.

If Apple is required to make a payment to Eligible Consumers, you also will have the option to receive a check instead of your credit. You can request a check by calling 1-866-686-9333, or going to the Apple Settlement website listed below, and clicking on the Check Request Option link on or before October 31, 2014. Be sure to reference the Settlement ID number found at the top of this email. Customers who received a check from the earlier E-books settlements do not have to re-submit a check request for the Apple Settlement. However, if your mailing address changes before you receive your check, please visit www.EbookLawsuits.com and click on the "Update Your Contact Information" link to update your mailing address.

Your Other Rights
You can choose to exclude yourself from the Apple Settlement and keep your right to sue Apple on your own. If you exclude yourself, you can't receive any benefits from the Apple Settlement. Your written Exclusion Form must be postmarked by October 31, 2014.

If you don't exclude yourself, you can submit objections about the Apple Settlement. Your written objections must be postmarked by October 31, 2014.

Please visit the Apple Settlement website below for detailed information on how to submit a valid Exclusion Form or objection.

The Court will hold a hearing on November 21, 2014, at 2:00 p.m. to consider whether to approve the Apple Settlement. You or your own lawyer may ask to appear and speak at the hearing. The hearing may be moved to a different date or time without additional notice, so please check the website below for additional information.

For more information:
Call 1-866-686-9333 or Visit www.EbookLawsuits.com

==========================================================

(c) 2014 Amazon.com, Inc. or its affiliates. All rights reserved.
Amazon.com, 410 Terry Avenue N., Seattle, WA 98109-5210.
image by steakpinball
The post Amazon Sends Out Email Concerning Apple's Antitrust Settlement appeared first on The Digital Reader.
Authors Continue to Go Hungry in Nook Press Payment Fiasco
Posted: 10 Sep 2014 07:56 AM PDT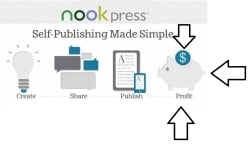 Last week numerous authors complained that Nook Press, B&N's self-pub platform, had missed their most recent payment.
While Barnes & Noble claimed on Monday that this issue had been resolved and that all of the delayed payments would be processed either Friday or Monday, that does not appear to have happened.
Some authors have gotten their much needed royalties, but I now have confirmation from two different authors who have told me that, as of Wednesday morning, they had not been paid.  That payment, which covered sales in the Nook Store in June 2014, was supposed to be sent out in late August or at the very beginning of September.
Due to what B&N described as a glitch in their system, only some authors were paid on time. Others, including authors Robert Swartwood, Georgette St.Clair, and IJ Parker, were left with no money and no explanation. As I reported on Sunday, several authors have said that Nook Press did not respond to emails on this issue.
And now it seems that at least some are still waiting on B&N. On the bright side, the number of unpaid authors is smaller than it was last week.
If you are an author with books at Nook Press, I would strongly urge you to check your bank statements and make sure your funds have been deposited.  If they have not then you should send an email to Nook Press and yell at them about it.
A two week delay in payment is simply ridiculous; the payment terms were 60 days or less, not 60 days plus however long it takes to fix the servers.
Have you been paid, or are you still waiting for the funds?
The post Authors Continue to Go Hungry in Nook Press Payment Fiasco appeared first on The Digital Reader.
You are subscribed to email updates from The Digital Reader
To stop receiving these emails, you may unsubscribe now.
Email delivery powered by Google
Google Inc., 20 West Kinzie, Chicago IL USA 60610