---
Turn Your T68 Lynx into the Ultimate eReader\Tablet with these 12 Apps
Posted: 05 Jul 2014 06:24 PM PDT
Android tablets are great, but they're difficult to read in bright lighting conditions, the backlight screens can cause insomnia, and let's face it, it's too easy to get distracted by Angry Birds, videos, and other eye candy.
If you're looking to get some serious reading done, you're better off getting an ebook reader which runs Android – like the Nook Glow, Sony Reader Wifi, or the Onyx Boox T68 Lynx. Not everyone likes to spend all of there time reading ebooks, but luckily these ereaders offer the option of installing other apps.
And based on my time with the T68, I think it offers the most options. It runs Android 4.0. That's a newer version of Android than you can find on most E-ink devices, and since it ships with Google Play you have the least hassle in finding and installing apps.
Here's a list of apps which have been tried by T68 Lynx owners and found to work.
Apps for Reading News Feeds, Articles, eBooks and More
Opera Mini – The T68 Lynx ships with the stock web browser; it works okay but I think we can do better. Google Play will tell you that Chrome and Firefox aren't compatible with the T68 Lynx, and sadly Opera Mobile tends to crash. But Opera Mini works, and it offers a better interface with an E-ink-friendly drop down menu, zoom buttons, and other improvements.
Feedly – eBooks are great, but I for one spend a lot of time following the news feeds of blogs and media sites. So do a lot of other T68 Lynx owners, and that's why they installed Feedly (I prefer to use a different service). The app works great, and when tied to Feedly's free reading plan it offers access to a near unlimited amount of reading material. (Just be sure to turn off background syncing and notifications if you want to conserve battery life.)
Gmail – When I said that you can read on the T68 Lynx, I didn't mean just ebooks. The Gmail app in Google Play can be installed on this ereader. It works just fine for me, and it even runs in the background just like it is supposed to.  I've even used the onscreen keyboard to send a couple emails.
Kindle – What kind of a post would this be without mentioning the king of all ebook apps?
The Kindle app from Google Play installs and it works almost perfectly. You can read, buy ebooks, and take notes, but there is a catch. The Kindle app doesn't work with the page turn buttons, and there's no way to disable the page turn animation (trust me, we've tried) but on the plus side the Kindle app is faster at page turns than the ebook app which Onyx shipped on the T68 Lynx.
Moon+ Reader – Quite a few ebook apps work on the T68 Lynx (including Kobo, Aldiko, Alreader, and more) but I want to single out Moon+ Reader as your best option. Like the Kindle app it is faster than the stock reading app, and it also offers Dropbox integration and a theme that looks okay on a grayscale screen, and it even works with the page turn buttons. This is the ebook app you should be using, not the one that Onyx provides.
RepliGo, Adobe Reader, and ezPDF – The T68 Lynx already supports PDF out of the box, but don't let that stop you from installing additional PDF apps. All 3 of these apps work well on the T68 Lynx, and RepliGo works great. it offers an easy to read interface and calmly handles 200MB graphic novel PDFs. I don't think I am overselling it when I say that you should take a pass on that next cup of coffee and buy RepliGo instead. it's that good.
Pocket, Readability (& Instapaper?) – One lament shared by Nook Glow owners is that the offical clients for Readability and Pocket don't work on their device. But since the T68 Lynx runs a newer version of Android, you can run the official apps as well as third party apps. I have run both Pocket and Readability, but I can't speak for Instapaper. Google Play says it is compatible, but I can't find anyone who has tried it.
Comixology – I found that I preferred to read comics in RepliGo, but if you are really into comics then you'll be pleased to know that the Comixology app works. I only have a few titles with that service, but I was able to download them and read just fine.
Evernote – In case I haven't disabused of the idea that this is a mere ereader, Evernote is usable on the T68 Lynx.At the request of a reader I logged in and added notes to my long-dormant account. The T68 lacks a speaker or a mike, so some types of notes won't work, but you can review and add to your  notes.
But Wait, There's More
I've only just touched the surface of what you can do with the T68 Lynx. There are other reading apps which you can install, and while you're in Google Play you might want to install utilities like ES File Explorer, Dropbox, and the like. Sure, you may be planning to use the T68 Lynx as an ereader but you will still need to manage it like you would an Android  tablet.
So tell me, How do you like to read on the Android-based ereader?
The post Turn Your T68 Lynx into the Ultimate eReader\Tablet with these 12 Apps appeared first on The Digital Reader.
Earl Back Country E-ink Tablet is Delayed Once Again
Posted: 04 Jul 2014 11:43 AM PDT
Editor's Note: I just had to restore my blog from a backup, so I am reposting a post which was lost.
Earlier this week the team behind the Earl Back Country tablet posted an update on their website. While most of the design is coming along nicely, they reported that one key component was delaying certification and production:
While the final iteration of Earl's walkie talkie was set to be completed back in February, the team contracted to develop and manufacturer the module has been less than satisfactory. Though we've tested a few iterations since the last module we received at the end of May, the walkie talkie still had further changes required to interface with Earl. We were promised the final module would be ready upon my return from my trip to the States around the 15th of June. No dice. I arrived back on the 18th and was assured of its completion by the 5th of July. Yesterday I was made aware of yet another delay that has now pushed it's delivery until the 11th of July. This is the last major piece we need to proceed with certification.
The team doesn't know exactly how long the delay will be, but they are saying that the Earl won't be in production before October. (And that assumes nothing goes wrong with certification or at the factory.)
Originally scheduled to ship by the end of summer 2013, the Earl tablet by Sqigle promised to be a unique device that combined a rugged outdoors-safe design with a sunlight friendly E-ink screen. Sadly, the Earl has yet to live up to the promises. It's been delayed several times since it launched as a crowd-sourced project in May 2013, and now it has been delayed again.
It's been extensively redesigned over the past year and now sports a new shell, a better and cheaper Mobius E-ink screen, and improved specs. As you can see in the two vine videos below, the Earl has a green and black shell now which looks quite different from the tablet as it was conceived last summer.
The original design, which you can see in the second Vine video, had a kickstand with a solar panel. After early tests revealed that the kickstand was a weak point, the solar panel was integrated into the rear of the shell.
According to the latest specs, the Earl is going to be running Android 4.4 KitKat on a dual-core 1GHz CPU with 1GB RAM, 16GB internal storage, and a microSD card slot. In terms of connectivity, the Earl has Wifi, BT, GPS, NFC, and a multi-band M/FM/SW/LW radio. It can also pick up UHF, VHF, and it can double as a low-power 2-way radio. It also has quite a few sensors, including a a barometer, thermometer, hygrometer, and a 9-axis accelerometer/gyroscope/magnetometer.
Have you ordered an Earl? with a price tag of $250, I thought it was too pricy for the risk so I didn't get one when it first launched. And after it missed its original ship date I thought it was too much of a risk. That turned out to have been a good idea, but I was honestly just being excessively cautious at the time.
The post Earl Back Country E-ink Tablet is Delayed Once Again appeared first on The Digital Reader.
Bluefire Reader for Windows Ships Next Week
Posted: 04 Jul 2014 09:34 AM PDT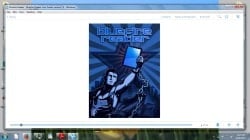 Editor's Note: I just had to restore my blog from a backup, so I am reposting a post which was lost.
Adobe isn't the only company which is releasing an ebook app in the next few days; Bluefire is about to ship a new version of their respected Bluefire Reader app.
For the past week I have been playing with an early release of Bluefire Reader for Windows. This app has been under development for well over a year, fortuitously giving it a chance to launch into a market where Windows users have fewer and fewer options for reading Epub ebooks.
The app offers all of the customization options and reading features we have come to expect from the leading apps. In addition to line spacing, justification, text size, and margin width, readers can choose from a variety of fonts and color themes, including a night mode.
When reading, the text automatically adjusts to offer a multi-column mode on wide screens (just like the late NookStudy). Depending on the font size and the width of the app window, you could see up to 3 columns of text. As you progressively increase the font size the app automatically switches to a double column and a single column mode.
In terms of annotation, BFR4W offers both highlights and notes. The annotations in a book can be found via the annotations menu, and they can also be exported (much like what Amazon enables with the Kindle platform).
Speaking of menus, there is of course a library menu, and inside each book you'll find a TOC and a book info menu. Each of these menus is based on a book's metadata, so they may not be available for every ebook.
Other reading features include search, a dictionary, bookmarks, copying text, but not TTS. (BFR4W should work with your existing Windows screen reading app but I don't have this feature enabled and can't confirm that detail.) And there is even an option to sync your reading position, annotations, and bookmark with your other Bluefire apps. I have not tested that, though.
All in all BFR4W  is not the most feature rich Windows reading app but it does have a number of advantages over its competition. NookStudy might offer similar DRM support and a lot more annotation options, but it is also tied to the Nook platform and is at risk of B&N deciding to kill it. Bluefire Reader for Windows, on the other hand, does not require that you log in to any server in order to use it.
And of course Bluefire Reader for Windows bests the Kobo and Kindle apps by offering support for Epub. The Kobo app can't read ebooks bought elsewhere, and Amazon continues to leave out any auto-conversion ability from the Kindle app (its deceased relative, Mobipocket Reader for Windows, had this ability).
This is an okay app, and I plan to keep it around for the inevitable EOL of NookStudy.  I won't be switching to it immediately, but that is largely because I am someone who holds onto apps until they are dead before I abandon them.
On second thought, I notice as I get to the end of the comparsions that Bluefire Reader for Windows loads significantly faster than NookStudy. If I switched now it would save me the time I will spend waiting for NookStudy to wake itself up.
Decisions, decisions.
The post Bluefire Reader for Windows Ships Next Week appeared first on The Digital Reader.
New Photos Show a Thinner, Redesigned iPad Air (Dummy)
Posted: 04 Jul 2014 07:28 AM PDT
Editor's Note: I just had to restore my blog from a backup, so I am reposting a post which was lost.
Apple's next tablet got a little more real today. A Japanese blog has got their hands on a dummy unit for the upcoming iPad Air, and they posted some photos.
A you can see the photo gallery below, the new photos largely confirm what we saw in the video from  last week, and they show that (assuming this is the real deal) the new iPad Air is going to be thinner and feature a TouchID fingerprint scanner. We can also see that the dummy is showing the redesigned speaker grills and relocated buttons and camera identified in the video.
All in all, the photos show pretty much what we saw last, suggesting that at the very least both Ascii.jp and the Youtuber from last week both got their dummy unit from the same place. And if we are lucky the dummies are based on real specs, though of course it is too early to say.
Apple is expected to launch a new iPad in either September or October.  We are also going to see at least one new iPhone in that period, but the launch dates are still up in the air. Apple is most likely going to launch the new iPhone and iPad at separate events, and it is a toss up which will come first.
The post New Photos Show a Thinner, Redesigned iPad Air (Dummy) appeared first on The Digital Reader.
You are subscribed to email updates from The Digital Reader
To stop receiving these emails, you may unsubscribe now.
Email delivery powered by Google
Google Inc., 20 West Kinzie, Chicago IL USA 60610