---
Video Debate: Amazon – Business As Usual?
Posted: 01 Jul 2014 07:41 PM PDT
Earlier this evening the NY Public Library hosted a publishing industry debate on everyone's favorite malevolent retailer. That debate was streamed live, and I have just confirmed that the archive of the debate is also available after the fact.
The video is embedded below, and I encourage you to watch. I just finished it watching it for the second time, and I am having trouble understanding the viewpoints of the industry insiders.
They keep talking about how they support book culture by publishing books that won't be successful, and I remember that they are taking money away from successful authors to do that.
They say that they bring authors along, and I recall the many authors who don't even get in the door or are dropped after their first or second book (or in the case of Val McDermid, her third).
They say that books wouldn't be published without copyright law, and I remember the millennium without it. I also remember the case of Charles Dickens who, when he was being flagrantly copied by US publishers who were taking advantage of a British author not having a US copyright, still worked out deals with certain publishers so they would get the earliest access on the condition that they paid a royalty.
And then there's the worst case scenario (at about 30:00) where one pundit predicts Amazon, after killing off major publishers and independent publishers, will become a vanity press and start extracting fees from self-published authors.
I will add, though, that the point that was raised about the analogy between Agency and ASCAP bears further investigation. I'm not sure it's valid, but I need to look further.
The panelists for this debate were almost universally against Amazon, with the token neutral voice added at the last minute.
Moderator: Tina Bennett, literary agent at WME.;
Best-selling author James Patterson;
Morgan Entrekin, publisher and president of Grove Atlantic;
Bob Kohn, attorney and founder of EMusic.com;
Tim Wu, law professor and theorist of "net neutrality;"
Danielle Allen, political theorist, author of a new book on the Declaration of Independence and elected chair of the Pulitzer Prize Board; and
David Vandagriff, intellectual property lawyer (aka the editor of The Passive Voice blog).
image by cjjaz
The post Video Debate: Amazon – Business As Usual? appeared first on The Digital Reader.
If You're Reading eBooks on a PC, Chances Are You're Reading on Windows 7
Posted: 01 Jul 2014 05:12 PM PDT
The trend of releasing a reading which can only run on Windows 8 has been in vogue for several years now, but sadly the market statistics continues to show that that is a not a good idea.
A well-known ebook company is releasing a Windows 7 compatible Epub app in the next few days. I happen to get an early look, and while getting ready to write about that app I looked into the current statistics for OS adoption and Windows reading apps, and was inspired to pen a little rant on the current state of Windows reading apps.
As someone who likes to read on my laptop, I am increasingly frustrated with reading apps these days. As time goes by I see more and more of the major ebook platforms either abandoning support for Windows in favor of Windows 8 or never supporting it in the first place.
There's Apple and Google, which never supported the OS (and to be fair no one ever expected them to). Kobo has both a Windows app and a Windows 8 app, but the apps can only read content acquired from Kobo. And then there's B&N, which abandoned support for Windows native apps in 2013 in favor of a largely dysfunctional Nook for Web and the Nook Windows 8 app (which was itself subsequently EOLed). B&N is especially saddening because in NookStudy they had the singularly best reading app for Windows – right up until they threw it in the trash.
And while we're on the topic, Amazon has both a Windows and and a curiously limited Windows 8 app (like many Win8 reading apps, it cannot read ebooks bought elsewhere).
In short, readers who like to control their reading experience, who like to buy an ebook and choose their own app, are running out of options to read ebooks on Windows.
Not counting the apps no longer supported, I'm down to Kindle, Adobe DE, calibre, and a handful of 3rd-party reading apps (list). (That list, coincidentally, is a lot shorter than the selection of reading apps for Windows 8/RT.) And if you're not comfortable with removing DRM, the list is even shorter; you're down to Kindle, Adobe DE, and the new app which is launching in the next few days.
eBook developers big (B&N) and small (Comixology, txtr) are foolishly choosing to only support Windows 8 and not the rest of Windows. And it is a questionable decision; the current market statistics bears me out on this point.
At this time Windows 8 makes up about 14.3% of the desktop OS market, while older versions of Windows make up 75% of that market (according to StatCounter). And with a 55% share, Windows 7 is the single most widely used OS on PCs.
In short, many ebook developers are ignoring the vast majority of the existing market in favor of a market segment which is slowly and gradually not replacing its predecessors.
Now, one could argue that people are more likely to read on tablets so it makes sense to focus on the tablet-friendly version of Windows. That would be a good argument, if not for the fact that 60% of Windows 8 installs don't have a touchscreen and thus aren't tablets. Microsoft revealed that factoid back in April, confirming that once again their concept for the future of computing was a bust.
Not to unduly bash Microsoft, but they are the ones encouraging developers to create apps which can only run on Windows 8, a platform that users are avoiding in droves. As one of those users, I think it's only fair to point out that the emperor has no clothes.
And sadly, in spite of the continued strong showing of Windows 7, I don't see this trend reversing itself. And other than ranting about it, there's not much I or any other user can do.
–
So tell me, do you read on your PC? What is your preferred app?
image by Zeusandhera
The post If You're Reading eBooks on a PC, Chances Are You're Reading on Windows 7 appeared first on The Digital Reader.
Amazon Promotes Hachette Title as "Best Book of the Month", Won't Let You Pre-Order it
Posted: 01 Jul 2014 11:13 AM PDT
If you thought the Amazon-Hachette contract dispute reached the heights of absurdity when Apple started discounting titles that Amazon refused to sell, you ain't seen nothing yet.
Publishers Lunch noticed this morning that one of Amazon recommended titles for the month of July can't actually be bought from Amazon.
The book in question, California, was written by Edan Lepucki and is due to be published by the Hachette imprint Little, Brown on 8 July. Unfortunately, due to the ongoing contract dispute between Amazon and Hachette, there's no way for Amazon customers to pre-order the book which Amazon is recommending.
Amazon stopped taking pre-orders on Hachette titles a little over a month ago as a way of pressuring Hachette into accepting a new contract. No one knows for sure what the two are fighting over, but the numerous leaks from Hachette suggest that Amazon wants increased co-op fees, and possibly better terms on ebook sales.
But none of that matters today; what's important is that Amazon is recommending a book which you can't order. This is the online equivalent of a retail chain promoting a product in their weekly circular while also forgetting to have the product in stock.
While that is amusing, I see it as a sign of Amazon's willingness to play hardball. They'll even sacrifice sales of a hot new title which Amazon's own booksellers think is a great read. If I were one of the major publishers I wouldn't be giggling; I would be afraid. I'd be very afraid.
The post Amazon Promotes Hachette Title as "Best Book of the Month", Won't Let You Pre-Order it appeared first on The Digital Reader.
Infographic: Android vs iOS Reading Habits via Oyster
Posted: 01 Jul 2014 10:21 AM PDT
Who's up for an infographic on reading habits?
Earlier today Oyster posted a new infographic in their blog which shows the reading habits of Android vs iOS users of Oyster's subscription ebook service. As you can see, Android users tend to read more during the day while iOS users tend to read at night  (this might be biased by Oyster iOS app launching months before the Android app).
Android users were more likely to pick up a copy of Vonnegut, while iOS users read Philip K Dick. Android users also tended to read faster than iOS users, and spend longer stretches reading.
The following infographic is based on an unknown sample size, so it shouldn't be taken as a representative sample of all mobile readers, but it's interesting nonetheless. Feel free to make your leave observations in the comments.
The post Infographic: Android vs iOS Reading Habits via Oyster appeared first on The Digital Reader.
Amazon Expands KDP 70% Royalty Option to Ireland, Gibraltar
Posted: 01 Jul 2014 09:27 AM PDT
With little fanfare, Amazon quietly added a new country and a new territory to the 70% royalties list yesterday. Authors who sign up to sell ebooks through KDP now have the option of receiving 70% (ish) of ebook sales in Gibraltar and the Republic of Ireland.
Ireland and Gibraltar are the 27th and 28th entry on the list, which includes 27 countries and related possessions:
Andorra, Australia, Austria, Belgium, Brazil, Canada, France, Germany, Gibraltar, Guernsey, India, Italy, Ireland, Isle of Man, Japan, Jersey, Lichtenstein, Luxembourg, Monaco, Mexico, New Zealand, San Marino, Switzerland, Spain, United Kingdom, United States, and Vatican City.
Form some reason, the UK and Great Britain were both listed. That would seem royal redundant to this colonial.
Amazon's list is rather eclectic. Belgium is on the list, but not the Netherlands. Spain is on the list, but not Portugal. What's more,the above list doesn't come close to matching the list of countries where Amazon supports a local language.
What's even more interesting to this blogger is that the specific terms vary between countries in ways that don't make obvious sense. For example, nearly all of the countries are found in Europe, but 4 of the 8 of the countries outside of Europe (Brazil, India, Japan, and Mexico) only pay the 70% rate if authors agree to give Amazon an exclusive on an ebook. That requirement doesn't extend to Canada, NZ, or Australia, which were added to this list after BIJP.
Does anyone see a pattern to Amazon's expansion?
The post Amazon Expands KDP 70% Royalty Option to Ireland, Gibraltar appeared first on The Digital Reader.
Pocketbook 650 Ultra eReader Now up for Pre-Order
Posted: 01 Jul 2014 06:54 AM PDT
The other hot new ereader of 2014 has just gone up for pre-order in Germany.
Following about a month after the release of the Onyx Boox T68 Lynx, readers can now place an order for the Pocketbook Ultra. This camera-equipped 6″ ereader is listed on Amazon.de for 169 euros, and it ships on 20 July.
The Pocketbook Ultra has been greatly anticipated ever since images first leaked back in March. In addition to a 6″ Carta E-ink screen, the Ultra sports a 5MP rear-facing camera with LED Flash. That makes this the one and only ereader to combine an E-ink screen and a camera.
The Ultra runs Pocketbook's version of Linux on a 1GHz CPU with 512MB RAM, 4GB internal storage, and a microSD card slot. Like the second Kindle Paperwhite, it has a screen resolution of 1024 x 758, and on top of the screen the Ultra has a frontlight and capacitive touchscreen. It also has Wifi (but there's no mention of Bluetooth) and a 1.5Ah battery which is expected to give up to a month of runtime (source).
This is a pricy ereader, but given the abilities of the camera I think the high price is justified. According to the launch announcement (which confirmed videos leaked earlier), readers can use the camera to take a photo of a page from a book and either add notes to the image or run OCR and extract the text from the image. The text can then be used as either a note or attached to an ebook. The camera can also be used for scanning ISBNs and bar codes.
In addition to taking photos, the Ultra supports a wide variety of ebook formats, including Epub, PDF, FB2, DJVU, PRC, and CHM. It also plays MP3s, and can read html, txt, doc, rtf, and docx files. It comes with pre-installed ABBYY Lingvo dictionaries as well as a package of services that use the Internet connection (ReadRate, Send-to-PocketBook, an RSS feed reader, synchronization with Dropbox, and more).
All in all, there is very little to criticize with this ereader, and really the only way it comes up short is when it is compared to the Onyx Boox T68 Lynx. That ereader has a better screen and runs Android, which I see as two huge pluses.
But the Ultra does have a camera and uses it quite well, so it's really a toss up which one is better.
Do you plan to get a Pocketbook 650 Ultra? I might not be able to afford one myself, so I would like to hear first-hand accounts.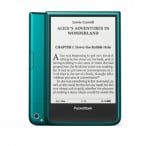 The post Pocketbook 650 Ultra eReader Now up for Pre-Order appeared first on The Digital Reader.
The Morning Coffee – 1 July 2014
Posted: 30 Jun 2014 09:22 PM PDT
Tuesday's reading list includes things you should never say to a writer, LA school district dropping their insane plan to equip every student with an iPad, food banks giving away books to kids, and more.
The post The Morning Coffee – 1 July 2014 appeared first on The Digital Reader.
The AP is the Latest to Join the Robot Reporter Brigade
Posted: 30 Jun 2014 07:52 PM PDT
Twenty years ago the idea that robots would one day write the news we read everyday fell in the domain of SF writers and madmen, but today it is a simple fact. Following in the footsteps of many other news organizations, including Forbes, the Associated Press announced today that they would soon be automating the reporting of the corporate earnings stories.
The AP sees this as a way to make better use of their trained journalists as journalists and not transcribers of statistical data. Lou Ferrara, the AP managing editor who oversees business news, explained the decision in a statement from the AP:
For many years, we have been spending a lot of time crunching numbers and rewriting information from companies to publish approximately 300 earnings reports each quarter. We discovered that automation technology, from a company called Automated Insights, paired with data from Zacks Investment Research, would allow us to automate short stories – 150 to 300 words — about the earnings of companies in roughly the same time that it took our reporters.

And instead of providing 300 stories manually, we can provide up to 4,400 automatically for companies throughout the United States each quarter.
The AP is partnering with a North Carolina company called Automated Insights. This firm, which just raised $5.5 million in a Series B funding round, has developed a patented natural language generation platform called Wordsmith. Like the many other bots working in journalism, Wordsmith spots patterns, correlations, and insights in large data sets and then describes them in plain English.
It's by no means the first bot to get a press card; perhaps the best known are the ones developed by the 4 year old startup Narrative Science, which says it counts many news organizations among its customers. There's also BookStats, which has been offering a similar sports-focused bot since at least 2010.
And in addition to the startups, a number of newspapers have been experimenting internally. The AP, for example, also reports that they "have been automating a good chunk of AP's sports agate report for several years". And the LA Times has been using a couple bots to generate seeds for stories, including one focused on police reports and another called Quakebot.
The fact of the matter is, the bots are here to stay but they are not without their issues. A couple months ago one Twitterbot famously got a story wrong when it tweeted the story a little too quickly:
Created by Google engineer Thomas Steiner, Wikipedia Live Monitor is a news bot designed to detect breaking news events. It does this by listening to the velocity and concurrent edits across 287 language versions of Wikipedia. The theory is that if lots of people are editing Wikipedia pages in different languages about the same event and at the same time, then chances are something big and breaking is going on.

At 3:09 p.m. the bot recognized the apparent death of Quinton Ross (the basketball player) as a breaking news event—there had been eight edits by five editors in three languages. The bot sent a tweet. Twelve minutes later, the page's information was corrected. But the bot remained silent. No correction. It had shared what it thought was breaking news, and that was that. Like any journalist, these bots can make mistakes.
Thus proving that no matter how much automation is added to the process, a person still needs to be in the loop.
While the number of bots in news organizations are increasing day by day, that's not where they got their start. The earliest text-generating bot I know of was released in 1983. Racter (short for raconteur) was intended to write stories but the tech just wasn't up to the task 30 years ago. Three decades later, that is no longer true.
I don't know when or if these bots will ever make their way into authoring, but I for one look forward to the day that they are cheap and easy to use. Far from being afraid that I will lose out, I know that I already use a lot of automation on a daily basis – and so do you. My RSS feeds are gathered automatically by BazQux, and much of the work in running my blog is automated in WordPress.
None of my current bots generate content, but I expect that they will one day.
image by striatic
The post The AP is the Latest to Join the Robot Reporter Brigade appeared first on The Digital Reader.
You are subscribed to email updates from The Digital Reader
To stop receiving these emails, you may unsubscribe now.
Email delivery powered by Google
Google Inc., 20 West Kinzie, Chicago IL USA 60610