---
Google Partners with Adobe to Release Unified Font Family for Chinese, Japanese, and Korean
Posted: 16 Jul 2014 03:34 PM PDT
Yesterday Adobe and Google improved the reading experience of a quarter of the world's population.
The two tech companies have cooperated in the development of Noto Sans, a free font family which is designed to provide a richer and more beautiful reading experience for Japanese, Chinese (both traditional and simplified), and Korean across both apps and OSes.
The Noto Sans font family, or Source Han Sans as Adobe is going to call it, includes over 65,000 glyphs in 7 weights (from light to bold). Its development drew on Adobe's strong design and technical prowess in this area and proven in-country type design experience while Google provided in-country testing resources and expertise, and provided funding that made this project possible.
According to Google:
Noto Sans CJK is a sans serif typeface designed as an intermediate style between the modern and traditional. It is intended to be a multi-purpose digital font for user interface designs, digital content, reading on laptops, mobile devices, and electronic books. Noto Sans CJK is provided in seven weights: Thin, Light, DemiLight, Regular, Medium, Bold, and Black.

Fully supporting CJK requires tens of thousands of characters—these languages share the majority of ideographic characters, but there are also characters that are unique to only one language or to a subset of the languages. One of the primary design goals of Noto Sans CJK is that each script should retain its own distinctive look, which follows regional conventions, while remaining harmonious with the others.
The font family is available with a free subscription to Adobe, but it is probably easier to download it from the the Noto homepage, where you can get the font family in a single file or in a language specific file. You might want to bookmark this page; it's where Google maintains the font families which they give away.
The post Google Partners with Adobe to Release Unified Font Family for Chinese, Japanese, and Korean appeared first on The Digital Reader.
Apple Agrees to Pay $450 Million in eBook Antitrust Lawsuit
Posted: 16 Jul 2014 10:34 AM PDT
New court documents filed today have revealed that Apple has agreed to pay $450 million to settle the damages claims brought by the DOJ, state's attorney generals, and civil attorneys who had filed class-action lawsuits.
The payment comes in the damages phase of an antitrust lawsuit which was filed by the Dept of Justice in 2012. Apple and 5 publishers were accused of conspiring to raise ebook prices and restrict competition. The 5 publishers settled before trial, but Apple fought the case in court and lost in July 2013.
The $450 million is going to be divided between three parties, with consumers directly benefiting the most. We will receive $400 million in compensation, while the states will get $20 million and the class-action lawyers will get $30 million to be divided between the lawyers and their clients.
The payment, while large, is not guaranteed. It is actually dependent on Apple losing the appeal they filed earlier this week. Should Apple succeed in getting the July 2013 ruling overturned they will pay nothing, and if they somehow manage to get it "vacated and remanded or reversed and remanded for reconsideration or retrial on the merits", Apple will only have to pay $70 million. Given that Apple has already lost two appeals for temporary stays of this trial, it does not seem likely that Apple will win their appeal and get the ruling overturned, not even in part.
Consumers have already received $166 million from the 5 publishers in earlier settlements,  with most of the money going to Amazon and Barnes & Noble customers in the form of store credits. The $400 million will be distributed by the same means, and when that happens it will be a windfall for the publishing industry. According to B&N $21.5 million in credits from the publishers' settlements were used in the Nook Store in the first month, out of $44.2 million in credits available to B&N customers in all. They also estimate that around $10 million in settlement credits will go unused by the end of the year, at which time they will expire.
image by riddle_
The post Apple Agrees to Pay $450 Million in eBook Antitrust Lawsuit appeared first on The Digital Reader.
US Digital Comics Sales Reached $90 Million in 2013
Posted: 16 Jul 2014 09:41 AM PDT
The AAP may have reported that the trade ebook market remained flat in 2013, but the digital comics market still saw modest growth.
New estimates from ICV2 and Comichron, two comics industry trade news and data sources, show that the North American comic book market was worth $870 million in 2013. According to PW:
According to new estimates, the $870 million figure for 2013 can be divided into $365 million in sales from comics periodicals—traditional American comic books—sold almost entirely via the direct market or comic shop market, the network of about 2,000 comic shops around the country. Comichron also noted that about $25 million of the $365 million in periodical sales come from newsstands.

Book format comics or graphic novels, have grown into the largest section of the comics market. Graphic novels generated $415 million in sales in 2013, divided between sales in the comics shop market ($170 million) and general bookstores ($245 million).
Digital comics reached an estimated $90 million in 2013. This represents a growth of 29% over the estimates for 2012. That modest growth follows a couple boom years in which digital comics were estimated to have grown 180% in 2012 and 213% in 2011.
Sadly, it looks like the digital comic market is seeing the same slowdown of growth as the trade ebook market, only it's happening faster.
image by Sam Howzit
The post US Digital Comics Sales Reached $90 Million in 2013 appeared first on The Digital Reader.
The Video that Started it All: CBS Head Les Moonves Mentions Negotiations With Amazon
Posted: 16 Jul 2014 07:09 AM PDT
Late last night the WSJ and Reuters broke the story that Simon & Schuster was in negotiations with Amazon for an unnamed reason. They cited CBS CEO Les Moonves as their source, and sparked a whirlwind of coverage.
It's 12 hours later and we still don't know any additional details, but I do have something to share. Both the WSJ and Reuters got their story from an interview which Les Moonves gave at Fortune's Brainstorm Tech Conference (which ends today).  The interview was conducted by Fortune's Adam Lashinsky, and it has been posted to Youtube.
I have embedded the video below. The talk about Amazon starts around the 14:10 mark, and it's well worth your time to watch. Moonves reveals that he is far more ambivalent to Amazon than most people in publishing industry, including people who work for S&S.
The video doesn't support my speculation that Amazon is in talks to buy S&S, but it does suggest that Moonves is open to the idea of working more closely with Amazon by – well, let's just leave that sentence unfinished. I'm done with my speculating on this topic, so I'm not going to finish that thought.
The post The Video that Started it All: CBS Head Les Moonves Mentions Negotiations With Amazon appeared first on The Digital Reader.
Amazon to Launch New eBook Subscription Service Called Kindle Unlimited
Posted: 16 Jul 2014 05:45 AM PDT
Word is circulating on Twitter and the KBoards forum  today that Amazon is about to launch a new ebook service.
Details are still vague, but at this point I know that about 6 hours ago several authors noticed that there was a new page in the Kindle Store. That page was shortly taken down, but while it was up it was titled Kindle Unlimited, and it offered readers access to a catalog of 600,000 ebook and audiobook titles for $9.99. Thanks, Zara!
Update: Actualitte has screenshots which confirm Kindle Unlimited, including:
Just to be clear, I'm not talking about the Kindle Freetime Unlimited service which Amazon launched in September 2012. That is a different service which offers a kid-safe selection of apps, videos, and ebooks. KFU is only available on Kindle hardware, and it costs $2.99 a month and up.
Update: Here's the promo video for Kindle Unlimited:
You can find the Kindle Unlimited page here. There's nothing to see at this time, but if you click through I want you to look at the search bar at the top and note the letters "KU" as the dept. That confirms the reports, I think.
Update: If the page did show something it would probably look like this: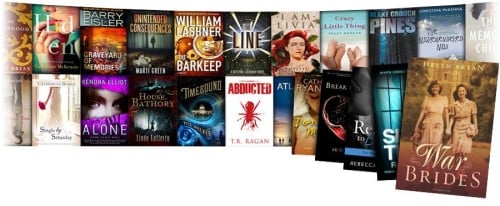 I'm still waiting for comment from Amazon, but at this point it looks like Kindle Unlimited is an expansion on the Kindle Owner's Lending Library which will be made available to all Amazon customers (KOLL is a free benefit for Prime subscribers only, and is bundled into the $99 a year cost). At launch Kindle Unlimited will likely be limited to the US.
A number of authors on KBoards have confirmed that the titles they submitted to KDP Select had been added to Kindle Unlimited, and not just KOLL. There is also a report that the sales reports on the KDP admin pages now includes a mention of the Kindle Unlimited service, which apparently is going to be counted in combination with KOLL revenues.
Speaking of revenues, that is another question we cannot answer yet.  Kindle Owner's Lending Library pays indie authors from a pool of money based on the number of times their books have been borrowed. The pool for July is $1.2 million.
Update: There is now confirmation from Scholastic that their titles will be included in Kindle Unlimited under the existing contract they negotiated with Amazon.
As with KOLL, Scholastic will get paid their full wholesale price every time one of their ebooks is opened by a Kindle Unlimited subscriber.
It's possible that Amazon will expand the pool, but this still raises questions. Prime members can only borrow a single title a month from KOLL, but clearly that limitation will not apply to the Kindle Unlimited service.
In order to compete with services like Scribd and Oyster, Kindle Unlimited will either have to be a lot cheaper or offer similar unlimited reading. Both Scribd and Oyster offer a buffet-style reading experience for $8.99 and $9.99 a month, and they boast catalogs of 400,000 and 500,000, respectively.
If Amazon is launching a direct competitor to Oyster and Scribd then Kindle Unlimited will have to be truly unlimited.
Update: GigaOm found an active test page for Kindle unlimited, and it looks like I can now confirm that this service expands beyond indie titles.  Many publishers who have signed with Oyster and Scribd are also showing up on the test page, including Scholastic, HMH, Open Road, Workman, WW Norton, and Bloomsbury, as well as titles from Amazon's own imprints.
I have yet to find titles from S&S or HarperCollins, both of which have deals with Scribd and Oyster, but there are also 7300 audiobook titles listed.
I will update this post as I get more details.
The post Amazon to Launch New eBook Subscription Service Called Kindle Unlimited appeared first on The Digital Reader.
Weird Al's Latest Parody Music Video Gives Voice to Grammar Nerds Everywhere
Posted: 16 Jul 2014 04:09 AM PDT
Musical genius and master satirist Weird Al Yankovic is releasing a new album right now and he's kicking it off with a bang.
Starting on Monday, he is releasing a new music video each day for each of the 8 songs on the album. Yesterday's video is of particular interest to grammar nazis as well as anyone frustrated by  spelling and grammar errors online.
#WordCrimes is a parody of Robin Thicke's Blurred Lines, and like Weird Al's best work the satire is in many ways better than the original.
Don't know the difference between less and fewer? Literally clueless about when to use literally? Are you a commenter on You Tube? Whether you're guilty of dangling participles or errant apostrophes, "Weird Al" has had enough of your #wordcrimes.
The post Weird Al's Latest Parody Music Video Gives Voice to Grammar Nerds Everywhere appeared first on The Digital Reader.
You are subscribed to email updates from The Digital Reader
To stop receiving these emails, you may unsubscribe now.
Email delivery powered by Google
Google Inc., 20 West Kinzie, Chicago IL USA 60610