---
The Morning Coffee – 11 July 2014
Posted: 10 Jul 2014 09:15 PM PDT
Yes, the morning coffee is back.
Your carafe of links this morning includes the fisking of Mark Coker as a representative of indie authors, why friends don't let friends become authors, yet another survey which tells us that college students don't like digital textbooks, and more.
The post The Morning Coffee – 11 July 2014 appeared first on The Digital Reader.
FTC Sues Amazon Over In-App Purchases – They Should Have Seen that Coming
Posted: 10 Jul 2014 02:51 PM PDT
Both Apple and Google have faced criticism over the years for their policies concerning in-app purchases, and now it's Amazon's turn.
The Federal Trade Commission announced this morning that it was suing Amazon on behalf of parents and other Amazon customers who had experienced unauthorized in-app purchases via their Amazon accounts.
The FTC is seeking the refund of "millions of dollars in unauthorized in-app charges incurred by children" spent on Amazon's Kindle Fire Android tablets as well as in apps acquired via the Amazon Appstore. This lawsuit comes only a few months after a simialr class action lawsuit was filed against Google, and follows Apple settling with the FTC in January. Apple also settled a class action lawsuit in February 2013.
"Amazon's in-app system allowed children to incur unlimited charges on their parents' accounts without permission," said FTC Chairwoman Edith Ramirez. "Even Amazon's own employees recognized the serious problem its process created. We are seeking refunds for affected parents and a court order to ensure that Amazon gets parents' consent for in-app purchases."
In-app purchases have been the bane of parents since at least 2010, so when Amazon added the option to the Amazon Appstore in November 2011 they probably should have know something would go wrong. But even if Amazon didn't, the FTC says that Amazon was aware of the problem since December 2011, and allowed it to persist to some degree until 2014.
According to the press release, internal Amazon emails circulated as early as December 2011 that said allowing unlimited in-app charges without any password was "clearly causing problems for a large percentage of our customers".
Like the other major app stores, Amazon added in-app purchases in order to enable developers to offer free apps and then charge for features and improvements inside the app. While many in-app items cost $.99 to $4.99, some cost as much as $99.99.
Unfortunately, some developers (including Amazon) have exploited this feature to both make players pay to fix broken gameplay as well as well as take advantage of unwary users. All of the major app stores have had complaints about this, and they've all taken minimal steps to fix it.
Google, for example, added a password requirement – but they also left a 30 minute window where no password would be required (it's the focus of the class action lawsuit).
Amazon has also taken minimal action (you wouldn't want to hurt the cash cow, would you?). The FTC says that in March 2012 Amazon updated their in-app purchases system to require an account owner to enter a password for individual in-app charges over $20. Any charge for less than $20 did not require t a parent's approval.
Amazon then changed their policy again in early 2013 to require a password confirmation for some charges in a way that functioned differently in different contexts. I can't confirm this, but the FTC alleges that a single authorized purchase "opened an undisclosed window of 15 minutes to an hour during which the child could then make unlimited charges without further authorization".
It wasn't until June 2014, shortly before the FTC decided to file suit, that Amazon changed their policies to meet FTC requirements.
As was reported last week in the WSJ, Amazon is planning to defend their policies in court. Citing Amazon's generous return policy, Amazon denied that there was a serious issue.  "When customers told us their kids had made purchases they didn't want, we refunded those purchases," said Andrew DeVore, an Amazon associate general counsel, in the letter to the FTC.
The FTC is reportedly seeking "fines and additional record-keeping and disclosure requirements over the next 20 years", so I can see why Amazon would want to fight. But I also don't see that they have much of a chance of winning this case.
It was a well-known fact when Amazon launched this feature that in-app purchases were a vexing problem, and if the FTC really has evidence that Amazon knew of the problem and didn't fix it then Amazon has already lost the lawsuit.
image by drewgstephens
The post FTC Sues Amazon Over In-App Purchases – They Should Have Seen that Coming appeared first on The Digital Reader.
Pocketbook Ultra 650 eReader Updated
Posted: 10 Jul 2014 12:42 PM PDT
Pocketbook's latest premium ebook reader is still not widely available but it already has its first update.
The update was posted to the Pocketbook website earlier this week. According to the internal changelog, the update only included minor bug fixes but one source says that the update also tweaked several features.
The audio player was reportedly optimized, and there were also a number of improvements in reading and editing PDF and html files. The Ultra's camera was also supposedly improved, although it's not clear how.

The Pocketbook Ultra 650 is an ebook reader which features a 6″ Carta E-ink screen with a touchscreen and frontlight. Its most notable feature is a 5MP rear-facing camera with flash, which can be used to scan documents. The Ultra can then use OCR tech to convert the image to text where it can be edited or saved as a note.
The Pocketbook Ultra 650 was briefly up for pre-order in Germany last week with a retail of 169 euros. I am still trying to learn if it is available anywhere.
The post Pocketbook Ultra 650 eReader Updated appeared first on The Digital Reader.
Author Declines Amazon-Sponsored UK Book Award
Posted: 10 Jul 2014 09:21 AM PDT
Noted children's author Allan Ahlberg is getting some attention today for a letter posted on The Bookseller. Ahlberg was up for the Best Book Awards' Lifetime Achievement Award. He was going to be the first to receive the award from the UK literacy charity Booktrust, but he is declining the award as a protest against the award's sponsor: Amazon.
Citing Amazon's ongoing contract dispute with Hachette and Amazon's compliance with UK tax laws, Ahlberg  says in his letter:
The Amazon sponsorship deal is a mistake. Amazon's baleful influence on the British book trade is frequently referred to—see also what's happening with Hachette in America—but it is its position as "The UK's No1 Tax Avoider" (Ethical Consumer) that bothers me.

Tax, fairly applied to us all, is a good thing. It pays for schools, hospitals—libraries! When companies like Amazon cheat—paying 0.1% on billions, pretending it is earning money not in the UK, but in Luxembourg— that's a bad thing. We should surely, at the very least, say that it is bad and on no account give it any support or, by association, respectability.
For the record, in 2013 Amazon paid just £4.2m in the UK on sales of £4.3bn.
In a response to Ahlberg's letter, Booktrust CEO Viv Bird expressed disappointment with Ahlberg 's decision but noted that "this was his personal decision." She added: "Booktrust works with a wide range of partners in order to fulfil our charitable aim of bringing books to children and children to books. We are also grateful for the tremendous support we get from many eminent authors and illustrators. Amazon's sponsorship of the Best Book Awards, in its inaugural year, enabled us to celebrate some of the best of children's literature, create a buzz around books, and make a significant contribution to our mission of encouraging more children to read."
In addition to the award, Ahlberg is turning down the £5,000 prize money which went with it. I don't have any info on who will be getting the award in his place.
The post Author Declines Amazon-Sponsored UK Book Award appeared first on The Digital Reader.
Video Shows Leaked iPhone 6 Shell
Posted: 10 Jul 2014 07:37 AM PDT
The Apple leaks continued yesterday with a new video posted by Feld & Volk.
This firm specializes in high-end aftermarket mods to the iPhone, and they used their relationships with Apple's Chinese suppliers to get their hands on an iPhone 6 shell.
As you can see in the video below (and the image at right), the shell has most of the cut outs and screw holes you would expect in a smartphone. There's no cut out for the camera and flash, though, suggesting that this is an early pre-production sample. The shell has curved edges and corners, and it looks a lot like the leaked dummy units we have been seeing over the past couple months.
It's about the right size to fit the 4.7″ screen which everyone is expecting to see on the new iPhone 6. It also looks virtually identical to the shell which MacRumors received from an unnamed source.
The iPhone 6 is expected to launch in September or October.  The many leaks suggest there will be a model with a 4.7″ screen, and some bloggers are expecting to see a larger iPhone with a 5.5″ screen.
The post Video Shows Leaked iPhone 6 Shell appeared first on The Digital Reader.
Mike Shatzkin is Wrong About Amazon's 100% Revenue Offer to Hachette Authors
Posted: 10 Jul 2014 06:31 AM PDT
Earlier this week Amazon stunned the publishing world when they sent a letter to agents and authors affected by the contract dispute with Hachette. That letter, which was soon leaked to the press, included details which suggested Hachette was not negotiating in good faith, and it offered to remove authors from the conflict by giving them 100% of their respective Kindle ebook sales.
Hachette quickly declined the offer, thus achieving Amazon's real goal of no longer being the only bad guy in the fight. But as the story percolated through the media, any number of arguments were made in favor or against Amazon's proposal including one from Mike Shatzkin.
Shatzkin argues that the advances that most of the authors had already received made it impossible for Hachette to agree to Amazon's offer. I don't see the logic of that argument:
What the deal elides — as does almost all the "analysis" about how authors fare with big publishers versus how they fare with Amazon — is "unearned advances". For the biggest authors with the biggest sales of print and ebooks, Hachette has already paid the ebook royalties at more than the contractual "25% of publisher revenue" rate.

So we have a $10 ebook. Normally, Amazon would pay $7 to Hachette and keep $3. Hachette would notionally divide the $7 as $5.25 to Hachette and $1.75 to the author. What Amazon proposed was that the author would get the whole ten dollars, Amazon would give up its $3 and Hachette would give up its $5.25. Not quite fair, and, to be honest, I hadn't even done that math when I spoke to the reporter.

But the math is worse than that because Hachette has already paid the author's $1.75 in the advance for the lion's share of the sales that would be made under this deal if it were agreed to. So Amazon is giving up $3 and Hachette is giving up $7 on most of the books. And many of the authors, frankly, aren't entitled to even their own share on those sales (they already got it), let alone Hachette's (or Amazon's).
To put it in its simplest terms, Amazon is proposing to give Hachette authors ebook revenues to which they are not entitled under contract.
Shatzkin is saying that Hachette can't agree to this because it would involve giving authors ebook revenues to which they are not entitled under contract (they already got the revenues in advance).
Yeah, that argument doesn't stand up to scrutiny.
If you had told me that Hachette couldn't afford it, I might agree with you. Kindle ebooks account for 18% of Hachette's US revenues (see the postscript), and I am not sure Hachette could afford that kind of hit to their pocketbook.
What's more, Hachette is already taking a hit in the ongoing contract dispute with Amazon (with the tacit approval of Lagardère). Amazon has been responding to what they say is Hachette's refusal to negotiate by reducing the number of copies if Hachette titles stocked in Amazon's warehouses, reducing discounts, and disabling the pre-order buttons. This is costing Hachette sales, and the publisher will likely report a significant drop in revenue in their next quarterly report.
TBH, we all know they were never going to; it's just too big of a hit. The cost of the positive press was too high, and I'm sure many would say that the damage resulting from declining the offer will likely be minimal. Almost everyone hates Amazon, after all.
P.S. According to Lagardère, Amazon accounts for 60% of Hachette's ebook sales in the US, and ebooks make up 30% of US revenues. Thus, Kindle ebooks are 18% (ish) of Hachette's US revenues.
image by Tobyotter
The post Mike Shatzkin is Wrong About Amazon's 100% Revenue Offer to Hachette Authors appeared first on The Digital Reader.
Onyx BOOX M96 Universe eReader/Tablet up for Pre-Order – Android 4.0, 9.7″ E-ink Screen, 250 Euros
Posted: 10 Jul 2014 04:18 AM PDT
If you have the funds for an iPad burning a hole in your pocket and want to get an ebook reader then I have a deal for you. Arta Tech has announced that they have the latest Onyx Boox up for pre-order today, and they will be shipping after the 21st of July. Retail is 251 Euros plus taxes and shipping.
The Onyx Boox M96 Universe is the latest ereader to sport a 9.7″ Pearl E-ink screen. It runs Android 4.0 Jelly Bean on a 1GHz CPU with 512MB RAM and 4GB internal storage. And yes, it has Google Play, but I wouldn't rush out and buy it just yet.
With Bluetooth, Wifi, a microSD card slot, and a speaker, the M96 Universe is the bigger sibling of the recently released Onyx Boox T68 Lynx. It weighs in at 509 grams and is about the size of a 9.7″ tablet, and has many of the same software features as the T68 Lynx, including Ivona TTS, the option to install your own reading apps, and support for a broad range of ebook and file formats.
Alas, while it is larger it is not better than that smaller ereader/tablet. I was planning to buy one right away so I could post a review, but after seeing the specs listed on the product page I can tell you that my recommendation in that review would be to buy the Boox T68 Lynx. And so I will save myself the money and explain why.
To put it simply, the M96 Universe is unfortunately hobbled by the fact that it is really an updated version of an older Onyx ereader – one that was developed before frontlights and capacitive touchscreens were readily available.
If measured spec for spec, the M96 Universe would come up short when compared to the T68 Lynx. The larger device sports a screen with a resolution of 825 x 1200, which is a significantly lower resolution than the 6.8″ screen on the T68 Lynx. The smaller device has a screen resolution of 1440 x 1080, and I think you would appreciate the difference.
The M96 Universe also stumbles in the touchscreen and frontlight department. While the T68 Lynx has a capacitive touchscreen, the M96 Universe has an older and less desirable electromagnetic touchscreen which will only work with a stylus. It also lacks the frontlight found on many modern ebook readers.
This is a cool looking device, but it's on my don't buy list. Instead I would suggest you get the T68 Lynx. I reviewed it a couple weeks ago, and I have found it possible to turn it into a nifty little E-ink Android tablet.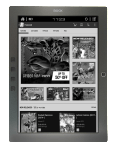 The post Onyx BOOX M96 Universe eReader/Tablet up for Pre-Order – Android 4.0, 9.7″ E-ink Screen, 250 Euros appeared first on The Digital Reader.
You are subscribed to email updates from The Digital Reader
To stop receiving these emails, you may unsubscribe now.
Email delivery powered by Google
Google Inc., 20 West Kinzie, Chicago IL USA 60610