---
Amazon in Talks with Simon & Schuster – Acquisition?
Posted: 15 Jul 2014 03:40 PM PDT
The publishing world was thrown into a tizzy Tuesday night with the news of new negotiations between Amazon and S&S.
Few details are known at this time, and all we really know is what the WSJ has reported:
Hachette isn't the only book publisher facing down Amazon.

The country's largest bookseller is also in talks with Simon & Schuster, said Leslie Moonves, CEO of the publisher's parent CBS Corp. at the Fortune Brainstorm Tech conference in Aspen, Colo. Moonves added that he'd personally met with Amazon CEO Jeff Bezos at a recent conference in Sun Valley, Idaho.

"Amazon has a definite point of view about what should be done in the publishing business," said Moonves. "It's going to be a very interesting thing to watch."

It wasn't immediately clear what the nature of Amazon's talks with Simon & Schuster are, and a spokesman for the book publisher declined to comment. An Amazon spokeswoman didn't respond to a request for comment.
No one yet knows why Amazon is in talks with Simon & Schuster, and the responsible thing would be to wait for leaks from S&S which add details to the story.
In the meantime, let me float an idea past you: Could this be a deal for Amazon to buy S&S?
That is a crazy idea, yes, but hear me out. Before you send for the trank guns, just remember that in the past 6 months I accurately called the Dropbox-Readmill deal, the Comixology acquisition, and the Nook Media spin off.
And now I wonder if Amazon is going to buy S&S.
One thing I've never shared is that in the back of my mind I keep a list of countries companies Amazon might want to buy. S&S is on that list under the heading major trade publisher.
To put it simply, Simon & Schuster is the smallest of the Big 5, and there's no real connection between it and its parent company -  not like there is for the 4 other major US trade publishers.
With $800 million in revenue in 2013, S&S is the smallest of the major US trade publishers (in terms of revenue). It is a wholly owned sub of CBS, a $15 billion a year company with operations mainly in the US.
Assuming Amazon were in the market to buy a major trade publisher, S&S would be the easiest target. It's smaller than HarperCollins and it's not owned by or part of a multinational publishing conglomerate (unlike PRH, Macmillian, and Hachette).
Of course, we don't know Amazon is in the market to buy a major trade publisher so this is purely speculative. This could just be a contract negotiation for book and ebook distribution, and if that is the case someone will leak something.
Until we know more, I plan to hold this as a possibility and not a probability.
The post Amazon in Talks with Simon & Schuster – Acquisition? appeared first on The Digital Reader.
Readsy Adds Spriz's Speed Reading Tech to Your Web Browser
Posted: 15 Jul 2014 02:22 PM PDT
Want to try the speed reading tech offered by Spritz but not sure how? Then you should check out Readsy.
Readsy is a browser tool that helps to speed up your reading by taking whatever page you are looking at, filtering out the extraneous material, and presenting the body of text one word at a time in a window that looks something like this:
Readsy is available as a Chrome plugin and a bookmarklet, and there is also a demo website.
I can confirm that the bookmarklet works with most pages in Firefox. It takes you to a page on the Readsy website  and shows you the window there, and once you're done you'll need t click the back button to return to whichever page you were viewing before.
That's not a terribly good design (a popup window would be better) but it is enough to give you a taste of how the Spritz tech works.
Based on the demo video I found on Youtube, Readsy was released some time in May. It doesn't appear to have gotten much attention just yet.
According to the website, Readsy is the work of a sophomore at Princeton University majoring in Computer Science. It ties into the API provided by Spritz to increase up your reading speed using a concept called rapid serial visual presentation (RSVP). It works by flashing a single word in front of you at a time, at speeds ranging from 250 wpm to 600 wpm. RSVP been around since the 1970s, and as I have pointed out before it has any number of deficiencies, including inducing headaches, poor retention and comprehension, etc.
If you don't want to use the Readsy bookmarklet, you can also find Spritz tech integrated into The Old Reader.
The post Readsy Adds Spriz's Speed Reading Tech to Your Web Browser appeared first on The Digital Reader.
Icarus Launches Updated Illumina eReader with Android 4.2, Dual-Core CPU
Posted: 15 Jul 2014 12:25 PM PDT
eBook readers which run Android are nothing new, but today I came across one which made my heart skip a beat.
The Dutch ereader maker Icarus has unveiled an updated version of their Illumina  HD ereader. Initially launched last fall, the Illumina  HD sported a 6″ Pearl HD E-ink screen with frontlight and touchscreen. The new model launching today sports a sleaker, slimmer design with fewer buttons and runs Android 4.2 on a 1GHz dual-core CPU.
If you're having trouble breathing right now, you're not alone. The new Illumina  HD is an excellent candidate for best E-ink Android tablet.
This ereader has a 6″ Pearl E-ink display, and not the Carta screen found on a few ereaders at the moment. It has both a frontlight and a touchscreen, and on either side of the screen it has page turn buttons. Crack open the case and you'll find a 1GHz dual-core CPU with 512MB RAM, 4GB internal storage, a microSD card slot, and Wifi.
The Illumina  HD ships with a reading app which supports Epub, PDF, FB2, and Mobi. It runs Android 4.2, and while there's no mention of Google Play the product listing does say that:
It comes with several apps pre-installed and you can even install your own apps, from your favorite reading app to social media or productivity apps.
The Illumina  HD does ship with several apps, including a file manager, Dropbox, a web browser and an email client.
The Illumina  HD might not have sound or the best screen on the market, but it does have a better CPU and run a newer version of Android than any other ereader on the market. This is my leading candidate for the title of E-ink Android tablet, and I can't wait to get my hands on one.
It is up for pre-order from Icarus for 119 euros plus shipping, and yes you can get it shipped internationally. It's scheduled to ship on 24 July.
Are you planning to get one?
The post Icarus Launches Updated Illumina eReader with Android 4.2, Dual-Core CPU appeared first on The Digital Reader.
eReader Maker Oaxis Launches Kickstarter Project for E-ink Smartphone Case, Hits Funding Goal in 3 Hours
Posted: 15 Jul 2014 11:10 AM PDT
If you are in the market for a case which adds a second E-ink screen to your smartphone then you might want to head over to Kickstarter tout suite. There's a funding campaign going on right now which is already oversubscribed and is about to run out of prizes.
A certain quietly reputable ereader design firm launched a Kickstarter project this morning to fund their next product. Oaxis is taking their expertise in devloping gadgets with E-ink screens and turning it towards a new product category: smartphone cases.
A number of smartphone cases with E-ink screens have been announced over the past few years, but they all shared one flaw. Each case was designed to fit a certain model smartphone. Given that there are hundreds of models on the market, this is something of a troubling problem – one which Oaxis has solved.
Initially announced in February 2014, the Inkcase Plus is designed to be a modular product. It combines a 3.5″ ereader (with a speaker and Bluetooth) and a smartphone case. The two parts are designed to snap together like so (click the image to see an animated gif):
The ereader unit is reversible, and can be mounted facing in either direction.
As I told you back in February, the ereader component sports a 3.5″ Mobius E-ink screen with a screen resolution of 360 x 600, or around 200 ppi. (Or at least that is what the spec sheet said when I put my hands on the device at CES 2014.) The screen, battery, and circuit board are the most expensive parts of the Inkcase Plus, and by separating them into a modular component Oaxis has both reduced the manufacturing complexity and multiplied the number of smartphones they can support.
This is a far better design than the first-gen inkcase, which was launched last year for the iPhone 5 and Samsung Galaxy Note 2. I reviewed one last fall, and found it to be disappointing, especially in the software department.
If you want to add an E-ink screen to your smartphone then this is the project to get behind. Unlike PopSlate, which has been around for a couple years without shipping a damned thing, Oaxis has a history of producing and licensing their hardware designs. its partners include many different companies in the US, Europe, and around the world.
But Oaxis doesn't have such a good record when it comes to software, and that could be the one area where the Inkcase Plus falls down. According to the Kickstart page, the Inkcase Plus can act as an ebook reader, display notifications and photos, and interface with sports/fitness apps (the data is sent over Bluetooth). The model I reviewed last fall didn't work nearly well enough to justify its $99 price tag, but almost a year has passed so there's a good chance that the software has been expanded and improved.
But we'll have to wait for hands-on reports to be sure. The Inkcase Plus is scheduled to ship in October 2014.
The post eReader Maker Oaxis Launches Kickstarter Project for E-ink Smartphone Case, Hits Funding Goal in 3 Hours appeared first on The Digital Reader.
Scribd Launches Semi-Functional App for Windows RT, Windows Phone
Posted: 15 Jul 2014 10:26 AM PDT
Scribd's brass band must be on vacation at the moment, because last week they launched a couple new reading apps with no fanfare (or at least I missed it).
This blogger belatedly learned yesterday (via WPCentral) that last week Scribd released apps for both Windows RT/8 and for Windows Phone.
Update: The apps went live in late June, but Scribd didn't announce the apps until 15 July so I have changed the date on this post.
The new apps enable readers to access user-uploaded documents and read ebooks from Scribd's 400,000 title strong ebook subscription service. Alas, the apps don't let users read the ebooks offline; an internet connection is required.
Have you tried them?
I haven't had a chance to try the apps yet (no Windows Phone and no interest in booting my Surface tablet), but it looks to me like someone made a quick and dirty version of a Scribd app by taking the existing browser-based reading app and then shoving it inside another app. This is similar to the way that Microsoft has been making WebApps for Windows Phone, but in this case the Scribd app was an official release by Scribd.
That is more than a little annoying, but on the upside Scribd now offers an app on a platform where their leading competitor, Oyster, does not. And frankly, having a limited function app is better than nothing.
If you count the option of reading in your web browser, Scribd is offering two ways to read subscription ebooks which Oyster cannot match (yet), and what's more Scribd is also making the service available globally. According to Scribd, they now have 80 million users who use Scribd to upload, share, and read documents. Scribd has not revealed how many of those users are paying customers, using Scribd's premium hosting service, nor do we know how many are subscribing to read ebooks.
The post Scribd Launches Semi-Functional App for Windows RT, Windows Phone appeared first on The Digital Reader.
I Don't Expect to See an iWatch or a 12.9″ iPad Maxi This Year
Posted: 15 Jul 2014 09:37 AM PDT
A new round of rumors are circulating today concerning Apple's long-rumored iWatch and 12.9″ iPad. While I usually don't comment on implausible and unsubstantiated hardware rumors, I'm going to break with my rule against reporting on rumors and point out just how implausible the latest rumors really are.
Earlier today MacRumors and other gadget blogs reposted a story from the usually unreliable Taiwan Economic News. According to unnamed sources, Apple is supposedly going to launch 3 iWatches this fall as well as the long expected 12.9″ iPad Maxi (my name for it):
Apple is planning to launch three versions of the iWatch in the third quarter of this year. The lineup is said to include a model with a 1.6-inch display and two models with 1.8-inch displays, with the high-end version of the larger size coming with a sapphire display cover for durability.

…

Today's report is set in the context of Apple adopting new touch technologies from TPK, with sources also claiming Apple's rumored "iPad Pro" with a display of 12.9 inches will finally be made official later this year.
While there is some doubt in the blogosphere as to whether we will see the 12.9″ iPad this year, pretty much everyone assumes that Apple will launch an iWatch.
I for one will go on the record with a prediction that we will see neither an iWatch or a larger iPad. My reasoning is pretty simple:
We haven't seen nearly enough hardware leaks to confirm that these devices exist outside of the collective imagination of bloggers and analysts.
And just to be clear, I am not talking about the rumors being spread, but actual leaks, including info from named inside source (analysts don't count) as well as images, diagrams, and other tangible evidence.
As of July 2014, I have seen exactly one hardware leak for the 12.9″ iPad and a grand total of zero leaks for the iWatch. Sure, bloggers have been writing about this or that detail, but they had no images, components, diagrams, etc to back up their words.
in most cases the only images used were mockups like this one created by MacRumors: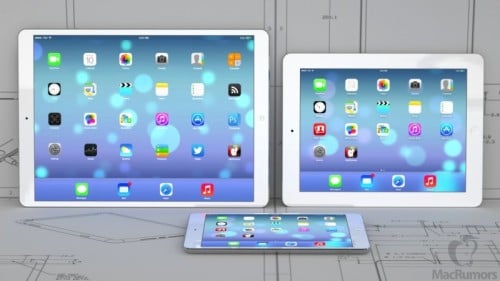 The only leaked component I have seen for the 12.9″ iPad was an unidentified chunk of metal which may or may not have been a raw shell. But since there was no first-hand info on it, it might actually have been some metal worker's idea of a practical joke. We simply don't know.
And since there is even less to back up the iWatch, I remain unconvinced that either device will launch this year.
I could be wrong on this, but when I read what is being said about the iWatch and compare it to what we know about the new iPhone and iPad Air, I don't think I am. Remember, we have seen numerous leaked components for a new iPhone with a 4.7″ screen, and we've seen more than a few leaks which suggest the next iPad Air will be thinner than the current model. I have only reported on a tithe of the leaks, but trust me when I say there were a lot of them.
And so I don't think there's going to be an iWatch this year, or a 12.9″ iPad. What do you think?
The post I Don't Expect to See an iWatch or a 12.9″ iPad Maxi This Year appeared first on The Digital Reader.
BitTorrent to Add a Paywall to its Bundle Platform in September
Posted: 15 Jul 2014 06:56 AM PDT
As a blogger on the cutting edge, I keep an eye out for the next way I might be buying ebooks. In addition to buying ebooks via the major ebookstores, bundle sites, and 3rd-party retail platforms like Gumroad, I expect that in the future we're going to see indie authors and publishers sell at least some content via BitTorrent Bundles.
Launched last year, BitTorrent Bundles are a way for creators to offer a sample of a work for free and then ask for some type of payment for the rest. At the time the platform launched, the only payment option was to submit your email (for mailing lists) but the NYTimes reports that BitTorrent will be adding a paywall in September.
In September, BitTorrent will precede Mr. Weber's foray by inserting a paywall — something it has been avoiding — in one of its so-called bundles. These are downloads that for the last year have been used by musicians, graphic novel publishers and others to offer their work or promotional material in return for nothing more costly than a user's email address. The new paywall will permit access to a music bundle from what the company says will be a major artist, still to be named.

"We saw the opportunity to build what we think will become the leading place for independent content creation," Matt Mason, the chief content officer for BitTorrent, said of the new fee-based initiative.
I'm not sure why the NYTimes is saying that BitTorrent was avoiding paywalls; this is a move I was expecting to see ever since BitTorrent Bundles crossed my desk last September.
The paywall will be used first by the creators of a short SF series called Children of the Machine , which according to the BitTorrent blog tells the story of young adulthood on earth after a major tech upheaval. Marco Weber, a seasoned independent film executive, is to produce the new series, based on a pilot written jointly by him and Jeff Stockwell, whose credits include the movie fantasy Bridge to Terabithia.
The series is expected to run 8 episodes, but only the pilot is guaranteed. The rest of the show will only be produced if the funds can be crowd funded via BitTorrent Bundle.
So how is this an ebook story?
The SF series isn't, but the BitTorrent Bundle platform is. I've been keeping an eye on this platform because it could prove useful as a way to sell ebooks. As I pointed out last year, BitTorrent might be synonymous with piracy but as a technical standard it is the best way, hands down, to upload and download files – in particular large files.
If and when a publisher or author gets into selling audiobooks, digital graphic novels, or enhanced apps directly to their readers, this is a platform they should consider. These files can be up to a gigabyte in size (I have several PDFs which are 700MB or larger), and that can take a while to download. I think the best way to guarantee that the content is downloaded without a hitch is to use BitTorrent, and once BitTorrent Bundles have a paywall creators will be able to combine retail and delivery into a single platform.
Just to be clear this isn't the only option, just one which should be considered. And with over 100 million Bundles downloaded, this platform clearly is being accepted in many quarters. I think it could be as easily accepted by ebook buyers as well.
image by eirikso
The post BitTorrent to Add a Paywall to its Bundle Platform in September appeared first on The Digital Reader.
Mantano eBook App for Android, IOS Updated with Support for Epub3
Posted: 15 Jul 2014 04:55 AM PDT
It's been nearly 3 years since the IDPF formalized the Epub3 ebook format, and support is still spotty at best. That's why I am pleased to report on an update which adds significantly improved support for the ebook format.
Late last week Mantano released a new version of their reading app for Android, iPhone, and iPad. In addition to bug fixes and a couple new reading features, the Mantano app also gained support for Epub3.
According to the changelogs, the app now uses the Readium SDK to add partial support for Epub3 features. Both fixed layout and reflowable ebooks are supported, as well as embedded sounds, animations, and videos, but little else in the way of Epub3 support is listed in the changelog.  The one other new feature mentioned is pop-up footnotes, something which iBooks has supported since 2012.
Other new features in this update include improvements to the highlights and bookmarks functions; text selection and highlights are now editable in PDF and EPUB 2 (in the iOS app), and that app also has an annotations panel. There is also a mention of improved annotations support for the Android app, but it's not clear what that means.
The app also boasts a night mode and custom reading themes. Readers will also have the option of opening Epub3 ebooks in either Epub3 or Epub2 compatibility modes, which should prove useful should they encounter an ebook which has features from both formats.
Please note: The new features have only been added to the paid versions of the Mantano app; the free version in Google Play hasn't been updated since February.
The post Mantano eBook App for Android, IOS Updated with Support for Epub3 appeared first on The Digital Reader.
You are subscribed to email updates from The Digital Reader
To stop receiving these emails, you may unsubscribe now.
Email delivery powered by Google
Google Inc., 20 West Kinzie, Chicago IL USA 60610