---
Infographic: How Long is that Novel?
Posted: 18 Jul 2014 10:39 AM PDT
Have you ever struggled to finish a famous work and wondered just how many words were lined up in order to crush your to live? If so, you might be interested in this infographic that lays out the length of some famous novels, poems, and plays from literary history.
As you can see, some works which are famous for being impenetrable get their reputation from their complexity and not their length. James Joyces's Ulysses, for example, is far shorter at 262 thousand words than Gone with the Wind, and yet I was able to finish the latter and not the former.
At 808 thousand words, the Harry Potter series is far longer than Lord of the Rings and yet I found the former to be a much more enjoyable read (I still haven't finished LotR). On the other hand, both are positively dwarfed by the Game of Throne series, which has already reached 1.77 million words and is still growing. Now that was a frankly tedious read which I only managed to finish out of a sense of masochism.
Which book did you find impenetrable?
The post Infographic: How Long is that Novel? appeared first on The Digital Reader.
Amazon Opens First Pop-Up Store in China
Posted: 18 Jul 2014 08:13 AM PDT
Little has been written since Amazon first started deploying pop-up stores in the US last October, but now it appears that they're not just being used in this market.
Mike Cane has discovered that Amazon is also using pop-up stores in China. The Chinese blog EvoLife broke the news earlier today, reporting that Amazon is installing temporary buildings in cities in China.
Amazon recently opened one location in Wanda Plaza in Shanghai, and it reportedly will only be in operation for this one weekend. After the weekend is over the building will be struck and moved to Beijing, where it will be open for the first weekend in August.
Amazon's pop-up store might be temporary, but it has all the parts of a real store. Customers can try Kindle and Kindle Fire hardware, ask questions of the staff, and they can even buy a device if they like. EvoLife reported that Amazon was carrying their entire product line, including the Kindle, first-generation and second-generation Kindle Paperwhite, and Kindle Fire Android tablets. They also reported that they saw two stations where readers could enter their age and preferred type of book and get a recommendation.
In contrast to the US pop-up stores, in China Amazon is selling the hardware directly. Here in the US the two stores found in SF weren't quite stores; purchases were made from vending machines. Amazon even denied that the US locations were retail operations:
This is part of Kindle's 'Read-It-To-Believe-It' campaign highlighting the all-new Kindle Paperwhite.  The mall integrations at a handful of malls across the US give customers a hands-on chance to try Kindle Paperwhite.  In addition, the 'Read-It-To-Believe-It' campaign includes both TV and print advertising.  You can see the commercials here.
Rumors have been circulating for several years now that Amazon would open brick-and-mortar retail stores. The rumors peaked in February 2012, but so far the closest we have seen were pop-up stores which have since been removed. Since this store is no more permanent than a booth at a trade show it's clearly this isn't the retail store that many expected.
At this point Amazon's physical retail empire only includes a double handful of vending machines in airports and shopping malls, and delivery lockers.
The post Amazon Opens First Pop-Up Store in China appeared first on The Digital Reader.
Hands-On Video: Pocketbook 650 Ultra
Posted: 18 Jul 2014 06:39 AM PDT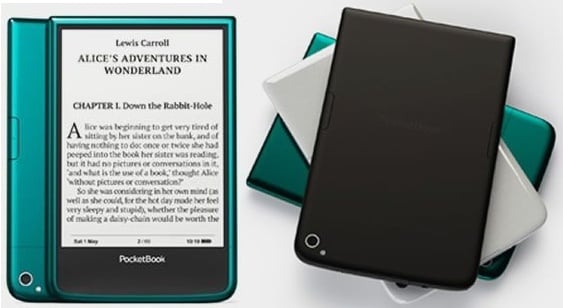 The Pocketbook 650 Ultra is one of the more anticipated ereaders to launch this year, but it is still hard to come by.
I myself an still working to get my hands on one of these camera-equipped ebook readers, and until I do I will have to be content with hands on videos like the following. A Russian blog by the name of MegaObzor bought a Pocketbook 650 and posted a video earlier this week (found via AlleseBook.de).
The video is narrated in Russian and I would guess that it includes a lot of detail concerning the build quality and features. Since I don't speak Russian that doesn't help me, but late in the video we get to see the Ultra in action. The reviewer shows the camera in operation, and he also demos the page turn.
The Pocketbook 650 Ultra is equipped with a 5MP rear-facing camera with LED flash, and as you can see in the video it can be used to take a photo of text. Ideally you are supposed to convert the image into text, but the reviewer mentions in his post that it was difficult to get the camera to focus properly. I don't have any other reports to support or deny that, but if it is true then the one reason to buy the Ultra may have just evaporated.
The Pocketbook 650 Ultra is available now in Russia, where it retails for 8990 rubles. It's currently being launched in Europe, but I can't confirm that retailers are already carrying it.
This ereader has a 6″ Carta E-ink screen, and it runs Pocketbook's own reading software on a 1GHz CPU with 512MB RAM, 4GB internal storage, and a microSD card slot. In addition to the camera, the Ultra also has Wifi, a touchscreen, and a frontlight. it supports a broad selection of ebook formats, and includes a number of software features including Dropbox integration, a Pocketbook-focused sync service, and more.
The post Hands-On Video: Pocketbook 650 Ultra appeared first on The Digital Reader.
Amazon Launches Kindle Unlimited, Will Take it International in September or October
Posted: 18 Jul 2014 05:23 AM PDT
Not one to close the barn door after the horse has left, Amazon has sent out a press release this morning announcing the launch of Kindle Unlimited.
With Kindle Unlimited, readers can read as much as they want (but can only have 10 titles at a time) on their Kindle or Kindle app, all for a low price of $10 a month (with a 30 day free trial). I have reports that the service is currently limited to only US customers, but I also have a report which says that will change later this year.
As I reported when I broke the story 2 days ago, Kindle Unlimited offers readers access to a catalog of over 600,000 titles, including (according to Amazon) over 2,000 audiobooks. Curiously, I can see a count for 7,300 audiobook titles on the Kindle Unlimited page, so that might be a goof on their part.
In addition to the unlimited reading and listening, Kindle Unlimited is also bundled with a complimentary three-month Audible membership. Audible has a catalog of over 150,000 professionally narrated audiobook titles.
That catalog of 600,000 titles seems to mostly consist of indie titles distributed through KDP Select and titles published by Amazon, leavened with a number of titles from a few medium and large publishers, including Wiley, Scholastic, HMH, Open Road, Workman, WW Norton, and Bloomsbury.
As I reported on Wednesday, I can't find any titles from HarperCollins or Simon & Schuster (nor are there any titles from the other major US trade publishers). Both S&S and HC have deals with Oyster and Scribd, Kindle Unlimited's leading competitors, so I expected them to also have deals in place by the time KU went live.
I am still looking for books from those publishers, and I will update this post if they are found.
For now, here is the promo video from Amazon:
At this time Kindle Unlimited is still limited to the US, but Nicolas Gary, editor of Actualitte, reports that his sources with French distributors are saying that the Kindle Unlimited will launch in France in September or October. That September or October launch will likely be part of a global launch.
To be honest, I was expecting a global launch on day one, so perhaps that future expansion date was the original planned launch date which was bumped when Kindle Unlimited leaked earlier this week.
So will you sign up (when the service is available to you)?
I don't plan to commit to Kindle Unlimited today, but that doesn't mean that won't change in the future. Right now it seems KU consists of mostly the same titles I can already access for free as part of the Kindle Owner's Lending Library, one of the fringe benefits of my Amazon prime membership. Admittedly, I can only use a single title each month and I am limited to Kindle hardware, but the selection in KOLL is not appealing. Most months I don't even use the one free title, so I don't think I will be interested in spending $10 a month to get unlimited access.
The post Amazon Launches Kindle Unlimited, Will Take it International in September or October appeared first on The Digital Reader.
You are subscribed to email updates from The Digital Reader
To stop receiving these emails, you may unsubscribe now.
Email delivery powered by Google
Google Inc., 20 West Kinzie, Chicago IL USA 60610