---
TechCrunch Says Amazon's 3D Smartphone Is Powered by Omron's Face-Sensing Tech, I Disagree
Posted: 05 Jun 2014 04:11 PM PDT
The expected launch date for Amazon's smartphone is still two weeks away, and today we may have learned more about one of the companies involved in making the phone's highly anticipated 3d features.
TechCrunch is reporting that they have identified a Japanese firm as having developed the tech which Amazon licensed to use in its smartphone:
The device will be unique in the marketplace thanks to its ability to deliver 3D effects courtesy of four front-mounted IR cameras. What wasn't known is how Amazon planned to scan our faces to handle the UI elements. TechCrunch has learned that Amazon is using Omron's Okao Vision face sensing technology to track the user's head. The Japanese firm's technology was modified by an internal team at Amazon to allow its upcoming phone to deliver unique stereoscopic effects from a standard LCD screen.

…

The result is a 3D effect currently unique in the marketplace. 3D glasses are not needed and there aren't limiting 3D factors like on the Nintendo 3DS.

According to Omron, the Okao software pack can also recognize faces and facial attributes to estimate a person's gender, age and ethnicity. It doesn't sound like Amazon has currently employed any of these additional features at this time. Currently Amazon is focused on head-tracking.
While this sounds plausible, and Omron's tech does fit closely with rumored features of the Amazon smartphone, I'm not so sure how much weight we should give this TechCrunch rumor.
TechCrunch has a bad record on hardware rumors, most recently with the supposed Fire TV dongle that turned out to be a set top box. Before that, TechCrunch said the next Kindle was going to have a 300DPI screen when it launched this quarter. And those are just a couple hardware stories TechCrunch got wrong:
I could be wrong here, but at this point it is safer to assume that TechCrunch was fed another bogus leak by some prankster.
We'll just have to wait and see. Fortunately, we will only have to wait a couple weeks.
The post TechCrunch Says Amazon's 3D Smartphone Is Powered by Omron's Face-Sensing Tech, I Disagree appeared first on The Digital Reader.
Google is Winning the Browser Wars
Posted: 05 Jun 2014 03:06 PM PDT
Adobe confirmed this morning something we had long suspected: Chrome is the most popular web browser.
According to Adobe's analytics service, Google Chrome now accounts for 32% of web browser sessions in the US. This includes both mobile and desktop, and it represents a 6% year-over-year growth. Internet Explorer came in second with a 31% share, while Apple's Safari, thanks to its vast mobile presence, is the third most popular browser, with a 25% share.
With 8.7%, Firefox come in a distant but not too surprising 4th place. Mozilla's web browser has suffered a steady decline from nearly 20% market share three years ago; Adobe says that the decline is due to the lack of a mobile browser, but I say it a result of Firefox becoming increasingly less pleasant to use (I dislike FF so much that I am one bored weekend away from switching to Chrome).
Adobe's data is drawn from aggregate and anonymous data across retail, media, entertainment, financial service, and travel Web sites:
 Adobe Analytics was used to detect the browsers for 17 billion visits to 10,000 U.S. consumer-facing Web sites in April 2014, and more than 1 trillion visits since 2008. Market share figures represent the share of visits from each browser for the average U.S. Web site.
So was anyone surprised to see Chrome come out on top?
I'm not. Chrome has long been the more popular web browser for visitors to this blog, and what little data I have from the web analytics firm StatCounter confirms that Chrome has been the leading web browser since the third quarter of 2012.vOf course, that is based on global web browsing sessions, and not US-only data like the Adobe data mentioned above.
Curiously enough, even though Google has long since made Chrome one of the standard apps installed on all Android devices, it's not the leading mobile browser. With a 59% share, Safari still wins this category, followed by the stock Android web browser (20% share). Chrome comes in third with 13%, which just goes to show you that default installs are a powerful market force.
The post Google is Winning the Browser Wars appeared first on The Digital Reader.
Barnes & Noble Commits to Selling 1 Million Nook-Branded Galaxy Tab 4, Including Both 7″ and 10″ Models
Posted: 05 Jun 2014 12:32 PM PDT
Barnes & Noble has set itself a difficult goal for the next phase of its hardware business.
Earlier today they announced a deal to sell a Nook-branded tablet from Samsung, and a few hours later they spelled out the Samsung contract in a new SEC filing. I'm still working my way through the filing, but it's already revealed quite a few details not mentioned in the press release.
For example, B&N has committed to buying a million tablets from Samsung in the first year:
NOOK Media has agreed to a minimum purchase commitment during the first twelve months after the launch of the initial co-branded NOOK devices of 1,000,000 devices; provided that if NOOK Media does not meet certain sales thresholds of the initial co-branded NOOK devices by December 31, 2014, the twelve month period referred to above shall be extended to fifteen months.
The B&N-Samsung deal is going to commence with the Galaxy Tab 4, but the filing hints that it might expand to other models in the future.  This agreement also includes a marketing fund which will be supplied by Samsung, as well as joint efforts to promote both Samsung hardware and the Nook platform. The co-branded devices are going to be unavoidably tied to the Nook platform; the filing says that this is a registration step which cannot be skipped.
And most importantly, this deal initially includes rebranding both the Galaxy Tab 4 7.0 and the Galaxy Tab 4 10.1:
For the initial Co-Branded Devices, NOOK Media hereby selects Galaxy Tab 4 7" and Galaxy Tab 4 10" Tablets, each in two SKUs (black and white). Samsung shall use its best efforts to make the 7" initial Co-Branded Device available for a commercial Launch during the week of [***] (the " Initial Availability Date "), with the 10" initial Co-Branded Device to follow sixty (60) days after the Launch of the Galaxy Tab 4 7".
The 7″ model is expected to ship in August, according to B&N, which would mean the 10″ tablet will likely ship in October 2014. Both devices have largely the same specs.
Given B&N's previous lack of success, in selling tablets, do you think they will do better in selling Samsung devices?
I don't think so, but that could be my pessimism talking. I just don't think of B&N as a place to buy a tablet – not when BestBuy, Walmart, and Amazon are all carrying multiple models.
The post Barnes & Noble Commits to Selling 1 Million Nook-Branded Galaxy Tab 4, Including Both 7″ and 10″ Models appeared first on The Digital Reader.
Rosetta Books Launches Own eBookstore App on iOS, Android – Could This be an Option for Hachette?
Posted: 05 Jun 2014 11:35 AM PDT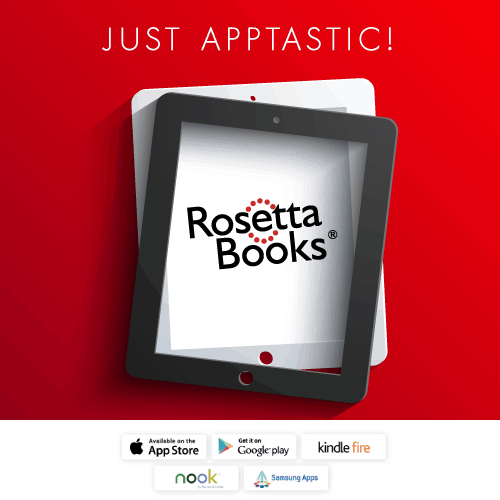 No publishers is really happy with Amazon's control of a large chunk of the ebook market, and today Rosetta Books took their first step to bypass Amazon and other ebook retailers.
This publisher, which initially got its start in releasing backlist titles, announced a new bookstore app for iPad, Android, and iPhone today.
The app offers readers access to over 85 of Rosetta's bestselling and newly released titles. It features curated ebook suggestions, weekly updates on free ebooks, giveaways, and discounted titles. At the moment the app will only let you read samples, rate books, and comment on them; there's no option for buying books yet (not in the iPad app, anyway) but I have been told that this option is being considered.
And yes, when the app does sell ebooks, Apple is going to collect its 30% vig. I was told the ebooks sold through the app will only be readable inside the app, a less than ideal solution.
The Rosetta Books app was developed by an Indian ebook company, Papertrell. It's actually been available since March (I saw it at BEA 2014 last week), but was only announced on Thursday.
Without an option to buy ebooks this app can't do much to boost a publisher's pocketbook, but it can increase engagement. Publishers can still use the app to connect with readers, and later that connection can be used to pitch new releases and ebook sales.
Does anyone wonder if Hachette might be considering something similar?
That publisher is in the middle of a bitter contract fight with Amazon, and I bet they would welcome a way to sell Mobi ebooks directly to consumers. And while the app from Papertrell probably won't do what Hachette wants, there are other options.
For example, Hachette could launch a Pottermore-esque ebookstore. There are literally dozens of ebook companies that can build an ebookstore for Hachette and help deliver ebooks to Kindles.
While DRM could be an issue, Hachette could partner with a company like Booxtream, ePagine, Booxtream, Helicon, or Booxtream. Those 3 companies each offer a type of DRM called digital watermarks which would enable Hachette to sell Kindle compatible ebooks while still adding a minimal level of protection.
Would anyone care to guess whether Hachette will follow through on this idea?
The odds are pretty good, IMO.
And just as importantly, how do you think Amazon is going to respond?
When I last looked at this idea in 2012 I didn't think Amazon would like the idea of supporting a publisher's ebookstore, and 2 years later I stand by that prediction.
What do you think?
The post Rosetta Books Launches Own eBookstore App on iOS, Android – Could This be an Option for Hachette? appeared first on The Digital Reader.
Google's Project Tango Tablet Revealed as a $1,024 7″ Tegra K1-Powered Device
Posted: 05 Jun 2014 10:29 AM PDT
Google's rumored Project Tango tablet saw the light of day for the first time today.
Project Tango is Google's codename for a cutting edge hardware development project that focused on 3d-depth sensing tech. Launched in February 2014, the project had been based around a smartphone, and today the project is expanding to include an expensive tablet.
The Project Tango tablet runs a stock version of Android on Nvidia's Tegra K1 CPU with 4GB RAM, 128GB internal storage, Wifi, Bluetooth, 4G, and a 1080p display. In addition to a front-facing camera and two rear-facing cameras, the tablet also features a special rear depth sensor.
The tablet is available now, but Google says quantities are limited. For a deep hands-on report head on over to Engadget.
So what's Project Tango?
I haven't covered it before on this blog but I have been following the news, and I can tell you that Google is using Tango to drive new advances in 3D tech.
"What if you could capture the dimensions of your home simply by walking around with your phone before you went furniture shopping?" Google says on its Project Tango web page. "What if directions to a new location didn't stop at the street address? What if you never again found yourself lost in a new building? What if the visually impaired could navigate unassisted in unfamiliar indoor places? What if you could search for a product and see where the exact shelf is located in a super-store?"
In a way this expands on Google's other mapping projects, including Google Streetview and the in door mapping efforts for some retailers, only now Google wants to expand the tech beyond their proprietary equipment and into 3rd-party gadgets.
Or at least that is where I see this going, in the long run.
The post Google's Project Tango Tablet Revealed as a $1,024 7″ Tegra K1-Powered Device appeared first on The Digital Reader.
EU Asking Questions About Amazon-Hachette Contract Dispute
Posted: 05 Jun 2014 10:00 AM PDT
Get out the popcorn; the Amazon-Hachette prize fight has gained another commentator.
Reuters is reporting that EU antitrust officials are now talking to Hachette and Amazon concerning their 8 month old contract dispute. (Curiously, there's no mention of Amazon's contentiousn ongoing contract renegotiation with Bonnier in Germany.)
The European Commission's anti-trust officials are investigating a row between online retailer Amazon and French publisher Hachette.

…

The companies themselves – Hachette, the fourth largest U.S. book publisher, is owned by France's Lagadere SCA – have not given details about the basis for the dispute but several media reports have indicated it is over the pricing of e-books.

"We are trying to understand what's going on there. We are looking into this and trying to understand," EU Competition Commissioner Joaquin Almunia told reporters on the sidelines of a conference in London.
This inquiry might not have any effect on the negotiations, but I suspect it will at least keep both parties from playing dirty – or at least keep Amazon from playing any dirtier.
The EU's antitrust officials have little direct interest in this contract dispute; it is primarily a fight between Amazon.com and Hachette Book Group, both US-based companies. But the regulators are probably interested in how this fight might affect the antitrust settlement that Apple and 4 publishers agreed to in late 2012. That settlement precluded publishers from trying to control the retail price of their ebooks (and other restrictions).
This particular clause is due to expire in late 2014, and as a result we could see Amazon engaging in a similar battle in Europe. Only this time Amazon could be facing up to 4 publishers at once, leading this blogger (and probably the regulators as well) to wonder whether the publishers might conspire again.
Would anyone care to lay odds on that happening?
The post EU Asking Questions About Amazon-Hachette Contract Dispute appeared first on The Digital Reader.
Is Anyone Having Trouble Visiting This Blog from a Mobile Browser?
Posted: 05 Jun 2014 09:39 AM PDT
It looks like I am still experiencing complications from switching webhosts.
Several readers informed me yesterday that they were having trouble viewing this blog in a mobile web browser. Specifically, it was showing up as a blank white page:
Your site isn't showing up at all on mobile browsers (tried on Opera and Chrome for Android). Just showing a white screen. I thought the site was down for days until I tried on a desktop.
If you are reading this then I figured out the problem and the temporary fix is in place.
It turns out that, when redirecting my website to use a new nameserver, I forgot to also do something about the mobile site at m.the-digital-reader.com. That is the URL for my mobile site, which used to use a mobile friendly theme, and I completely forgot about it this past weekend.
I just went in and added that URL, and for the moment it redirects to the regular blog theme. This is not particularly mobile friendly, sorry, but it's what I can do this immediate second to replace the blank page. I would like to offer readers a more mobile friendly theme but I can't find a way to do that. The trick I was using doesn't work any more.
My long term plans include switching to a new blog theme which will be responsive, but it's not done yet. Again, sorry.
The post Is Anyone Having Trouble Visiting This Blog from a Mobile Browser? appeared first on The Digital Reader.
Samsung Scores New eBook Coup – Will Develop Co-Branded Samsung Galaxy Tab 4 Nook Tablet
Posted: 05 Jun 2014 07:41 AM PDT
Barnes & Noble has long been promising to launch a new tablet in partnership with a major device maker, and today that promise came true. The bookseller has just announced that they will be partnering with Samsung to produce a new Nook-branded Galaxy Tab 4 tablet.
The new tablet will be released later this year (in early August) and feature the Nook software and access to more than 3 million books, magazines and newspapers.
The tablet will be displayed along with the Nook Glowlight and sold at Barnes & Noble's 663 bookstores across the U.S. and online. Barnes & Noble, which is facing mounting losses in both hardware sales and ebooks, has also said that they will continue to offer the Nook GlowLight, which launched last Fall.
B&N hasn't released specific details on the specs of the Nook-branded Galaxy Tab 4, but based on the specs posted by Samsung I would say Nook is aiming for a lower market tier. The last Nook devices, the Nook HD and HD+, were premium quality enhanced ereaders when they launched in late 2012. They had screens and CPUs comparable to the best mid-level and premium tablets – for 2012.
The Samsung Galaxy Tab 4, on the other hand, is more of a budget tablet. It runs Android 4.4.2 KitKat on a 1.2GHz quad-core Snapdragon CPU with 1.5GB RAM, Wifi, and Bluetooth. It has a 1.2MP front-facing camera and a 3MP rear camera. Screen resolution is 1280 x 800. The Galaxy Tab 4 retails for $199, or about $80 more than  comparable tablets that don't carry a Samsung brand.
This deal is Samsung's second major ebook partnership in only 4 months; in April Samsung partnered with Amazon to release a Kindle for Samsung app. A short time later Samsung retired their ebook app in favor of the Kindle app.
The partnership with Samsung is very much the type of deal that many pundits expected when Microsoft and Barnes & Noble announced the launch of Nook Media more than two years ago. Between the initial payment and performance terms built into the contract, Microsoft has invested upwards of $600 million in Nook Media. In exchange they got B&N's help with a Microsoft reading app which is expected to launch this year, and 30 localized Nook Stores in Europe and Australia. B&N has also announced that they will be retiring the Nook app for Windows 8 in favor of Microsoft's not-yet-launched reading app.
In related news, over the past year B&N has trimmed Nook staff, and on Thursday the company announced that Nook Media will relocate from their existing Palo Alto offices as another cost-cutting measure. Moving to offices in new technology campuses in Santa Clara and Mountain View, California are expected to save the company about $10 million in annual occupancy expenses, reducing its future lease commitments by about $102 million, the company said.
The post Samsung Scores New eBook Coup – Will Develop Co-Branded Samsung Galaxy Tab 4 Nook Tablet appeared first on The Digital Reader.
The Emdoor Miso is a Contender for First 7″ Windows 8 Tablet
Posted: 05 Jun 2014 05:08 AM PDT
Toshiba isn't the only tablet maker working on a 7″ Windows 8 device. A Chinese OEM by the name of Emdoor also has one on the works. In addition to offering  dual-boot Win8/Android tablets and the 8″ EM-i8080, Emdoor is also now showing off a 7″ tablet that runs Windows 8.1.
The Emdoor Miso looks a lot like yesterday's Toshiba Encore tablet, only better.
The Miso runs Windows 8.1 on a quad-core 1.3GHz Intel Atom Z3735G CPU with 1GB RAM, 16GB internal storage, and a microSD card slot. It sports two 2MP cameras, Bluetooth, Wifi, and has a single speaker on the back. It also an HDMI port.
The screen resolution is a decent 1280 x 800, which is a slight improvement on the Encore Windows 8 tablet that Toshiba revealed yesterday. Battery life is estimated to be in the range of 6 hours. Emdoor hasn't released any details on price (that is up to their importer partner) but they do plan to begin mass production in August.
I'm not expecting this tablet to be extremely cheap. While it does have an Atom CPU, a brief Google search reminds me that the Z3735G is a 64 bit chip that has not been used in any Android tablets yet – or very many Windows 8 tablets, for that matter.
At this point it is too early to guesstimate the price, but I would place the upper limit at $149. That's the expected price for the Encore 7 tablet, and given that the Miso has better specs I hesitate to price it below Toshiba's tablet.
The post The Emdoor Miso is a Contender for First 7″ Windows 8 Tablet appeared first on The Digital Reader.
You are subscribed to email updates from The Digital Reader
To stop receiving these emails, you may unsubscribe now.
Email delivery powered by Google
Google Inc., 20 West Kinzie, Chicago IL USA 60610