---
The Morning Coffee – 12 June 2014
Posted: 11 Jun 2014 09:04 PM PDT
My reading list this morning includes a couple alternatives to Google Alerts, the conclusion of a key copyright lawsuit, speculation that Facebook will retire the Paper app, a vote for Aldiko as the best reading app on Android, and more.
The post The Morning Coffee – 12 June 2014 appeared first on The Digital Reader.
Google Play Books Expands into 11 Countries in Latin America
Posted: 11 Jun 2014 04:37 PM PDT
Google inadvertently and prematurely announced their next round of expansion today.
According to a Google+ post (which went a little earlier than it should), Google has announced that Google Play Books is launching in Luxembourg and whole host of countries in Latin America:
Paraguay
Bolivia
Uruguay
Guatemala
Honduras
Panama
Dominican Republic
El Salvador
Ecuador
Nicaragua
Costa Rica
Luxembourg
Counting Norway (whose local Google Play Books went live last week) and Luxembourg, Google  has launched Play Books in 13 countries in the past week, bringing the total to 57.
It looks like I was right when I guessed that the hiatus was over, which means that in the coming months we can expect to see Google launching Google Play Books in 6 to a dozen countries every  6 weeks or so. I would not be surprised to see Google Play Books available in 100 countries or more.
The post Google Play Books Expands into 11 Countries in Latin America appeared first on The Digital Reader.
Amazon Accounts for 60% of Hachette's eBook Sales in the US, 78% in the UK
Posted: 11 Jun 2014 04:21 PM PDT
I have sometimes tried to downplay Amazon's rough business tactics by pointing out that they are but one retailer among many, and weren't actually a monopoly or monopsony, but it looks like I may have been wrong in certain respects.
Publishers Lunch has discovered an internal investor's brief for Legardere, Hachette's parent company. The brief is an incomplete but an otherwise revealing look at Hachette Livre, Legardere's publishing division, including its operations in the US, Spain, UK, France, and elsewhere.
Among other details, the brief tells us that digital made up 10% of Hachette Livre's overall revenues in 2013, and around 30% of revenues in the US in 2013.
While the whole brief is worth reading for the useful insider info it reveals, what caught my eye today was one slide in particular. This doc doesn't tell us the breakdown of Hachette's print sales, but it does reveal that Amazon represents an uncomfortably large share of Hachette's ebook sales in the US and UK. And it gives is  a clue just how much control Amazon has over Hachette.
If you click the image you will see that Amazon accounts for around 60% of Hachette's digital revenues in the US and 78% of digital revenues in the UK:
I was surprised on two counts when I saw this slide. I wasn't expecting Barnes & Noble to represent such a large share of Hachette's revenues in the US, and I wasn't expecting to see Amazon monopolizing ebook sales in the UK.
Due to B&N's declining digital sales, I was expecting that Apple had replaced them as the second largest ebook retailer in the US. Clearly in the case of Hachette that hasn't happened. Furthermore, even though there have been hints that Amazon dominated UK ebook sales, I had no clue that Amazon was effectively a monopoly (for Hachette, at least).
On a related note, that slide focuses on just the 2 markets because the rest of the markets where Hachette Livre operates have negligible ebook sales. It's only in the US and UK that ebooks make up 30% and 27%, respectively.
So was anyone else surprised to see Amazon's share of the UK market?
I know that a 79% figure had been floating around, but I hadn't found it plausible. That may have been an error on my part.
The post Amazon Accounts for 60% of Hachette's eBook Sales in the US, 78% in the UK appeared first on The Digital Reader.
It's not just Hachette and Warner Brothers, Amazon Has Stopped Taking Pre-Orders Indie KDP Titles, Too
Posted: 11 Jun 2014 01:15 PM PDT
News is breaking today that even more of Amazon's suppliers are on the outs with the retailer.
The New York Times reported yesterday that Amazon appears to also be in conflict Warner brothers. Amazon is reportedly responding to a contract dispute with Warner Brothers by removing the pre-order buttons from movies produced or distributed by that studio:
The Everything Store is shrinking again. Amazon customers who want to order forthcoming Warner Home Video features, including "The Lego Movie," "300: Rise of an Empire," "Winter's Tale" and "Transcendence," are finding it impossible to do so.

The retailer's refusal to sell the movies is part of its effort to gain leverage in yet another major confrontation with a supplier to become public in recent weeks.
Like in the Hachette contract dispute, it is widely believed that Amazon is using the pre-order buttons as leverage in the ongoing negotiations. It's not clear what Amazon is pushing for, but in the case of WB it could be anything from streaming rights to better terms on DVD distribution. Warner Brothers  is a huge media conglomerate, so the bone of contention could literally be just about anything.
But it's not clear what Amazon hopes to gain by disabling the pre-order buttons on ebook titles distributed through KDP by independent publishers and authors.
Check any ebook listing by an indie author and you'll see that many do not have access to pre-order buttons (some still have it, though). I'm fairly dialed in to the self-pub world, and my sources have not been able to offer a reason for this decision on the part of Amazon.
Well, there is no justification for this, but then again the vast majority of indie authors and publishers have never had the option of putting up a pre-order button in the first place.
This option, which Amazon is described as a bully for taking away from Hachette and Warner Brothers, is only available to a limited number of Amazon's suppliers. Sure, some indie authors can use pre-order buttons, but they are the exception.
The point I am trying to get at, folks, is that the pre-order button is far more of a privilege than a right, and if disabling it is a penalty then Amazon must be punishing a significant number of their suppliers. In short, if Amazon is wrong for taking the option away, they must be doubly wrong for never offering it in the first place. How evil.
The post It's not just Hachette and Warner Brothers, Amazon Has Stopped Taking Pre-Orders Indie KDP Titles, Too appeared first on The Digital Reader.
Got $20? Amazon Wants to Sell you a Fire TV
Posted: 11 Jun 2014 10:27 AM PDT
Amazon wants nothing more than to sell you another gadget.
News broke yesterday that Amazon was offering their Kindles and Kindle Fires under an installment plan, and today I can report that Amazon is expanding that installment plan to include the Fire TV as well.
Amazon has quietly launched an installment plan offer for their 2-month-old set top box. The launch was in fact so quiet that I don't think anyone knew about it yesterday, and that could be because this offer is more selective than the plan for the Kindle and Kindle Fire.
Apparently this offer is only being shown to select Amazon customers. Luckily for me one of my readers fell in that group and sent me a couple screenshots. (Thanks, Syn!)
As you can see in the screenshot above, Amazon is offering the Fire TV under terms which are virtually identical to those for the Kindle Fire and Kindle. Customers can buy a Fire TV in 5 easy payments of $19.80, plus shipping and applicable taxes.
And since Amazon is processing the payment in-house, there are no fees, hidden charges, or interest.
I have not witnessed this offer myself, but as you can see in the screen shot below Amazon is making the offer on the Fire TV's product page:
The Fire TV is a $99 set top box which Amazon launched in April. It runs a proprietary version of Android on a 1.7GHz quad-core Snapdragon CPU with 2GB RAM, Bluetooth, 8GB internal storage, and dual-antenna wifi. It comes with a remote, and Amazon also sells a game controller for $40.  The regular retail for the Fire TV is $99, the same price as the Roku 3 and Apple TV, but you can also find it bundled with the Kindle Fire HDX tablet for $249.
Would anyone care to guess what this installment offer says about sales?
Now that Amazon is offering all of their hardware on installment plans, I don't think we can draw any conclusions other than Amazon wanting to sell more hardware. But I could be wrong.
Has anyone heard any juicy rumors to the contrary?
The post Got $20? Amazon Wants to Sell you a Fire TV appeared first on The Digital Reader.
Author Resale Rights Rears its Ugly Head in the UK
Posted: 11 Jun 2014 08:51 AM PDT
A bad idea from the art world has just cropped on in the book industry.
Book Barn, a small online used book merchant based in the UK, announced yesterday that they will be partnering with the Authors' Licensing and Collecting Society to start an author resale right initiative. Book Barn will be working with ALCS to collect and pay a royalty to authors on each book sold.
This initiative, which Book Barn is calling Book Author Resale Right, was inspired by the Artist's Resale Right, or Droit de suite. This is a legal concept which states that someone who buys a piece of artwork has to pay the original artist a royalty when it is resold. (more coverage at TechDirt)
While I am sure that sounds like a good idea for artists and authors, it is not without its own complications. And before anyone jumps on the bandwagon it's worth our time to consider just what we're getting in to.
The Droit de suite was codified under an EU directive in 2001, and when it was enacted in the UK in 2006 it was shown to have significantly higher costs than expected, require far more work, and benefit far fewer artists than predicted. It also discouraged speculative investments in new artists, thus depressing several careers.
According to one report, the average administrative cost per sale was between £23.30 and £53.60. This high cost was largely due to the difficulty in identifying qualifying artists and the fact that the sellers took on this responsibility in order to protect themselves from the financial liability of a misidentification.  And rather than the claimed  tens of thousands of artists benefiting, "in the second largest art market in the world, only 1,104 artists benefited, of which only 568 were British".
And now Book Barn wants to bring that bad idea to used book sales. Admittedly, Book Barn's announcement was more of a publicity gimmick than anything, but for the sake of the argument let's consider it seriously.
For the sake of this post, I'm going to ignore the US market. This idea runs contrary to the first sale doctrine, and that would probably defeat it in US courts. Instead, let's look at the UK.
Creating an Author Resale Right would involve taking an idea from a market in which tens of thousands of items are sold each year from hundreds of sellers and applying it to a used book market in which hundreds of millions of units are sold each year (if not more) from hundreds of thousands of sellers. What's more, the averaged used book price is measured in dollars or pounds (as in under ten), while artwork can sell for hundreds if not thousands times that.
Furthermore, there are now hundreds of thousands if not millions of authors, both living and dead; how exactly are they going to be found and paid, especially the ones not in the UK?
While the UK does have a system in place to pay authors a very small fee for each time one of their books is checked out, that system isn't designed to handle as many transactions as occur daily in the used book market. And at a payment of 6p per loan with a maximum of £6,600 paid to each author each year, it's not exactly a huge sum.
Book Barn's idea doesn't strike me as a workable proposition on a large scale, and even with the assistance of collection societies, it's not clear that the benefit to authors would exceed the cost of maintaining the system. Furthermore, existing collection societies are neglecting to pay musicians because it's too much effort, so I would seriously question whether it is a good idea to give them even more money for their coffers.
Luckily for me, this is an idea which will probably not catch on. Even though it might damper the used book market, publishers would oppose the idea because it would negatively affect their business model (remainders in particular). And there's little chance that the idea would be picked up as a voluntary market initiative, not when Amazon's response could be summed up as "piss off". And if Amazon won't raise their costs to cover this, few other retailers will be able to afford to do so – not if they want to stay in business.
Still, it's an interesting idea, which is why I took time today to beat it to death, set it on fire, and then nuke it from orbit (it's the only way to be sure).
Sources
image by J. Tegnerud
The post Author Resale Rights Rears its Ugly Head in the UK appeared first on The Digital Reader.
Feedly Hit with a DDoS Attack, Extortion Demands
Posted: 11 Jun 2014 06:02 AM PDT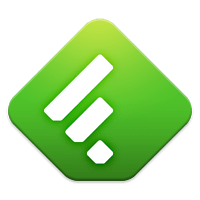 If you've been having trouble accessing your Feedly account today, I wouldn't blame the startup. Feedly announced around 5am eastern time this morning that they are under a DDoS (distributed denial-of-service) attack as part of an extortion attempt:
"Criminals are attacking feedly with a distributed denial of service attack (DDoS). The attacker is trying to extort us money to make it stop. We refused to give in and are working with our network providers to mitigate the attack as best as we can, " explained Edwin Khodabakchian, founder and CEO of Feedly. He added, "We are working in parallel with other victims of the same group and with law enforcement."
The hackers are crippling Feedly's network resources, but they have not gained access to Feedly's servers (it's not that kind of attack) and Feedly has assured us that our data is safe. Service will be restored once the attack is mitigated.
Feedly has not identified where the attack originated, but they have hinted that other services are facing similar attacks from the same perpetrators. This probably includes Evernote, which only yesterday reported it was under a similar attack, though it was quickly restored.
With around 15 million users and 24,000 paying customers in February 2014, Feedly is the largest of the many feed reader services that blossomed in the wake of the Readerpocalypse, Google announcing the closure of Google reader last year. It's the leading replacement for Google Reader, which could be why the service was targeted.
The post Feedly Hit with a DDoS Attack, Extortion Demands appeared first on The Digital Reader.
New Photos Show a Thinner and Larger iPhone 6
Posted: 11 Jun 2014 05:23 AM PDT
New photos of Apple's next iPhone appeared on Weibo earlier this week, teasing bloggers with hints of what Apple is going to be launching this Fall.
The photos confirm that the new iPhone (6?) will sport a larger screen, most likely 4.7″.  It has thinner bezels on either side of the screen as well as less space above and below the screen, and it's most notable feature is a curved rear shell which closely resembles the rear of the iPad and not the squared off shell of the iPhone 5s.
Aside from detailing on the rear shell that may or may not make it into the production model, there isn't much else to see in the photos. But photos published by Nowhereelse.fr also highlight the thinness of the iPhone 6, which is expected to be significantly thinner than previous models.
The 4.7″ iPhone 6 is expected to arrive this Fall, possibly sporting a 1704 x 900 resolution display. There have been additional rumors surrounding a larger 5.5″  model expected to go on sale at around the same time, likely in shorter supply and with a higher price point, but we haven't seen any leaked hardware. This blogger is not convinced that the larger iPhone will be making an appearance.
The post New Photos Show a Thinner and Larger iPhone 6 appeared first on The Digital Reader.
The Morning Coffee – 11 June 2014
Posted: 10 Jun 2014 07:54 PM PDT
Must read stories this morning include The Onion's take on B&N's hardware business, a guide to read it later apps, censorship in publishing, the debunking of a DBW report on authors' preferences for traditional publishing, and more.
The post The Morning Coffee – 11 June 2014 appeared first on The Digital Reader.
Three Months in, Amazon's Kindle Installment Plan is Here to Stay
Posted: 10 Jun 2014 02:54 PM PDT
Did you catch the story today on Amazon new* installment plan for Kindles and Kindle Fires?
Amazon's three month old program is getting a lot of attention today. TechCrunch and many other blogs have noticed that Amazon is repeating the short installment plan pilot  which Amazon ran last year, only now Amazon has expanded the program to include all of their ereader and tablet models (but not the Fire TV – yet).
From what I can see, the terms of the deal haven't been changed. The cost is still spread over 5 payments, with the first payment due when you check out. A credit check is not required, but Amazon does want to see a credit card.
I can't say that I am surprised to see the program is still around, but I am a little surprised that it's been running for 3 months before the blogosphere noticed. That's odd.
It makes a lot of sense for Amazon to offer this program. Once they have maxed out their retail channel by selling to everyone who can pay full price, and lowered the price as much as they can via ad subsidies, the next logical step was to offer an installment plan and lower the purchase barrier another notch. And since Amazon handles their own payment processing, the actual cost (compared to having the stock sitting in a warehouse unsold) is minimal.
What's more, if the reports that Kindle owners spend $443 more per year with Amazon than non-owners then the retailer would be a fool not to offer this plan.
But I wouldn't put too much weight into that report; this installment plan is mainly for people who can't afford the full retail price of a Kindle or Kindle Fire in a single charge. If their funds are that tight then I'm not sure how much they can afford to spend to spend at Amazon.
On a related, Amazon has been trying out a program which lets customers try a Fire TV for 30 days before paying. That program is much more selective, though.
The post Three Months in, Amazon's Kindle Installment Plan is Here to Stay appeared first on The Digital Reader.
You are subscribed to email updates from The Digital Reader
To stop receiving these emails, you may unsubscribe now.
Email delivery powered by Google
Google Inc., 20 West Kinzie, Chicago IL USA 60610