---
The Morning Coffee – 18 June 2014
Posted: 17 Jun 2014 08:28 PM PDT
My must-read stories this morning include a unique take on audience building,  13 books which you should be embarrassed to read, a sneak peek inside Lab126, Mike Shatzkin's response to Hugh Howey, and more.
The post The Morning Coffee – 18 June 2014 appeared first on The Digital Reader.
Apple is Now Discounting eBook Pre-Orders that Amazon Won't Sell You
Posted: 17 Jun 2014 03:05 PM PDT
Remember the good old days when Apple didn't want to compete in the ebook market?
I hope you remember them well, because they're long gone.
Apple has joined Walmart, Books-a-Million, and Zola Books in making hay from the ongoing Amazon-Hachette contract dispute.
Re/Code has noticed that Apple has reorganized the iBookstore and brought a new section to the front of the store. The gadget maker is now highlighting a new section called"Popular Pre-Orders: $9.99 or Less". There are 26 titles in this section, and they are all published by Hachette, including Invisible by James Patterson, The Silkworm by J.K. Rowling, The Burning Room by Michael Connolly.
Apple is encouraging pre-orders of these books while at the same time Amazon has disabled the pre-order buttons from Hachette titles as a pressure tactic in its 8 month long contract fight with Hachette.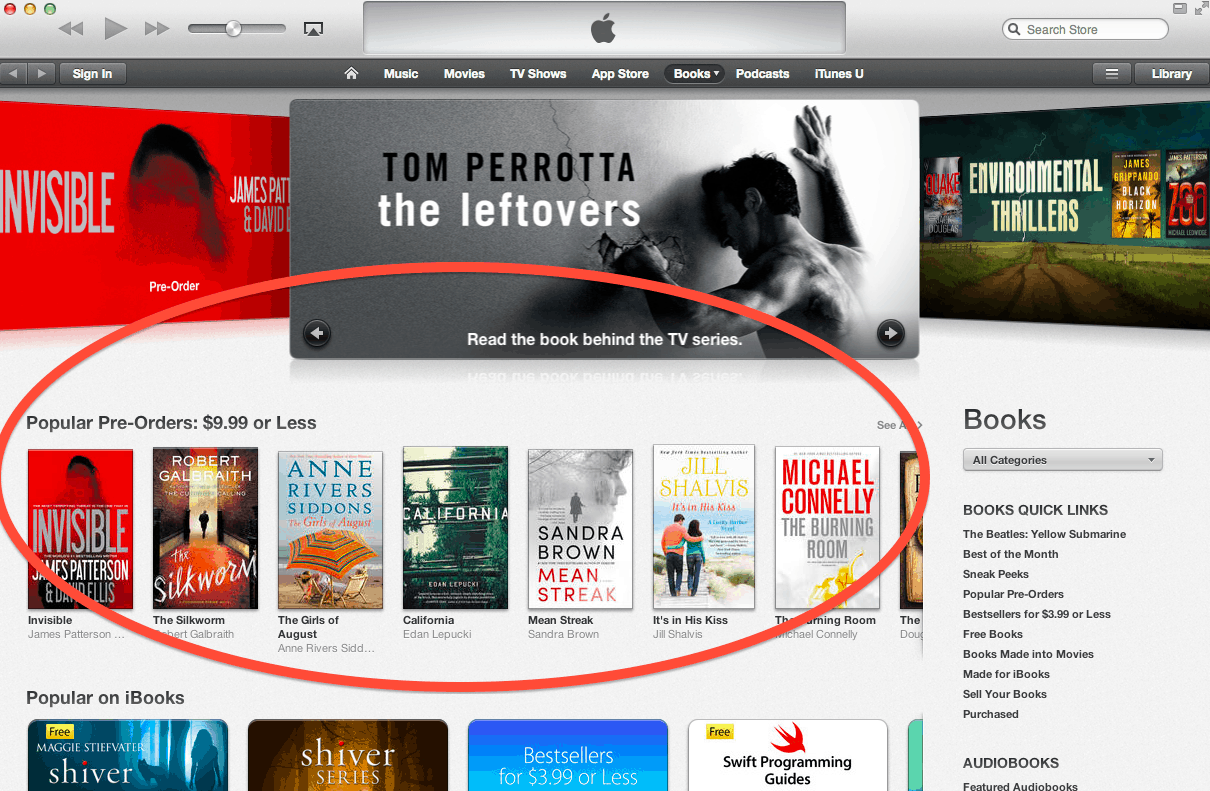 Re/code has confirmed with Apple that the promotion is ongoing, but no one is talking about the prices or exactly who authorized the discounts. At this point it's not clear whether Apple is eating the cost or if Hachette is footing the bill in order to tweak Amazon's nose, but I would say that this is point is unimportant.
IMO the important point is that Apple, a company that wasn't going to have to enter the ebook market if they had to compete on price, is now discounting ebooks. Apple, a company known for making the $14.99 price point an industry standard, is pushing ebooks which cost under $10.
Sure, Apple has been discounting ebooks ever since the major publishers negotiated their post-agency contracts in late 2012 and early 2013, but those discounts were relatively mild. Today Apple is discounting ebooks like there is no tomorrow.
Black is white, folks. Up is down. Left is right. Dogs and cats, living together. And Apple is discounting ebooks while Amazon won't let you order them.
We live in a mad, mad world. Pass the absinthe; I think I might be going sane.
The post Apple is Now Discounting eBook Pre-Orders that Amazon Won't Sell You appeared first on The Digital Reader.
Apple Reaches Settlement on eBook Antitrust Lawsuit
Posted: 17 Jun 2014 09:16 AM PDT
According to a new court document filed on Monday, Apple has reached a settlement in the antitrust lawsuits brought by state attorneys general and consumers over ebook price fixing.
The terms of the settlement have not been disclosed, but we do know that the damages trial has been indefinitely postponed.
According to the letter which plaintiff's attorney Steve Berman wrote to Judge Denise Cote, "The parties write to inform the Court that the Class Plaintiffs, State Plaintiffs, and Apple have executed a binding agreement in principle to resolve the Class litigation, and the damages phase of the States' litigation." The judge signed an order agreeing the plaintiffs in the case will have until July 16 to file the proposed settlement terms.
This comes as a surprise.
Having settled a similar case in Europe, Apple has been doing everything in their power to fight the allegation that they conspired with 5 US publishers in early 2010 to raise ebook prices and force Amazon to adopt retail price maintenance. While the 5 publishers settled in advance of the trial, Apple defended themselves in court in June 2013 and lost.
Since then they have been fighting a rear guard action with motions, appeals, and even going over Judge Cote's head with a couple appeals to the 2nd Circuit Court. Apple is still working on an appeal to get the entire case thrown out, but they had exhausted all of their options for delaying the damages phase of the ebook antitrust lawsuit.
The plaintiffs were said to be seeking up to $840 million in damages, but at this point we don't know just how much they are getting from Apple.  But however much Apple agreed to pay, it will probably amount to less than a percent of its cash reserves. That makes the financial penalties less than a slap on the wrist, which might explain why Apple finally settled.
image by mando2003us
The post Apple Reaches Settlement on eBook Antitrust Lawsuit appeared first on The Digital Reader.
Google Play Books may have Launched in Norway but You Can't Find Norwegian Books There
Posted: 17 Jun 2014 07:40 AM PDT
Google may have launched a local Play Books store in Norway a couple weeks ago but they did so without few local titles.
The Norwegian newspaper Afterposten has reported that some of Norway's major publishers, including the three largest publishing houses Aschehoug, Cappelen Damm, and Gyldenda, have balked at signing deals with Google.
According to their sources,  the publishers passed on Google Play Books because it was a marginal ebook platform and because Google's contract terms made Amazon look fair and honest. Unnamed sources told Afterposten that Google is asking for a larger cut of the retail price than publishers can accept. Google is reportedly asking for more than half of the proceeds, and not the 30% that, Apple for example, receives for ebooks sold in iBooks.
But in spite of the lack of interest by the larger publishing houses, it appears that Google has secured a tentative agreement with the Norwegian ebook distributor EBokNorden, whose general manager Sjur Mossige is quoted as saying that "he has a general distribution agreement with 25 smaller Norwegian publishing houses, and that he will soon begin testing the new platform."
Norway has a relatively small ebook market which was worth an estimated 2.3 million euros in 2013. eBook sales were up 70% over 2012 but still represent a tiny share of the 700 million euro Norwegian  book market. Local ebook retailers include Nook, iBooks, ebok.no, and chain stores. Amazon also supports Norwegian but does not opened a local Kindle Store yet.
image by AnneCN
The post Google Play Books may have Launched in Norway but You Can't Find Norwegian Books There appeared first on The Digital Reader.
Amazon Smartphone to be an AT&T Exclusive?
Posted: 17 Jun 2014 06:46 AM PDT
Amazon is widely expected to launch a smartphone tomorrow. We still don't know the name, but new reports say that the phone is going to be exclusive to AT&T here in the US.
According to the WSJ:
AT&T will be the exclusive carrier for Amazon's new smartphone, which is expected to be unveiled on Wednesday, according to people familiar with the plans.
The arrangement extends Amazon's relationship with AT&T, which also provides wireless service to Kindle tablets and e-readers. The move could help AT&T attract new subscribers at a time of intense competition among wireless carriers.
Even though a similar rumor circulated in April, the WSJ story still comes as a surprise to this blogger. Yes, Amazon has an existing deal with AT&T, but I never thought a customer-centric company like Amazon would sign a crony deal with a telecom.
But clearly I must have called this one wrong; the WSJ has a reputation for getting Amazon rumors right so this rumor is almost certainly true.
The Amazon smartphone is expected to launch at a gala event tomorrow, 18 June. The latest rumors say that it is running Android on a SnapDragon CPU with 2GB RAM. It's supposed to have a 4.7″ screen with a total of 6 cameras including 4 low-power IR cameras as well as a 13MP rear camera.
The rumors also say that it could have any number of interesting features (one, two, three, four), though it's not clear that any of the rumored features actually require the 4 IR cameras we have been hearing about.
On a related note, at this point we still don't know the phone's name, nor do we know whether it will launch internationally. There's a good chance that the Amazon smartphone will be a US-exclusive product when it is revealed tomorrow.
The post Amazon Smartphone to be an AT&T Exclusive? appeared first on The Digital Reader.
At Long Last, Oyster Launches an App for Android
Posted: 17 Jun 2014 06:22 AM PDT
Earlier today Oyster resolved the one major stumbling block which I and many other potential customers had identified when Oyster launched its ebook subscription service some 10 months ago.
They've released an app for Android.  According to the press release, the app is available for Android and the Kindle Fire. I am still having trouble locating the app, but I assume this means that it will be posted to Google Play and the Amazon Appstore.
Oyster offers a subscription ebook service which enables readers to access a catalog of 500,000 titles for $10 per month. Initially only available for iDevices, the service is now open to Android users (and it will soon be available in your web browser) – but only ones in the US.
Unlike their competitor Scribd, Oyster is still geographically limited to the US. In the long run this could be its greatest weakness, but I would bet that Oysters knows this and plans to address it in the near future.
If you are currently an Oyster user, please do us a favor and tell us what you think of the app. I'm sure I'm not the only Android user which is eagerly waiting for details about how well the new Oyster app works.
Update: The Oyster app can be found in Google Play, but not the Amazon Appstore. Kindle Fire owners (as well as anyone who cannot access Google Play) can download the app from Oyster.
The post At Long Last, Oyster Launches an App for Android appeared first on The Digital Reader.
Kobo Launches New Reading App for Windows Phone
Posted: 17 Jun 2014 05:40 AM PDT
When Kobo relaunched their Windows 8 app earlier this year they also mentioned that a related app for Windows Phone was in the works. That app launched with little fanfare yesterday.
Windows Phone users now have a new option for reading in addition to the Kindle and Nook apps. The Kobo app is free to download from the Windows Phone Store, and it offers access to a catalog of some 4 million titles, including ebooks, comics, and children's books.
I haven't tried the app (no Windows Phone), but according to the listing the features include:
Pick up right where you left off. We'll sync your bookmarks so you can keep reading across all your devices.
Customize your reading experience. Enjoy crisp, clear text, in the size and style you prefer or try Night Mode for easier nighttime reading.
Enjoy first chapter previews for thousands of select books and save them in your library.
Quick access to your recent reads within the app and from Live tiles.
Have you tried the app? What did you think?
The post Kobo Launches New Reading App for Windows Phone appeared first on The Digital Reader.
$574 Pocketbook CAD Reader Delayed Until Next Year, Will Have a 13.3″ Mobius E-ink Screen
Posted: 17 Jun 2014 04:57 AM PDT
Pocketbook's 13.3″ ereader has been delayed again, and that's a good thing. New reports are coming in today from Russia that Pocketbook has changed the design of CAD Reader.
The tech blog Mobile-Review.com (found via MobileRead user fgdas) got their hands on the CAD Reader, and they revealed that this ereader is now going to use a flexible 13.3″ Mobius display like the one on the Sony Digital Paper DPT-S1.
When it was initially announced last December, the CAD Reader was to be built around a 13.3″ Fina E-ink display. The Fina display is the same size and resolution as the Mobius display (1600 x 1200), only instead of the flexible and rugged plastic backplane found in the Mobius display, the Fina display uses a glass backplane similar to that found in many ereaders, including the Kindle Paperwhite.
As everyone knows, E-ink screens like the one on the Kindle Paperwhite are prone to breakage simply through ordinary usage. The Fina display, with its enormous size, will likely be extremely fragile. This led Pocketbook to revise the design of the CAD Reader and replace the screen.
As someone who has broken his share of ereaders, that's great news. Unfortunately it also comes at a price; the CAD Reader is going to be delayed again. The release date has been bumped from late 2014 to early 2015.
On the plus side, Pocketbook is saying that the price in Russia will be around  20,000 rubles. According to Google, that comes to roughly $574, which is simply wonderful news.
Yes, the Pocketbook CAD Reader is going to be the second most expensive ereader on the market if and when it ships, but it is still going to cost $500 less than the Sony Digital Paper (which has a US list price of $1,100).
While it won't be sold at retail and is primarily intended for displaying blueprints in the construction market, the CAD Reader is still a far more capable device than the Sony Digital Paper. The latter device only reads PDFs, while the CAD Reader is expected to run a modified version of Android 4.0.4 on a dual-core 1 GHz CPU with 2 GB RAM and 16 GB Flash storage.
We don't know yet just how many Android apps will be compatible with the CAD Reader, but this blogger is nevertheless hopeful that the Kindle and other reading apps will work.
The post $574 Pocketbook CAD Reader Delayed Until Next Year, Will Have a 13.3″ Mobius E-ink Screen appeared first on The Digital Reader.
The Morning Coffee – 17 June 2014
Posted: 16 Jun 2014 09:01 PM PDT
Your Tuesday morning reading list includes a review of Kobo Writing Life, PDFs from the viewpoint of a preservationist, a satirical response to the idea that adults shouldn't read YA, and more.
The post The Morning Coffee – 17 June 2014 appeared first on The Digital Reader.
You are subscribed to email updates from The Digital Reader
To stop receiving these emails, you may unsubscribe now.
Email delivery powered by Google
Google Inc., 20 West Kinzie, Chicago IL USA 60610