---
German Publishers Want 11% of Google's Revenues
Posted: 20 Jun 2014 11:43 AM PDT
Earlier this week I reported on a coalition of major German publishers which had filed a lawsuit against Google. The publishers wanted to be paid for the privilege of being listed in Google's search results, and after a similar legislative effort didn't succeed this year decided to pursue the issue in court.
New details have come to light which I didn't have earlier this week, and they reveal that this case has even more problems than I identified. Jeff Jarvis, writing over on his blog Buzz Machine, tells us that the publishers are making unreasonable demands:
Half the major publishers in Germany have started a process of arbitration — which, no doubt, will lead to suits — to demand that Google pay them for quoting from and thus linking to their content. And now we know how much they think they deserve: 11% of Google's revenue related to their snippets. From their government filing, they want a cut of "gross sales, including foreign sales" that come "directly and indirectly from making excerpts from online newspapers and magazines public." [All these links are in German.]
And just to be clear, the publishers aren't asking for 11% of Google's revenues to share with sites which are linked to by Google; this is just for the coalition.
Jarvis goes on to point out that Google is never going to go along, and rather than point to Google's past refusals he explains that it would ruin Google's business as well as the infrastructure of knowledge online. If we can find only the knowledge that pays to be found, then the net turns into … oh, I don't know, a newsstand?" he writes.
He's not wrong.
It's not clear how this lawsuit will turn out, but unless political pressure is brought to bear I don't see it going anywhere. As I explained on Wednesday, even if Google is breaking a law chances are the publishers who are suing Google have already granted permission for Google to use their content. Google changed their ToS for Google News in Germany last year, requiring explicit agreement that Google can use the content for free.
At this point it is still up in the air whether the publishers have a case, but even if they win they will still lose. Google will likely delist the publishers, thus costing them the free advertising which Google was providing.
P.S. Apparently German publishers have been trying to get this money from Google for over 4 years now, but so far they have failed.
The post German Publishers Want 11% of Google's Revenues appeared first on The Digital Reader.
Reading eBooks on the Amazon Fire Phone (video)
Posted: 20 Jun 2014 09:39 AM PDT
When Jeff Bezos revealed the Fire Phone on Wednesday, one of the cooler features demoed in the presentation video was a new trick for the Kindle app that enables readers to scroll an ebook with a simply flip of the wrist.
As we saw on Wednesday, Fire Phone users can tilt the phone just right and make the text scroll up the screen. If they touch the screen with their finger, the text freezes in place.
It's a pretty cool trick, but there were a lot of other cool features in that 90 minute video making this one hard to find. With that in mind, here's a shortcut those of you who don't want to sit through the full video for just a minute or so of reading fun.
Yesterday Len Edgerly of The Kindle Chronicles posted a video which demos this one feature. It's about 2 minutes long, and it's narrated by one of Amazon's Kindle product managers.
This is neat, but Cameron James is not quite telling the whole truth in the video. He says that this won't work on any other phone; that's not strictly true.
As I pointed out back in April, you can find a similar feature on Samsung's smartphones, including the Galaxy S4, which launched last year. Samsung called it "smart scrolling":
As reported in the Wall Street Journal, it enables what Samsung is calling "smart pauses" and "smart scrolling".

In short, the "smart pauses" feature recognises if you are in front of the phone or not, and can save what you were last doing when you move away from the device and decide to come back to it. "Smart scrolling" refers to the phone's inbuilt eye-tracking technology, which detects if the phone has been tilted and scrolls up or down accordingly.
I even found a demo video. It's not as nice as the one len posted, but it's obvious we are looking at similar ideas.
Samsung's smart scrolling doesn't work with ebook apps, so far as I know, so in at least this one way Amazon has bested Samsung.
The post Reading eBooks on the Amazon Fire Phone (video) appeared first on The Digital Reader.
This Notebook Will Encourage You to Write Outside the Lines
Posted: 20 Jun 2014 08:50 AM PDT
This blogger may do nearly all of his reading digitally but I still write on paper and I still sometimes buy paper notebooks (though I usually get them for free at trade shows).
Here's a notebook which makes it almost impossible to take neat orderly notes – a good thing, I think. The Inspiration Pad is a 48 page notebook which eschews the perpendicular lines found in most notebooks in favor of wild patterns like: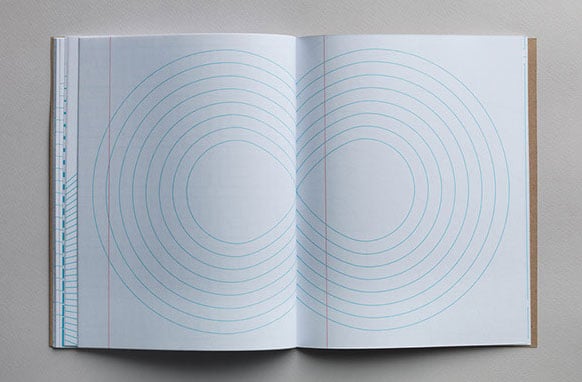 And as you can see in the gallery at the end of this post, it gets better.
The Inspiration Pad is printed on recycled paper in Belgium. It's currently sold out, but new stock has been ordered. When it arrives at the publisher's warehouse, you will be able to order it here.
Do you plan to order one?
The post This Notebook Will Encourage You to Write Outside the Lines appeared first on The Digital Reader.
Fire Phone Predicted to Ship 3 Million Units by the End of the Year
Posted: 20 Jun 2014 07:13 AM PDT
The Fire Phone is still so new that it's only been handled by a few hundred people, but that hasn't stopped analysts from making predictions.
According to unnamed sources at Digitimes:
Total shipments of Amazon's Fire phones are expected to reach 2-3 million units by year-end 2014, which is unlikely to make a significant impact on the global smartphone market, according to sources in Taiwan's handset supply chain.

Amazon is outsourcing production of the Fire phones to the Foxconn Group, with initial shipments totaling 300,000-500,000 units a month, the sources revealed.
It's not clear where Digitimes got their information, but my guess is that they used either a Magic 8 ball, Ouija board, or possibly tea leaves. (I prefer navel-gazing, myself.)
Amazon's first smartphone launched 2 days ago. It runs a custom version of Android 4.2 on a quad-core 2.2Ghz Snapdragon 800 CPU with 2GB RAM, 32GB internal storage, and no less than 6 cameras, including a 13MP rear-facing camera.
But in spite of its newness, pundits are already joining a chorus in predicting that it's doomed because it is too expensive (retail is $649), missed the mark on gaming, packs in too many parlor tricks, is exclusive to AT&T, and has other  problems.
I don't know about you, but I think it is too early to make a prediction as to the success of the Fire Phone. Amazon is not likely to sell huge numbers, at least not while the Fire Phone is limited to the US, but that isn't necessarily a failure. Amazon's business model is based on selling services, not hardware.
Like the Chinese smartphone maker Xiaomi, Amazon sells their hardware cheap in order to make money off of selling content to device owners. That's how Amazon has been pricing hardware since the original Kindle Fire, no seems to think it's a failed model.
Admittedly, the Fire Phone isn't cheap but then again it also has an expensive 13MP camera, the guts of an upper-mid range smartphone, and an additional 4 cameras not found on most smartphones. I can't find that anyone has performed a cost estimate for the Fire Phone, but given its specs this was never going to be an inexpensive phone.
The post Fire Phone Predicted to Ship 3 Million Units by the End of the Year appeared first on The Digital Reader.
After 47 Years, ComputerWorld is Going Out of Print
Posted: 19 Jun 2014 05:31 PM PDT
In a time when print circulation is dropping and ad revenue is falling, Computerworld announced on Thursday that they were abandoning their print edition.
On June 23, we will publish the last print issue of Computerworld.

It was 47 years ago, almost to the day, that Computerworld's very first issue rolled off the presses: June 21, 1967. The newspaper's first publisher was the late Patrick J. McGovern, who was the founder and chairman of International Data Group (IDG), Computerworld's parent company.

It's sad to lose anything that has endured so long. But we are merely taking part in the natural evolution of the media industry, like so many great publications before us. Trains, after all, were once powered by coal and steam; Computerworld is moving from paper to electrons.
The publication will switch to an online-only edition. They plan to revamp the website and relaunch later this year, at which time they will have to compete on equal footing with successful tech blogs, indie gadget blogs, including some owned by powerhouses like AOL.
I don't have high hopes for their longterm success. Many print magazines have lost  a lot of their advertising revenues over the past decade, and many have long decided to shutter their print editions.  To make matters worse, Computerworld has consistently dropped the ball when it comes to their mobile apps. They allowed their vendors to launch iOS and Android apps, but never followed through with releasing improved apps developed internally, nor have they put much effort into promoting their mobile apps.
The Computerworld app only has 16 reviews in iTunes, and 5 reviews in Google Play. The average rating for both app stores is 2 and a half stars, and Google Play says that fewer than 5,000 copies of the Android app are in use.
In comparison, the  Engadget Android app has around 30,000 reviews and between a million and 5 million users. And while these two sites have different audiences, the first rule of the web is eyeballs equals dollars. Computerworld doesn't have the eyeballs, and that could be their undoing.
The post After 47 Years, ComputerWorld is Going Out of Print appeared first on The Digital Reader.
Laura Miller's Salon Piece on Indie Authors, Amazon, and Hachette Shows Much of What's Gone Wrong in the Trad Pub / Indie Pub Debate
Posted: 19 Jun 2014 03:43 PM PDT
A couple days ago Salon.com weighed in on the Amazon-Hachette dispute with a new angle. In a piece ostensibly written to self-published authors, Laura Miller makes a case that indie authors should side with Hachette against Amazon.
If you  follow publishing news I am sure that you have already read the article, but it's okay if you have not. I don't plan to debate whether she is right or wrong; instead I plan to discuss the type, tone, and context of Miller's arguments.
Miller's article has given me an insight into the landscape of one ongoing discussion in the publishing industry, and for the sake of moving the discussion to a more productive place I would like to point out what is wrong with Miller's piece.
I read it on Tuesday, when I discarded the article after identifying it as a typical Salon.com in the vein of their Amazon coverage. (I won't go into that here.)
And then, I read it again today. Someone I respected tweeted the article, expressing approval, and after reading her subsequent tweets I realized I had to reevaluate my position and see which one of us was right. I still can't answer that, but in analyzing Miller's piece I found that this article is not actually trying to get into a discussion with self-published authors (or me, as a self-pub booster).
Instead, Miller is preaching to the choir.
Please read the first 5 paragraphs of the article and tell me what you see:
Anyone who has followed the coverage of the ongoing Amazon-Hachette dispute knows that some of the most impassioned voices on the pro-Amazon side of the argument come from self-published writers. It's easy to understand their impulse to defend Amazon's e-book publishing programs, given that many had tried in vain to publish their books with traditional houses before opting for, say, Kindle Direct Publishing.

However, the dispute with Hachette has nothing to do with Amazon's publishing programs and everything to do with the way traditionally published books are retailed, a distinction that self-published authors ignore at their peril. This is one quarrel where the self-published authors would be smarter to side with Hachette and the other "Big Five" houses.

One reason for the crossed wires here is that most self-published authors really, really, really hate traditional publishing, which has either rejected them or (in the case of authors who use Amazon to make their out-of-print titles available once more), let them down. The intense rage such experiences instill can lead to strange glitches in logic, such as the charge that it is publishers who have engaged in "monopolistic" practices because not everyone who wants to publish with a traditional house has succeeded in winning a contract.

"Big Pub basically runs its own monopoly over writers," a commenter on a New York Times article retorted, and I received an email about the Amazon-Hachette clash in which the writer complained of "the impossibility of a non-NYC writer just getting his foot in the door without sleeping with professors, visiting authors, publishers; without an M.F.A.; or without publications in major magazines (100 percent of which are supplied by agents). Talk about monopolistic!" [Note: The Big Five -- until recently the Big Six, but conglomeration is an ongoing reality when suppliers must negotiate with a single enormous retailer -- compete with each other for the books they want to publish. The fact that none of them want to publish a particular book is not proof that they are conspiring against the book's author, however frustrated the author may be by the experience.]

In fact, it sometimes seems that self-published authors hate traditional publishing far more than they love Amazon, and because they believe Amazon will destroy traditional publishing, they're happy to cheer it on. Whether, in the long term, traditional publishing will vanish or be significantly transformed is beyond the scope of this article, but here's why self-published authors ought to consider supporting it in the dispute happening right now.
In an article titled Amazon is not your best friend, Miller doesn't actually talk to self-published authors; she is pointing at self-published authors and talking about them. In the first 5 paragraphs, Miller talks about self-published authors multiple times but doesn't talk to them once.
Indie authors might be the subject of this piece but they are not the audience; Miller is talking to other people in traditional publishing. And once we realize who Miller is talking to, it is easier to understand the arguments she is making.
Let me give you a few examples.
In the first paragraph, she refers to self-published authors in a negative way, saying that "many had tried in vain to publish their books with traditional houses". In the third paragraph, she makes an unsubstantiated point that "most self-published authors really, really, really hate traditional publishing", labeling the entire group with a single viewpoint which is bound to piss at least some of them off. And then, in the fourth paragraph, she singles out one random commenter from a NY Times article and the sender of an anonymous email to stand as spokespeople for self-published authors.
Do you see what she is doing, now?
I do. Miller's piece reminds me less of a thoughtful piece on publishing and more of an example of one of the less savory types of partisan political debate.
In writing this piece, Miller is the equivalent of rightwing/leftwing person who, speaking to an audience which agrees with her, points to the other political party and explains what is wrong with that party.
I cannot give you an example of a political comments similar in type to Miller's; I will not attack one side or the other. But I am sure that I have properly  identified the type of arguments Miller is making.
Miller's piece is not constructive; it is an example of how not to convince your subject to agree with you. I cannot speak to her motive, but I can say that Miller's piece does not contribute to the ongoing discussion in publishing. Far from winning self-pub authors over to her side, this piece works to widen the divide between the subject of her piece and the people who agree with her.
And that does not help anyone.
Or am I wrong? The comments are open.
The post Laura Miller's Salon Piece on Indie Authors, Amazon, and Hachette Shows Much of What's Gone Wrong in the Trad Pub / Indie Pub Debate appeared first on The Digital Reader.
You are subscribed to email updates from The Digital Reader
To stop receiving these emails, you may unsubscribe now.
Email delivery powered by Google
Google Inc., 20 West Kinzie, Chicago IL USA 60610