---
The Morning Coffee – 6 March 2014
Posted: 05 Mar 2014 09:30 PM PST
I have a really short list for you today:
The post The Morning Coffee – 6 March 2014 appeared first on The Digital Reader.
Kindle Paperwhite Update 5.4.3 Adds Better PDF Support
Posted: 05 Mar 2014 01:52 PM PST
If you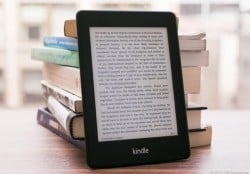 bought a Kindle Paperwhite in yesterday's sale then I have some good news for you. Amazon rolled out a new update today for the Kindle Paperwhite. It's only good for the 2013 model, and it adds a number of useful features.
The update add faster and smoother PDF handling, better support for accessing your notes, and a new option to cancel your ebook purchase when buying from the sample.
Amazon says that this update will automatically download and install on your Kindle Paperwhite when connected wirelessly, but if you like you can also manually download the software and transfer the update to your device via USB. You can find the update, as well as information on how to install it, at the following link.
Kindle Paperwhite 2 Software Update
Here's a full list of the updates.
Access Notes from the Reading MenuWhile reading, you can view all of your notes by tapping the Menu icon and then selecting Notes. You can also continue to access the Notes tab from the Go To menu in the reading toolbar. To learn more, go to Add, View, Edit or Remove Notes
Manage Cloud CollectionsSee all of your collections in a Collections view, and customize where your collections show on your device. To learn more, go to View and Manage Your Cloud Collections.
PDF ImprovementsPan and zoom within PDF documents more quickly and easily, and adjust the margins for an optimized reading experience.
Cancel Full Book Purchase from within a SampleWhile reading a book sample, you can view the price of the full book and purchase with one tap. You can also cancel the purchase before the download is complete by tapping cancel purchase.
The post Kindle Paperwhite Update 5.4.3 Adds Better PDF Support appeared first on The Digital Reader.
Microsoft Boasts of $160 Windows Tablets for the Indian Market
Posted: 05 Mar 2014 12:59 PM PST
Over the
past year Windows tablets have steadily been growing cheaper and cheaper, with some models selling for under $200, and yesterday Microsoft dropped hints that prices are going to drop even further.
Prices as low as $161 have been bandied about, and if they come to pass then Windows might finally be competitive against budget Android tablets.
The Times of India is reporting that new and cheaper Windows tablets are going to be launched in India in the coming months, including models that will be priced as low as 10,000 rupees. The tablets are expected to be made by Microsoft's existing partners like HP and Dell as well as by local Indian firms like Karbonn and Lava.
"We are reducing our required hardware specification for Windows to bare minimum that is needed for good experience. We want to be price competitive with Android. We want to get the bill of material for Windows tablets down," Amrish Goyal, director of Windows business group, told the Times. "We will probably not sell a tablet for Rs 5,000. But yes, we will sell tablets with a price of around Rs 10,000 by middle of this year," Goyal added.
Microsoft's decision to go after the low-priced tablet market is bearing its first fruit. As you might recall, a couple weeks ago MS announced that they were reducing the hardware requirements for Windows and slashing the license fee. It's not clear just how much Microsoft reduced the license fee in India, but I do wonder if the fee is waived on the cheapest tablets.
According to Bloomberg, MS cut the license fee for low-priced tablets (under $250) by 70%, reducing it from $50 to $15. This hasn't been confirmed by Microsoft so far as I know, but it has been widely reported. And given the expected retail price mentioned for the Indian market is about $39 less than the cheapest  Windows tablet, I think it has just been confirmed.
According to the latest figures from IDC, around 4 million tablets were shipped in India in 2013. Given that India has a sizable fraction of the world's population, that is a shockingly low figure. Gartner estimates put worldwide tablet shipments at over 200 million in 2013, meaning that the Indian market accounts for less than 5% of the global tablet market.
The post Microsoft Boasts of $160 Windows Tablets for the Indian Market appeared first on The Digital Reader.
Pocketbook's next eReader to Have Carta E-ink Screen and a Camera?
Posted: 05 Mar 2014 12:19 PM PST
Richard
Palombo, writing over at eeevolution.it, has uncovered a couple images on a design website which may or may not be Pocketbook's next ebook reader.
Few details are available on the Pocketbook Ultra, but according to the description this device has a 6″ Carta E-ink screen, frontlight, touchscreen, and a camera. This device also has page turn buttons on the rear of the case rather than the front, and the camera may or may not have an LED flash.
There's no word on the CPU, storage, or the camera resolution, and in fact I am still waiting on confirmation that this wasn't the work of some ambitious design student, but if this ebook reader design is real then it's going to be the most interesting ereader launched in 2014.
The Ultra would be only the second ereader to get the Carta screen. This is the latest generation E-ink screen, and I was under the impression that it was exclusive to the Amazon Kindle Paperwhite. Kobo doesn't even have this screen, and we all know that they would have used it on the Kobo Aura if they could have.
Furthermore, this would be the first ebook reader which included a camera as well as the ability to scan books and convert the image to text. This useful feature can be found on many a smartphone, but not on any ereader that I know of.
But is this a design that Pocketbook plans to release or is this merely a concept design which an independent designer created just to explore the idea?
I'm not sure. I have queried Pocketbook for confirmation, and I am waiting for someone to confirm that this is the real deal. While I hope that this is real, I have my doubts. Some details of the design, including the placement of the camera, make me wonder if this design is a independent project and not the work of Pocketbook.
Stay tuned.
The post Pocketbook's next eReader to Have Carta E-ink Screen and a Camera? appeared first on The Digital Reader.
UK Publisher's Association Launches Library eBook Pilot
Posted: 05 Mar 2014 10:38 AM PST
The
Publisher's Association announced on Monday that they were launching a year-long e-lending pilot program which would study the effects of ebook lending in libraries.
According to the announcement, the goal of the pilot is to conduct research into the impact of ebook lending in public libraries on authors, publishers and on the library service. The Publisher's Association says that they want to find "a suitable and sustainable model for all stakeholders".
Four libraries in the UK will be participating in the pilot, including Vivacity Peterborough, Newcastle, Royal Borough of Windsor and Maidenhead (a suburb of London), and Derbyshire. The libraries will have access to a selection of titles which not currently available to libraries in the UK.
The pilot, which will be funded by a generous £40,000 grant from the British Library Trust, will offer a thousand titles in total, including new releases that will be phased in over the course of the year. Library patrons will be able to take part in the pilot by checking out ebooks, just like they check out a libraries existing collection. The ebooks will be loaned for either 7 days or 3 weeks.
I must say that I was startled to read about this pilot earlier this week. I follow UK book news almost as closely as the similar news from the US, and over the past year pretty much the only times I have read about UK libraries is when they are under threat of closure. Much of the UK is facing a govt budget crunch just like what US cities and states are going through, and it's not uncommon for someone to have the bright idea that libraries aren't essential.
images by stevecadman
The post UK Publisher's Association Launches Library eBook Pilot appeared first on The Digital Reader.
FreedomPop's Privacy Phone Promises Secure Calls for $189
Posted: 05 Mar 2014 08:42 AM PST
Turning ordinary objects into secret spy gear has long been a staple of spy movies, and now you can get in on the fun.
FreedomPop, a startup which had previously made a name for itself by  offering free and cheap mobile devices, unveiled a new secure smartphone yesterday. It's called the Privacy Phone, and it's basically an old Samsung S2 smartphone with a extra encryption software added.
The phone has been modified to offer 128-bit encryption for calls and text messages, and mobile data traffic from apps and the web browser will also be encrypted and sent through a virtual private network.
There's no news on how secure the encryption is, but one detail that has come to light is that the phone itself isn't secure. Re/code has pointed out that the Android OS and the smartphone's hardware has not been hardened, putting users at risk of losing everything should the phone be seized by authorities.
According to the press reports, the Privacy Phone is an unmodified Samsung Galaxy S2 Android smartphone. This phone was originally released 2 years ago, and it runs Android 4.1 Jelly Bean on a 1.2GHz Samsung Exynos dual-core CPU with 16GB Flash storage, a microSD card slot, an 8MP camera, Wifi, Bluetooth, and an 1800mAh battery.
This phone is the latest response to revelations of the risks cellphone snooping, and it is one of many secure options including both apps and hardware. They range from TOR's recently announced secure messaging service to Boeing's tamper proof smartphone, which a few weeks ago cleared the FCC.
"In light of recent violations in consumer's privacy across social networks and mobile devices, privacy is becoming increasingly important to many Americans and we all have a right to communicate anonymously," FreedomPop COO Steven Sesar said in a statement. "Large carriers don't have the flexibility, desire or creativity to invest in privacy. We don't agree with this approach and felt it was up to us to create a truly private mobile phone service at an affordable price."
The Privacy Phone is available today with a retail of $189, which can be paid in Bitcoin. That includes 3 months of unlimited voice, texting and 500MB of monthly data. After three months, that service plan will cost $10 per month.
The post FreedomPop's Privacy Phone Promises Secure Calls for $189 appeared first on The Digital Reader.
Posted: 05 Mar 2014 07:22 AM PST
News
aggregator apps have been a buzzworthy topic since 2010, but it looks like the hype has just died. Flipboard announced on Wednesday that they had acquired one of their competitors, Zite.
Zite had initially launched in 2010 as an iPad app, and it was scooped up by CNN in August 2011 in a deal valued at $20 million. There's no solid info on today's selling price, but CNN is reporting its value as $60 million.
As part of the deal, Flipboard will integrate CNN content in to Flipboard, covering over 300 feeds. CNN is also reporting that Flipboard will help launch custom magazines for CNN shows anchored by Fareed Zakaria, Jake Tapper, and John King.
"Flipboard has proven to be one of the biggest drivers of traffic so syndicating out content into Flipboard will see us creating custom magazines for our shows and talent," CNN's head of digital KC Estenson said today.
According to Flipboard, the Zite service will not be continued as an independent platform; instead Flipboard plans to integrate Zite's technology into the Flipboard platform and combine the staffs. With the exception of Zite CEO Mark Johnson, the majority of the 15-20 Zite employees will be moving from Zite to Flipboard. This includes Zite co-founder Mike Klaas and the engineering team that had built the personalized news engine that powered Zite.
The news comes at a time when competition is increasing in this niche. Facebook launched Paper, a very similar reading app, in January. Google has also recently launched a Flipboard inspired aggregator app called Google Newsstand.
Flipboard reports that they now have over 100 million users, up from the 85 million last Fall. Based on the $50 million in capital that Flipboard raised last September, the company is worth an estimated $800 million.
The post Flipboard Buys Zite from CNN appeared first on The Digital Reader.
Pocketbook Aqua Waterproof eReader Officially Launches, Will Cost $194
Posted: 05 Mar 2014 06:36 AM PST
Pocketbook has officially launched their new dust and water-resistant ereader, and they're charging more than I would be willing to pay for it given its limited features and minimal water protection.
This ebook reader is scheduled to be unveiled later this month at the Salon du Livre  in Paris, and it has a projected retail price of 6990 rubles or 109 euros, depending on the market.
When the Pocketbook Aqua leaked last month, I was less than sure that the technical details were accurate or complete. Now that we have thew official press release I can confirm that this ereader has a low-resolution E-ink screen, 4GB of storage, Wifi, a touchscreen, but no frontlight or microSD card slot.
It's also lacking any type of page turn buttons, which were probably dropped from the design in order to simplify the design and make it easier to waterproof it. This is also why there's no microSD card slot.
The Aqua is also known as the Pocketbook 640, and it runs Pocketbook's software on a 1GHz CPU with 256MB RAM. It's going to ship with a broad selection of dictionaries, including quite a few translation dictionaries for Russian, Ukrainian, and European languages. And like Pocketbook's other ebook readers, the Aqua will offer support for a number of ebook formats, including Epub and PDF.
The Aqua has already been announced for the Russian market, where it will cost 6990 rubles, and for the German market, where it will cost 109 euros. The latter price converts to $149 USD, which is not terribly unreasonable for the market.
Just to give you a comparison, I can get a Kindle Paperwhite that was waterproofed by WaterFi for $219. This firm offers an after market service which waterproof mobile electronics, and they've been selling the KPW since May 2013.
WaterFi guarantees their work to a depth of 200 feet, which is a far higher standard than what Pocketbook promises for the Aqua. That ereader is only certified for the IP57 standard, meaning that it can be submerged in up to a meter of water for up to 30 minutes.
P.S. On a related note, it looks like there is a good chance that the Earl back-country tablet will indeed make its way into user's hands; according to the latest updates its development is progressing, albeit slowly. This device has a ruggedized shell and a flexible 6″ E-ink screen,  making it a much better choice for anyone who plans to use it in unsafe situations. Of course, it is also up for pre-order for $300, but you get what you pay for.
The post Pocketbook Aqua Waterproof eReader Officially Launches, Will Cost $194 appeared first on The Digital Reader.
You are subscribed to email updates from The Digital Reader
To stop receiving these emails, you may unsubscribe now.
Email delivery powered by Google
Google Inc., 20 West Kinzie, Chicago IL USA 60610