---
The Morning Coffee – 3 March 2014
Posted: 02 Mar 2014 09:20 PM PST
Top stories this Monday morning include a look at note-taking apps for the iPad (link), a roundup of Kindle tricks and shortcuts (link), a smart alternative to blog comments (link), Google taking aim at site scrapers – including itself (link), an epidemic of computer generated papers (link), and more.
The post The Morning Coffee – 3 March 2014 appeared first on The Digital Reader.
A New Solution for Dirty Books: a UV Sterilization Machine
Posted: 02 Mar 2014 07:13 PM PST
If
that story back in November about the infested library books grossed you out, I have a solution.
A public library in China has installed a book sterilization machine. It's about the size of a refrigerator, and it uses a UV light to kill germs, bacteria, and viruses. In just 30 seconds, most books with a questionable past can be rendered completely safe for their next reader.
The book pictured at right is probably beyond saving, but most books aren't so obviously damaged.  In their case the book sterilizer should be more than enough to kill whatever friendly gifts were left behind by the last user.
In addition to the UV light, this machine also has fan. The fan is used to make sure that the pages are spread wide enough that all are exposed to the light and it also blows a mild perfume onto the books. The change in smell is said to calm readers and reassure them that the book was clean.
The machine was installed in the library some time ago, and while it is accessible to patrons few used it until recently. The library director reports that more patrons are sterilizing the books they check out, especially on the weekend.
image by Enokson
The post A New Solution for Dirty Books: a UV Sterilization Machine appeared first on The Digital Reader.
I Seriously Doubt that the next Kindle Paperwhite will have a High-Res Flexible E-ink Screen
Posted: 02 Mar 2014 12:35 PM PST
There's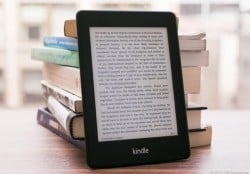 a rumor going around today about the next Kindle Paperwhite:
The entire e-reader will be lighter than previous models, have higher resolution and incorporate a flexible display.

The Kindle Paperwhite 3 will be using screen technology that was developed by e Ink and Sony called Mobius. Mobius uses a TFT technology that will enable the development of much lighter and rugged products. Mobius displays can weigh less than 50% of an equivalent glass based TFT. This is particularly important for mobile products requiring larger display areas.
I don't think this rumor will come true.
For one thing, while there is a 6″ Mobius screen in the works for the Earl back-country tablet, I have been told by the developers that its screen resolution is only 1024 x 758, just like on the current Kindle Paperwhite. Could E-ink have a higher resolution Mobius screen in the works, perhaps something approaching the 265ppi screen resolution on the Kobo Aura HD?
Yes, but do you have any evidence to show that it exists? (Actually, there might be.)
Back in November TechCrunch reported a rumor about the next KPW having a higher resolution screen. It is supposedly due out this Spring, but I don't believe that rumor either.
TechCrunch has a poor record when it comes to Kindle and ereader rumors; they have in the past said that the Nook Touch would get an email client, Microsoft would buy Nook Media, and that Amazon would release a $99 Kindle Fire HD.
Frankly, when it comes to ebook reader rumors TechCrunch is about as credible as Digitimes or industry analysts. (And you know why I'm ignoring those two sources of rumors.)
And if you've been following ebook news for long enough, you probably know that the  source for this rumor is about as credible. Remember, Good eReader is the blog that said that the Kindle Fire HD would get free 3G.They also said that Amazon would open a retail store in Seattle in early 2012. And they said that the Kindle would support Epub.
Yes, if I were going to report a rumor that sounded plausible, this is pretty much what I would write.  It takes the existing device and goes one step better in every way, and it fits with another known rumor.
But given that that blog's past Amazon rumors have consistently failed to come true, I don't think this one will either.
The post I Seriously Doubt that the next Kindle Paperwhite will have a High-Res Flexible E-ink Screen appeared first on The Digital Reader.
LibraryBox Enters Public Beta, Offers a New Tool for Managing Your eBook Library on a Network
Posted: 02 Mar 2014 07:58 AM PST
Small local lending library boxes, be it a recycled phone booth or a custom built cubby, are growing increasingly popular. Book enthusiasts have been erecting them around the world, and now thanks to a project called LibraryBox you can do the same with ebooks.
LibraryBox 2.0 is an open source software project which is being developed by Jason Griffey of the University of Tennessee. The software is designed to replace the original firmware on certain Wifi network routers, and serve up files to anyone who logs on to its network. With the addition of USB thumb drive, the LibraryBox has a storage capacity that is only limited by what's available on the market and what your pocketbook can afford.
The LibraryBox project was initially funded by a Kickstarter project last July, today i can report that the software has been released as a public beta. You can download the software from Github and install it yourself, and you can also go to the LibraryBox website and buy a pre-configured router with all the software installed and ready to go.
Due to its shoestring development budget, LibraryBox is only designed to run on a limited number of routers made by TP-Link. Unfortunately that means you can't a Mesh Potato, Raspberry Pi, or that spare Linksys router sitting on a closet shelf, but on the upside the cheapest compatible router only costs $30 on Amazon. That's relatively cheap when compared to what similar projects would have cost years ago.
The LibraryBox isn't the first to offer a cheap solution to network file storage; it's based on an idea that I have seen floating around for at least 6 years. Its direct ancestor, the PirateBox, uses much the same software to enable users to both upload and download files (the LibraryBox lacks the upload option).
I can also recall that Books in Browsers 2011 had a temporary server like the PirateBox set up as a demo and a local file server; it was probably running on PirateBox software.
And before that there was the Plug Computer, which first showed up in 2009, but the earliest idea similar to the LibraryBox dates to at least 2007 (if not earlier). That's when I encountered a small community of modders who helped each other hack a particular family of routers so the routers could functions as file servers. I don't have a link to share, but I do recall that the routers cost about $130 and that the software was not easy to install and troubleshoot.
The LibraryBox project is not only significantly cheaper, it's also relatively simple to install.
This blogger is not inclined to do anything involving his ebook library which might resemble work, but if I were going to formally organize my ebook collection and put it on my home network LibraryBox would be high on my list of options.
The post LibraryBox Enters Public Beta, Offers a New Tool for Managing Your eBook Library on a Network appeared first on The Digital Reader.
You are subscribed to email updates from The Digital Reader
To stop receiving these emails, you may unsubscribe now.
Email delivery powered by Google
Google Inc., 20 West Kinzie, Chicago IL USA 60610