---
The Morning Coffee – 5 March 2014
Posted: 04 Mar 2014 09:15 PM PST
Top stories this morning include a response to Dear Author's Sunday post about the ebook lemon market (link), accessible ereaders in India (link), an in-depth look at what went wrong when Jonathan Ross was asked to host the Hugos (link), SF authors who predicted the future – and got it wrong (link), and more.
The post The Morning Coffee – 5 March 2014 appeared first on The Digital Reader.
Intel Reportedly Buys Basis, One of the More Buzzworthy Wearables Startups
Posted: 04 Mar 2014 03:18 PM PST
Reports
are circulating this week that Intel has bought Basis, a maker of fitness wearables. There's no confirmation from either Intel or Basis, but the reported price was somewhere between $100 million and $150 million.
For those who aren't following all of the news in the wearables market, Basis makes wristwatch health trackers, and it was one of the hotter names this year at CES. They got positive coverage left, right, and center, which may have been why Intel may have snapped them up.
TBH, we don't even know at this point that the firm was for sale much less that it had been sold, but TechCrunch says Basis has been negotiating for the past several weeks to either sell out or raise another round of funding. The company, which was founded in March 2011, had raised $32 million so far from Norwest Venture Partners, Mayfield Fund and Intel Capital.
It is true that Intel showed a lot of interest in wearables at CES 2014; they showed off a number of wearable prototypes at the show, including a headpiece, smartwatch, a onesie with integrated sensors, and (my favorite) a PC inside an SD card. So it would logical next step for Intel to have outbid everyone and acquired Basis.
If this story is true then suddenly there's a new competitor in the market, joining Qualcomm (whose tech was developed internally), Google (they bought a smartwatch company), Motorola (a long time competitor), Sony, and Samsung.
Did you notice the name that was missing from that list? It's Microsoft. Isn't it rather curious that Microsoft didn't buy Basis? After all, thanks to Kinect MS has at least a passing interest in wearables as well as the sensor tech that Basis has developed.
Do you suppose that Intel and Microsoft are quietly collaborating on wearables? I don't know that they are but it would make sense, I think.
The post Intel Reportedly Buys Basis, One of the More Buzzworthy Wearables Startups appeared first on The Digital Reader.
Hands On with the Wiko Highway 5″ Smartphone (video)
Posted: 04 Mar 2014 12:18 PM PST
Wiko
is a name that is much better known in France that the US; they're the 3rd largest smartphone maker in France and as you can see in this video they can produce some pretty cool gadgets.
Charbax caught up with Wiko at Mobile World Congress last week, and they showed him their most expensive smartphone. The Wiko Highway retails for 350 euros, which is a surprisingly low given the specs.
The Highway is a well-built, glass-clad smartphone which only just launched in France. It has a 5″ display (1920 x 1080 screen resolution) and runs Android 4.2.2 Jelly Bean on the new 2GHz 8-core Mediatek MT6592 CPU with 2GB RAM, 16GB Flash storage, and both a 16MP camera and an 8MP camera.
At 7.7mm and 154 grams this is a thin and light phone, leading me to wonder exactly where Wiko put the 2350mAh battery battery.
The post Hands On with the Wiko Highway 5″ Smartphone (video) appeared first on The Digital Reader.
Facebook Updates Paper with New Sharing Options
Posted: 04 Mar 2014 09:58 AM PST
Facebook
rolled out a new update today for their reading app, Paper. It's still only compatible with the iPhone, but those Facebook users that own Apple's smartphone are going to luck out.
The Paper app now enables users to share links to the articles they are reading by email, text message, or FB message, and the app also sports a new silent mode (how could it ship without this). The app also now supports more languages, enabling users to create stories in languages that use multi-stage input, including Chinese, Japanese and Korean.
Facebook launched Paper just over a month ago, describing it as "the best personalized newspaper in the world". It offers a simple way to catch up with your friends' FB updates. You swipe your way from one update or story to another, and you can tap on a particular post to view it full screen and then swipe down to close a story. Paper will also let you create a post, send a message, view your notifications, and take care of other common Facebook tasks.
It's the first product from the team that is now known as Facebook Creative Labs, and it builds on nearly 2 years of work, some of which had been previously revealed as the news feed update from last March.
The post Facebook Updates Paper with New Sharing Options appeared first on The Digital Reader.
1SaleADay has a 7″ Tablet for $40
Posted: 04 Mar 2014 08:41 AM PST
Much
to the dismay of tablet users everywhere, Android tablet prices are rapidly approaching the point where they will be showing up in dollar stores.
In addition to the UbiSlate 7Ci, we've seen sub$50 tablet show up at MicroCenter, Office Depot, and now even a daily deals site is getting in the game.
1SaleADay has a special today which is truly a caveat emptor situation.  They're selling a 7″ tablet from Maylong Mobility , one of those generic tablet companies that used a random name generator to come up with a brand. The tablet's selling today for $40, and I don't think you should buy it.
It has minimal storage, a low-resolution screen, insufficient RAM, and a single core CPU. It is lacking Google Play, and that alone is enough to recommend against it.
It's also a refurb which apparently was previously sold under a different brand name. So not only is this tablet underpowered and over priced, it's already been rejected by users who had the good sense to return the tablet and get something better.
Heck, this is such a terrible deal that even I won't be buying one. But if you do, let me know how poorly it works. I'd love to know if the performance is as low as I expect.
Buyer beware.
Specs
7" TFT Capacitive LCD
Resolution: 800 x 480 pixels
Android 4.0 Jelly Bean
Processor: 1.0GHz Cortex with 3D accelerator
Memory: 512MB DDR
Storage:  4GB flash (expandable by up to 32GB via SD card slot)
MicroSD card slot compatible with up to 32GB SD card
Pre-loaded e-reader
Support video streaming application
Features digital music and video player
Getjar AppMarket offers thousands of Android apps, games and more!
Front camera
Two built-in speakers
WIFI: supports 802.11 b/g/n
Connections: 1x mini USB 2.0, headphone jack
Built-in Li-Polymer battery
Dimensions: 7.5" x 4.5" x 0.4"
Weight: 11 oz.
The post 1SaleADay has a 7″ Tablet for $40 appeared first on The Digital Reader.
The Kindle is on Sale Today – $20 Off
Posted: 04 Mar 2014 06:57 AM PST
Amazon
is running a special promotion today on the Kindle. Act fast and you can get the Kindle Paperwhite for $99, or the basic Kindle for $49.
Those are good prices; aside from refurbs this is the lowest price I have seen offered on Amazon.com.
$49 Basic Kindle
$99 Kindle Paperwhite
The basic Kindle was initially released in 2011 and it has been confounding the competition ever since. It's forced the other major ereader makers to respond by lowering their prices on more expensive models so they can compete with Amazon's bottom of the market model, leading B&N to lose money on the Nook Touch and Kobo to launch the Kobo Mini.
And of course the Kindle Paperwhite on sale today is Amazon's third generation touchscreen-equipped Kindle, and it's the one where Amazon got almost everything right – except for the lack of audio, or the limited storage, or the lack of page turn buttons (I'm exceedingly nitpicky, I know). The 2013 Kindle Paperwhite has the best E-ink screen on the market and one of the best touchscreens, all running on software that Amazon initially released in 2011 and has been polishing ever since.
The post The Kindle is on Sale Today – $20 Off appeared first on The Digital Reader.
Radio Shack to Close 1,100 Stores
Posted: 04 Mar 2014 06:13 AM PST
Your
grandfather's electronics store is about to go through a drastic downsizing.
Radio Shack released their latest quarterly report today, and the news is not good. Sales were down nearly 20%, and as a result they lost about $191 million dollars in the last 3 months of 2013.
This is but the latest quarter with a poor financial report, and Radio Shack has decided to take drastic action. They're going to be shutting down  around 1,100 under-performing stores, leaving them with around 4,000 locations in the US.
According to Radio Shack CEO Joseph C. Magnacca, this comes as a result of a months-long study: "Over the past few months, we have undertaken a comprehensive review of our portfolio from many angles – location, area demographics, lease life and financial performance – in order to consolidate our store base into fewer locations while maintaining a strong presence in each market."
This is sad news. Radio Shack was a great company once; they were at the forefront of a number of breaking developments, including personal computers. RadioShack had one of the early commercially successful PCs, and for the longest time was a great source of electronics components. Unfortunately, they never really adapted to the big-box era, so when consumer electronics exploded Radio Shack was never really capable of competing against Best Buy and other chains that could offer a larger selection and cheaper prices.
The post Radio Shack to Close 1,100 Stores appeared first on The Digital Reader.
Posted: 04 Mar 2014 03:54 AM PST
What's
your favorite reading position (he asks suggestively)?
The ebook subscription service 24Symbols took that question and ran with it. A few weeks ago they posted a chart which showed 24 reading positions inspired by famous books.
The titles for each image are in Spanish, but with most of the titles I don't think that will be an issue.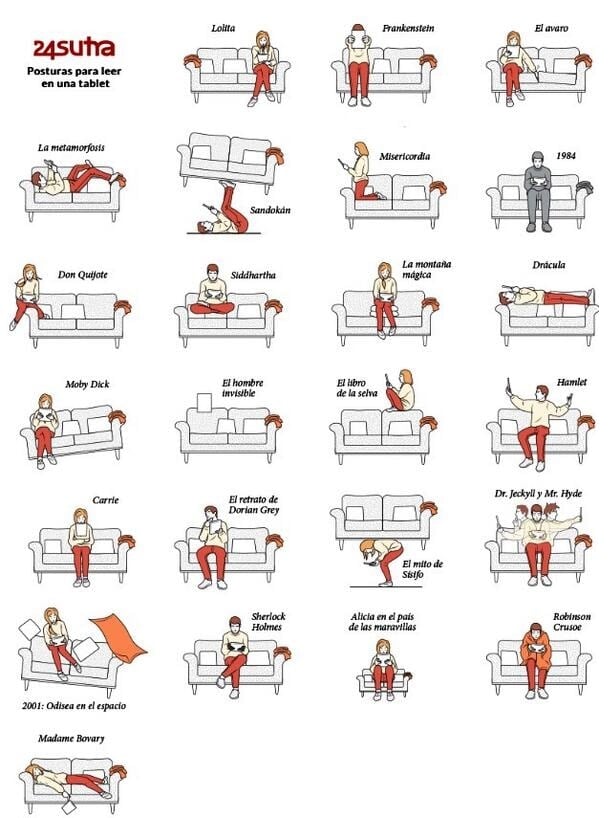 The post Infographic: Reader Sutra appeared first on The Digital Reader.
You are subscribed to email updates from The Digital Reader
To stop receiving these emails, you may unsubscribe now.
Email delivery powered by Google
Google Inc., 20 West Kinzie, Chicago IL USA 60610