---
The Morning Coffee – 28 February 2014
Posted: 27 Feb 2014 09:29 PM PST
Top stories this Thursday morning include Audible lowering the royalty on audiobooks (link), ereaders vs tablets (link), a new take on bookmobiles (link), book banning (link), and more.
The post The Morning Coffee – 28 February 2014 appeared first on The Digital Reader.
Rumor: Amazon in Talks to Add Free Streaming Audio to Amazon Prime
Posted: 27 Feb 2014 05:20 PM PST
Here's a
puzzler for you. A rumor is going around today that Amazon is working on adding free internet radio for Amazon Prime members, According to re/code, Amazon has been in talks with the major record companies for a few months now:
People have been predicting that Amazon would offer a Spotify-like music subscription service, most likely bundled with its Prime delivery option, for some time. But industry sources say Amazon is now engaged in more serious talks with big music labels about making that happen.

Which doesn't mean it will: One label source reports that Amazon isn't close to getting a deal done, because its executives are asking for a substantial discount on the pricing the labels have given to other services, like Spotify, Rhapsody and Beats.

Still, label talks have been going on for the past few months, sources say.
Amazon already lets Prime members in the US, UK, and Germany stream movies and TV shows (in addition to the discounts on shipping) and I suppose it would make a lot of sense to add music to the catalog.
This even meets my standards for plausibility, but in spite of all the points in its favor I really don't think it's going to happen. Remember, it was only last month that Amazon announced that they were thinking about increasing the price of Amazon Prime. If the current plan isn't profitable enough to suit Amazon then I really don't think they're going to increase their expenses.
On the other hand, it would also make sense to announce the higher price alongside the new feature.  The free music would make the price increase more palatable, thus reducing the number of lost customers.
Amazon Prime is currently a $79 a month service (in the US, at least) that includes free 2 day shipping on a lot of items sold by Amazon, one free Kindle ebook loan each month, and access to a catalog of tv shows and movies.
The post Rumor: Amazon in Talks to Add Free Streaming Audio to Amazon Prime appeared first on The Digital Reader.
Instapaper for iPad, iPhone Updated With New Support for the Kindle, Airplay
Posted: 27 Feb 2014 04:16 PM PST
Betaworks
rolled out an update for their Instapaper app today, adding features that Kindle fans and video buffs are going to appreciate.
In addition to bug fixes and other minor improvements, the iOS app now supports auto-renewable subscriptions, and it has the Instapaper Daily integrated into the browse tab, giving readers a new source of articles to read.
The app also now lets readers send articles to their Kindle account, saving them the step of going to the Instapaper website. And finally, the app gains support for a feature which even i can appreciate even though I won't use it: AirPlay support. You can now save a link to a video into the Instapaper app and then click the link and stream the video to AirPlay compatible devices like an Apple TV.
While apps like Instapaper were initially conceived as a way to save reading material for later, in reality they're now being used to save anything a user might want later, including videos. Video is in fact one of the more common types of content that is being saved to apps like Instapaper, and as you might recall video is the reason ReadItLaler was renamed to Pocket. So it makes perfect sense the Instapaper app to add a feature which video junkies will appreciate.
The post Instapaper for iPad, iPhone Updated With New Support for the Kindle, Airplay appeared first on The Digital Reader.
New EpubTest Website Tracks Epub3 Support
Posted: 27 Feb 2014 02:45 PM PST
Ever
wonder just how many Epub3 features are supported by your favorite ebook platform? Thanks to a new website, you can now find out.
EpubTest.org is a joint project of the IDPF, the BISG, and the DAISY Consortium, and it was developed to enable readers and developers to collaborate and share information on which Epub 3 features are supported by which popular ebook platform.
It includes a suite of Epub3 ebooks which you can download and use to test your preferred reading app. That test suite has been under development since October 2012, and it's grown to include a collection of 20 Epub3 files, each designed to test a different part of the Epub3 spec. They're available for download for free (no registration required).
In addition to the test suite, the site also has a page full of detailed descriptions listing Epub3 support for iBooks, Kobo, Google, Kindle, and other ebook platforms. According to that page Google Play Books supports just under half of the Epub3 spec. Kobo scored about 60% on their iOS app, but their tablets and ereaders only scored about 45%.
I don't see any test results for iBooks, but there are a number of other major and indie ebook platforms listed. Of the major platforms, the Nook comes in a distinct last place, with the Nook Android app earning a score of only 16%.  A number of indie platforms, including Readmill, Helicon books, and Bluefire, scored significantly higher than the Nook Android app. And so did the Kindle app on the Kindle Fire HDX, in fact.
The Epub3 ebook standard was finalized by the IDPF in October 2011, but as you can see from the test results support is still more symbolic than actual.
The post New EpubTest Website Tracks Epub3 Support appeared first on The Digital Reader.
New Archos E-ink Smartwatch Is Coming This Summer
Posted: 27 Feb 2014 01:14 PM PST
Archos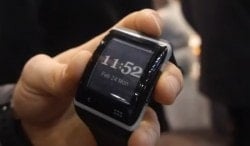 teased us with smartwatches at CES 2014, and they're back again this week with another model. Charbax caught up with Archos at MWC in Barcelona this week, and he got the first look at their new touchscreen equipped E-ink smartwatch.
This watch is a different model from the E-ink watch shown off at CES 2014; while it has the same general dimensions and features the new model also has a touchscreen integrated into the curved E-ink screen.
According to my source it has a 1.73″ E-ink screen with a resolution of 320 x 240. My source is also saying that it was developed by Sonostar and not Archos. I can't say for sure whether that is true, but it does seem that the watch that Archos is showing off in the video looks a lot like onje which first made an appearance in October in the company of Sonostar, albeit with a Chinese interface.
ArcTablet is also saying that all 3 of the smartwatches which Archos showed off at CES 2014 were actually developed by other companies, namely E-ink, Yifang, and YF Tech. Archos has in the past licensed their hardware from other companies, so that is entirely possible.
This new watch is expected to ship this summer, a couple months after the other E-ink model ships in May/June.  And thanks to the touchscreen, it will be more expensive. It's going to have much the same features as Archos's other models, which the company has envisioned as acting as an extension for your smartphone or tablet.  Support is expected for Android and iOS with companion apps available in both iTunes and Google Play.
The post New Archos E-ink Smartwatch Is Coming This Summer appeared first on The Digital Reader.
Shared Library Community Ownshelf Launches Kickstarter Campaign to Fund a Mobile App
Posted: 27 Feb 2014 10:42 AM PST
The
online book community Ownshelf is back in the news again today.
This 14 month old startup is in the process of raising funds for mobile apps. They've launched a Kickstarter campaign, and they are hoping for your support.
Ownshelf launched in December 2012 with a novel approach to connecting readers. The site was designed to act as a cloud library for readers, and it also enables members to share the ebooks which they uploaded from their personal collections.
When the site launched many, including this blogger, wondered just how long the site would continue to operate before the Justice Dept kicked down the developer's door. But now that a year has passed it's clear that Ownshelf's policy of limiting book uploads to DRM-free titles that you have permission to share (public domain, CC-licensed, and other free titles) has kept it from receiving the kiss of death.
Ownshelf now has over 20,000 registered users, and they're looking to grow that number by going mobile. This community came across my desk again today with news of the new Kickstarter campaign. Rick Marazzani, the founder of Ownshelf, wants to release Ownshelf apps for Android, iPad, and iPhone.
He wants to raise $20,000 to pay to have the apps developed. The campaing has raised $140 so far, and it have 25 days left on the clock. You can find out more on Kickstarter.
The post Shared Library Community Ownshelf Launches Kickstarter Campaign to Fund a Mobile App appeared first on The Digital Reader.
B&N's Past Tablet Failures Don't Bode Well For Their Future Plans
Posted: 27 Feb 2014 09:08 AM PST
Yesterday
Barnes & Noble reported their 5th straight quarter of shrinking digital revenue, with the latest quarter costing them another $61 million EBITDA. This represents not just a single quarter, but the latest quarter in 4 years of B&N losing money on the Nook.
So far as we can tell from publicly available info, after nearly 5 years Barnes & Noble has not made a profit on their digital investment. In retrospect that was  a bad investment, but I'm not sure that the same can be said at the time.
I was reminded of this fact last week when a member of MobileRead dug up a few details from B&N's annual reports, and as I looked over the figures and did some digging of my own I was convinced that B&N's mistake wasn't in investing their hopes in digital; it was their investment in tablets that appear to have done them in.
While we can't tell how much B&N spent in launching the Nook in 2009 and early 2010, we do know that for the subsequent fiscal years B&N has reported losses every year:
Year ending April 30 2011 NOOK EBITDA: (209 million USD)
Year ending April 30 2012 NOOK EBITDA: (261 million USD)
Year ending April 30 2013 NOOK EBITDA: (475 million USD)
FY 2014 is only three quarters done, but with yesterday's news we now know that B&N that B&N has lost $162 million over the past 3 quarters, bring the total reported negative profit to $1.1 billion.
So how much has B&N lost overall? That I cannot say.
B&N launched the Nook Store during fiscal year 2010, but they did not break out its expenses and revenues in the annual report (PDF). Just about the only detail I did find is the claim that Barnes & Noble had a 20% share of the US ebook market (in the middle of 2010, to be exact).
That detail is not as useful as hard facts about B&N's expenditures, but it does put the subsequent losses into perspective. In subsequent years B&N claimed a 26% share and a 27% share of the US ebook market (in June 2011 and late 2012, respectively). There's no way to tell whether these figures are even close to being accurate, but if they are accurate then it tells us that B&N threw away a couple hundred million dollars a year to basically tread water.
Edit: I just learned that B&N is claiming to have 20% of the ebook market at the moment. Given that they sold $57 million in content last quarter (in a market worth at least $1.5 billion a year) they are probably blowing smoke.
Or does it? If we look at it in 20/20 hindsight it's easy to see where B&N went wrong, but based on what was happening at the time Barnes & Noble wasn't necessarily making bad decisions.
Remember, the period of 2010 to late 2012 saw inconsistent but strong growth in both ebook sales and the number of people who had read an ebook. It's difficult to find details for 2010, but Pew Research Center reported that the number of American readers who had switched from paper to also reading ebooks rose from 21% in late 2011 to 30% in November 2012.
This group represents readers who were going digital for the first time, thus making them the ideal customer for B&N as well as a good justification for B&N's sinking even more funds into the Nook platform.
As we look back, I think it's clear now that B&N investing in the Nook wasn't a mistake; their mistake was in investing in tablet hardware with its high capital costs and thin margin. And even that wasn't a bad idea so long as B&N didn't have any cheap tablets to compete with.
Remember, the Nook Color was launched in 2010 with no direct competition, and B&N reported decent growth over the following year.The NC was a 7″ ereader which ran Android. At $249 it was pretty pricy, but in early 2011 it didn't really have any direct competition so the price was reasonable by the market standards of the day.
That of course ended when the Kindle Fire launched in late 2011, but even with that cut-price competitor B&N still managed to hold their own for much of 2012. They were somewhat successful in fighting off the many $99 budget tablets which launched that Spring, but I think their fortune changed once Samsung and then Google launched budget tablets of their own.
Samsung released the Galaxy Tab 2 in April 2012, and Google released the nexus 7 in July 2012. Those 2 tablets, which were priced at $249 and $199, probably finished off what the original Kindle Fire started.
All of a sudden B&N's leading tablet, the Nook Tablet, had to compete with similarly priced and well built tablet which offered hundreds of thousands of apps as well as access to multiple ebookstores. This lead to many readers wondering why they would buy a locked down Nook Tablet instead of an open tablet from Samsung, Google, or someone else. And when the Kindle Fire HD launched in late 2012, that was merely the final straw.
By late 2012 B&N's Nook revenues had leveled off, showing only a slight growth in the quarter spanning August through October (and even less growth in the quarter before that), before starting the decline over the 2012 holiday season – a decline which the Nook revenues have not recovered from.
Remember, in late 2012 the number of readers going digital for the first time was still increasing an a decent clip. The potential Nook customer base increased, while revenues leveled off, leading me to think that people were being drawn away to other platforms when they bought other tablets.
B&N's mistake was ignoring the similarly priced competition when they launched the Nook Tablet in 2011, and then proceeding to ignore the competition for the 2012 calendar year. Had B&N responded to the competition sooner, they probably would not be where they are now.
If we've learned anything from the past few years, it's that B&N's biggest mistakes weren't the investments in ebooks but their decision in developing and releasing tablets. That does not bode well for their future plans, not given the fact that they plan to release a new tablet some time in late 2014.
Would anyone care to guess whether that tablet will be any more successful than the last two? I am not confident it will.
The post B&N's Past Tablet Failures Don't Bode Well For Their Future Plans appeared first on The Digital Reader.
Pocketbook to Launch Waterproof eBook Reader, the Aqua
Posted: 27 Feb 2014 06:51 AM PST
New ereader launches might be few and far between in the US but not in Europe. The Ukrainian ebook company Pocketbook has just revealed that they are planning to launch a water and dust resistant ebook reader called the Aqua.
The news came to light via an accidentally leaked press release, so details are still limited. But I do know that the Aqua will have a 6″ E-ink screen with a resolution of 600 x 800. It has a touchscreen but no frontlight, and it's going to ship with 4GB Flash storage, Wifi. It will run Pocketbook's reading software with its broad support for a variety of ebook formats.
I don't have any details yet on the screen (and whether it too has been ruggedized), but early reports say that this ereader has a slightly modified design and is not just a regular model that has been dipped in a sealant. For one thing, the Aqua lacks a microSD card slot. This was sacrificed in order to reduce the number of weakpoints where water or dust might enter. The lack of a card slot will probably not be an issue for most readers – not unless you like to carry around a lot of PDFs.
With luck Pocketbook will also have seen fit to replace the standard 6″ screen with one that is more impact resistant. Most ereaders ship with a E-ink screen built on a glass backplane, which as I'm sure you know is easy to damage. A few, like the Earl back country tablet, use a slightly more expensive E-ink screens based on a plastic or  metal foil backplane. This makes the screen much more resistant to impact damage, and I am hoping that the Aqua will be equally rugged.
The Aqua is reportedly scheduled to ship in March 2014. There's no information yet on the price or availability, but Pocketbook has revealed that the Aqua will meet the IP57 standard for dust and water resistance. This means that you should be able to submerge the Aqua in up to a meter of water for 30 minutes, and should the Aqua come in the way of a high pressure stream of water, the ebook reader will continue to function.
The post Pocketbook to Launch Waterproof eBook Reader, the Aqua appeared first on The Digital Reader.
Coca-Cola Debuts Social Media Guard – a Tool for the Hopelessly Mobile Addicted (video)
Posted: 27 Feb 2014 05:21 AM PST
Do you spend too much time looking down at your mobile gadget and not enough time interacting with the world around you? Coca-Cola can help.
They're working on a new accessory called a Social Media Guard, and it's designed help turn your eyes away from the tiny screen in front of you and refocus your attention on the world around you.
Check it out:
Why yes, it is a cone just like what you might see on dogs, but that doesn't mean it won't prove effective in keeping your eyes off of the screen in your hand. This is clearly a product of its time, and someone needs to get this on the market.
The post Coca-Cola Debuts Social Media Guard – a Tool for the Hopelessly Mobile Addicted (video) appeared first on The Digital Reader.
You are subscribed to email updates from The Digital Reader
To stop receiving these emails, you may unsubscribe now.
Email delivery powered by Google
Google Inc., 20 West Kinzie, Chicago IL USA 60610