---
The Morning Coffee – 20 February 2014
Posted: 19 Feb 2014 09:30 PM PST
Top stories this morning range from the humorous (link) to the technical,  from reading (link) to sharing on LinkedIn (link), and more.
The post The Morning Coffee – 20 February 2014 appeared first on The Digital Reader.
Microsoft Doubles Down on a Bad Idea: New Windows RT Tablet Clears the FCC
Posted: 19 Feb 2014 03:04 PM PST
Like any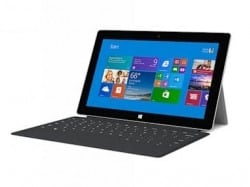 huge company, Microsoft makes a lot of mistakes. It's almost inevitable, given their many activities.
Sometimes, as in the case of the Kin phone, Microsoft realizes their mistake fairly quickly and cancels the product. But that doesn't always happen; sometimes there are products like Windows RT tablets, when Microsoft not only doesn't realize their mistake but instead decides to repeat the mistake over and over again.
Take the news today, for example. A new tablet from Microsoft cleared the FCC this week, and it is widely believed to be a new Surface tablet with LTE connectivity. Microsoft had announced last Fall that they were planning to release a Surface 2 tablet with LTE, and in the absence of any other product rumors it's pretty likely that we're looking at the Surface 2.
The Surface 2 tablet runs Windows RT on a 1.7GHz Nvidia Tegra 4 quad-core CPU with 2GB RAM, either 32GB or 64 GB storage, and a mciroSD card slot. It has a 10.6″ (1920 x 1080) screen, Wifi, Bluetooth, and a pair of cameras. The Wifi model retails for $449, and the LTE is probably going to sell for about $200 more.
If you look at the specs, you might be fooled into thinking that this isn't a bad tablet for the price. It's not a great value, but it has a reasonably powerful CPU, right and it does run Windows?
Well, not exactly. The thing is, it runs Windows RT, which is probably the worst choice for a tablet OS at the moment. Do you want to know how I can tell it's a bad choice for an OS?
So far as I can tell, no other tablet maker besides Microsoft has a tablet running Windows RT.
Sure, there are any number of tablets running Windows 8, but at this point Microsoft appears to be the only tablet maker who has a Windows RT tablet on the market. Everyone else seems to have either discontinued an RT tablet, avoided a wide release, or never made one at all.
Dell, for example, released the XPS 10 tablet last year, and then cancelled it in September 2013. Samsung had the ATIV Tab, which was only released in the UK but not the US or anywhere else. And then there's Asus, which discontinued the VivoTab RT, citing poor sales.
I could go on, but I think we can see the pattern. (It's almost as if MS held a gun to their heads and forced the tablet makers to use Windows RT at least once.) Other than Microsoft, no one is making a Windows RT tablet for the simple reason that consumers don't want to buy one. And now that I own one myself, I can completely understand why.
Microsoft's $449 second-gen Windows RT tablet is competing against $300 and $400 Windows 8 tablets that not only run the same apps as on the Surface and cost less, they can also run apps which can't run on Windows RT.
The RT in Windows RT stands for Reduced Technology (it does not mean Really Terrible), which means that users are reduced to only using the tech which Microsoft allows. In this case, users can only install apps which were developed specifically for Windows RT – and not any earlier version of Windows.
Windows 8, on the other hand, doesn't have this limitation. You can install Windows 7 apps f you like.
With that in mind, is it any surprise that consumers are choosing to buy a Windows 8 tablet (or an Android tablet) and not a tablet running Windows RT?
I don't think so, but apparently MS thinks they will. How much do you want to bet they're wrong?
P.S. MS has a pattern of bullying their major partners into supporting every single one of Microsoft's bad ideas. Remember the many all-in-one desktop PCs released in 2012 and early 2013, or the UMPC? Those were a few of Microsoft's earlier brilliant ideas; how well did they work out?
The post Microsoft Doubles Down on a Bad Idea: New Windows RT Tablet Clears the FCC appeared first on The Digital Reader.
LG Unveils G2 Mini Smartphone – It's the Beginning of the End of Phablets
Posted: 19 Feb 2014 09:52 AM PST
Someone in LG's smartphone marketing apparently has a sense of humor, because they've given a rather odd name to their latest phone.
The G2 Mini smartphone is a scaled down version of the LG G2, but I'm not sure the mini label is entirely correct. This smartphone features a 4.7″ screen which is far smaller than the 5.2″ screen found on the G2, but it is still larger than most of the smartphones on the market.
The G2 Mini smartphone runs Android 4.4 Kitkat on a quad-core 1.2GHz CPU with 1GB of RAM, 8GB of internal storage, a microSD slot, and a 2.4 Ah battery (user replaceable, yay). It has 2 cameras (an 8MP rear camera and a 1.3MP front-facing camera), Bluetooth, Wifi, and (depending on the market) various cell connectivity. According to Liliputing, it will have 4G LTE networks in some countries or dual-SIM 3G in others.
This is a more pocketable smartphone than its larger brethren, but pundits are already complaining about the weaker CPU the lower resolution screen.  Screen resolution is 960 x 540, which is only about a quarter as many pixels as on the larger G2.
According to LG, this smartphone will begin rolling out next month in Asia, the Middle East, Europe and a few other regions. Launch details for the United States are still unknown.
LG is the latest smartphone maker to take their flagship phablet and scale it down, and I can't help but wonder if we're seeing a new trend in the smartphone market. For the past couple years smartphone makers have been releasing larger and larger phablets, with screen sizes eventually peaking at 7″ (the Asus Fonepad), but now we're seeing smartphone makers go the other way.
What withe the Sony Xperia Z Ultra tablet, the recently announced Samsung Galaxy Note 3 Neo, and now a new smaller smartphone from LG, I wonder if the phablet era is at an end. Given that only an estimated 20 million phablets were sold in 2013 out of hundreds of millions of smartphones, that should probably come as no surprise.
And if this trend is real, do you realize that it would also mean that all the rumors and predictions about an iPhone phablet are probably nothing more than hot air.  There doesn't appear to be a market for Apple to pursue – not if Android phablets are any indication.
The post LG Unveils G2 Mini Smartphone – It's the Beginning of the End of Phablets appeared first on The Digital Reader.
Project Gutenberg's Self-Pub Portal is Going Strong
Posted: 19 Feb 2014 07:52 AM PST
Project
Gutenberg is best know for digitizing and distributing public domain ebooks, but that's not they do. I was reminded today about PG's self publishing portal, and since it hasn't gotten much attention since it launched I thought it worth another look.
This is a rather unusual portal, and it doesn't quite resemble any other free ebook site or ebookstore. Initially launched in July 2012 with around 700 titles, this 18 month old service now boasts 2300 titles which are available to download for free. That's far fewer than the 45 thousand titles available on the main Project Gutenberg site, and that's not the only difference. The only ebook format offered by the self-pub portal is PDF, and the ebooks are still available as free downloads, with some CC licensed titles mixed in.
Yes, the only supported format is PDF, and yes, many of the titles are free to download but cannot be shared. I didn't really understand the limitations when this portal launched, and 18 months later I am still baffled.
It's almost as if PG started to build a commercial ebookstore for academic titles, and then let the project stall. This would explain the license and format restriction, but it raises questions as to why this is still a free service that doesn't support the formats desired most by users.
But in spite of the puzzling details, some authors are finding this portal to be useful. The collection now boasts titles from over 30 languages, including Latin, Japanese, Urdu, and even a couple photo book titles which should not be viewed after a meal.
The self-pub portal can be found at self.gutenberg.org.
The post Project Gutenberg's Self-Pub Portal is Going Strong appeared first on The Digital Reader.
Microsoft SkyDrive Relaunched as OneDrive, Picks Up New Features
Posted: 19 Feb 2014 06:58 AM PST
Battered
into submission by a lost court battle in the UK, Microsoft officially changed the name of their cloud storage service today. SkyDrive is now known as OneDrive, but it's not just a name change – the service boasts new features including automatic camera uploads on Android, improved integration with Office Mobile for Android and OneNote, and better video handling.
Microsoft initially launched SkyDrive in 2011, but was forced to change the name after losing a trademark infringement lawsuit brought by the UK's BSkyB in 2013. MS had previously said that they were going to appeal the ruling, but they abandoned the appeal in exchange for more time to change the name.
The new OneDrive service boast video uploading and streaming that is said to work as well as sharing photos, and the Android app also features an option for automatic uploads of all photos (the iOS app already had this feature, I'm told). And just to make the service even more useful, OneDrive also now supports real time collaborative editing of documents in Office Mobile for Android.
The new apps are going to be rolled out as updates to the existing SkyDrive apps. In addition to the new features, MS is also encouraging existing users to update to the new apps. While the existing SkyDrive apps for Windows, OSX, and mobile devices will still work with OneDrive, the new apps will include a number of ways for users to get free storage.
Sign up for OneDrive and you get 7GB of storage, at a minimum. Users who enable camera backup will gain an additional 3GB of storage, and they can also get another 500MB for each referral (up to 5GB). If you happen to have a Surface tablet, Microsoft will give you 200GB for two years. And Office 365 users can get 100GB of free storage.
And last but not least, Microsoft is also offering additional free storage to early adopters. The first 100,000 users who sign-up for OneDrive will get 100GB free cloud storage. If you're interested, you'll need to follow OneDrive on Twitter as the company will only be sharing details there.
The post Microsoft SkyDrive Relaunched as OneDrive, Picks Up New Features appeared first on The Digital Reader.
Opera Max Expands Beta Test in NA and Europe, Brings High Speed Mobile Downloads to the Masses
Posted: 19 Feb 2014 05:33 AM PST
Opera
has one of the more popular mobile web browsers, and they are on the cutting edge of web browser UI design, but this company isn't resting on their laurels. Opera announced today that they were expanding Opera Max, their mobile data compression service.
A couple months ago the web browser maker announced a limited beta test for a new service called Opera Max. This service builds on the data compression technology that Opera developed for their web browser and expands that tech in order to compress all of a user's mobile web traffic – Twitter, streaming video, email, and more.
That service is still in beta, but today Opera asked for more volunteers to sign up for the beta test.  Opera can't take everyone at once, but they do want users in NA and Western Europe to get in line.
In the past, Opera was well known among mobile browsers because of how they reduced the volume and increased the speed of browsing data usage by compressing the data on their servers, before it was then sent out ouy to users' tablets and smartphones to be rendered.
Opera boasts that they were one of the first to offer data compression, a trick which is now shared by a number of web browsers including Amazon Silk on the Kindle Fire, Google Chrome, and the Skyfire web browser, which Opera acquired in early 2013. The service is optional on Opera Mobile, but it is an integral part of Opera Mini, Opera's second and more compact web browser.
With Opera Max, this data-saving compression tech is applied to almost anything on the tablet that connects to the Internet, from any browser to any app. It doesn't work with https traffic, but it does compress email attachments, app downloads and videos from Instagram and Vine. The end purpose is not just to reduce data usage but to also maximize users' limited data plans.
I've signed up for the beta test myself; I'm number 6,600 or so. Opera hasn't indicated how many new users they will add at a time, but they did explain why they wanted users in NA and Western Europe.
According to a comment left on yesterday's announcement, the users have to be within a certain geographic distance of Opera's servers in order for the Opera Max service to work effectively. Right now the servers are only limited to parts of the world. Opera of course would like to expand the service to cover the globe, but that will take time.
The post Opera Max Expands Beta Test in NA and Europe, Brings High Speed Mobile Downloads to the Masses appeared first on The Digital Reader.
You are subscribed to email updates from The Digital Reader
To stop receiving these emails, you may unsubscribe now.
Email delivery powered by Google
Google Inc., 20 West Kinzie, Chicago IL USA 60610