---
Posted: 22 Feb 2014 08:20 PM PST
Having received numerous complaints about the captcha on the comment section, I have decided to replace it. I would appreciate it f everyone could try the new one and confirm that it works.
Thanks!
Update: Apparently the new plugin isn't working any better than the old one, but at least it's not broken – this one simply refuses to appear.
The post I've Replaced the Captcha appeared first on The Digital Reader.
Samsung Launches Gear 2 Smartwatches
Posted: 22 Feb 2014 07:56 PM PST
Samsung
only started selling their first smartwatch some 4 months ago, and it seems they're already making plans to replace it.
Following several leaks over the past week, Samsung has officially announced a couple new smartwatches.
The Samsung Gear 2 and Gear 2 Neo look to be somewhat less sophisticated replacements for the Samsung Galaxy Gear; they'll be running Samsung's own Tizen OS and not Android, and early signs suggest that Samsung put more thought into the new smartwatches than they put into the original Galaxy Gear.
Both watches are built around a 1.63″ Super AMOLED  screen (320 x 320 resolution), and for the most part they have the same guts as well. They run Tizen on a dual-core 1GHz with 512MB RAM and 4GB Flash storage. That's a faster CPU than on the original Galaxy Gear, are also fractionally smaller and lighter than their predecessor.
And that's not the only way that the new models improve upon the old. The new smartwatches look to be more than just a smartphone accessory; Samsung is also taking on exercise wearables.
In addition to the expected Bluetooth, the Gear 2 smartwatches also have a pedometer, a heart rate sensor, and an IR port. And according to the spec sheet, this last will enable the Gear 2 to act as a remote control for household gadgets. Just about the only way these 2 smartwatches differ is that the Gear 2 weighs a few grams more; it packs in a 2MP camera. One watch is also slightly taller, while the other is slightly wider.
The new watches will retain the same basic functionality of the old watch, and they're also getting new apps. Among the first apps will be software from BMW, CNN, Garmin, Line, and Path.
By packing more abilities into a smaller space Samsung should be able to create a product that will justify the $300 price tag of the original, which at the time was rather overpriced given the limited functionality.
I don't see any details on price, but Samsung is expecting ship the new Gear smartwatches in April.
The post Samsung Launches Gear 2 Smartwatches appeared first on The Digital Reader.
New Best Buy Planogram Hints at Amazon's Set Top Box
Posted: 22 Feb 2014 03:23 PM PST
When I
wrote about the latest rumor yesterday concerning Amazon's new set top box, I expressed doubt because I was still waiting for more solid leaks.
It looks like the first credible leak may have arrived.
ZatzNotFunny got their hands on what may be the first credible piece of evidence that could prove Amazon's device actually exists.
According to their source, an early copy of a BB planogram for May mentions Amazon alongside Apple and Google. If this source is correct, all 3 companies are going to have a streaming device of some kind.
This leak can be summed up in the image embedded above, so as you can see it is incredibly thin. We don't have a name, specs, or even a list of features, just a dot which tells us that it has Wifi.
But we do have at least the beginning of confirmation that this device will launch this Spring, just like re/code said yesterday.  That raises this rumor from being completely unsubstantiated to having at least some evidence to back it up.
Stay tuned.
The post New Best Buy Planogram Hints at Amazon's Set Top Box appeared first on The Digital Reader.
Diamond Comics to Stop Distributing Digital Comics
Posted: 22 Feb 2014 12:00 PM PST
An also-ran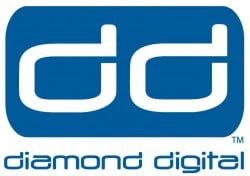 in the digital comics market has dropped out of the race.
Diamond Comics sent out an email this week to the retailers in their distribution network, advising them that Diamond would shortly be stopping their digital comics distribution.
Diamond Digital, which was launched in partnership with iVerse Media just under 2 years ago, will cease operation next week. Customers' previously purchased comics will reportedly still be available via the iVerse app, and comics retailers will be paid for any sales generated up to 28 February.
I doubt this move surprised anyone. Diamond Digital launched in July 2012, more than a year after its announcement and nearly a year after comiXology launched its platform. Diamond offered titles from a number of publishers, including IDW, Image Comics and Boom! Studios, but they were never able to sign the 2 major comics publishers, Marvel and DC.
The comics sold by Diamond Digital also weren't compatible with comiXology's platform, and the mutually incompatible DRM discouraged what few customers were attracted by  the limited selection.
According to the email sent out by Diamond, they're getting out of digital comics because "18 months after its launch, results indicate that Diamond Digital has not gained enough traction in the marketplace to continue."
This is going to leave the market to comiXology, a handful of indies, and of course the major ebook platforms: iBooks, Kindle, Google, and Kobo. There's no firm data on the size of the digital comics market or on market share, but according to IC2 that market grew 25% in 2013. It's widely believed that comiXology dominates the digital comics market.
The post Diamond Comics to Stop Distributing Digital Comics appeared first on The Digital Reader.
Confirmed: New Yotaphone Dual Screen Smartphone to be Unveiled Next Week at MWC
Posted: 22 Feb 2014 05:06 AM PST
If
you've been thinking about buying the dual-screen Yotaphone smartphone, you might want to hold off. A Russian tech blog has reported, and Yota Devices has confirmed, that a new model Yotaphone will be unveiled at Mobile World Congress next week.
The new Yotaphone is said to have larger screens and a more polished design.  Yota Devices isn't sharing any other info, but they did confirm that a new device will be announced next week. They will have it in their booth for everyone to see.
The current Yotaphone is an odd looking beast with 2 screens: an E-ink screen on the back and an LCD screen on the front. The screens measure 4.3″ diagonally, and have resolutions of 720 x 1280 (LCD) and (E-ink) 360 x 640. It runs Android 4.2.2 Jelly Bean, non a 1.7 GHz dual-core Qualcomm SparDragon CPU with 2GB RAM and 32GB Flash storage.
The phone has been under development since 2010 and was first unveiled in late 2012. Thanks to the dev costs and the extra screen it's a rather pricy device. It retails in Europe for 500 euros. That's a rather high price for a new device from a relatively unknown company, but it has found a market. Kommersant reports that 12 thousand Yotaphones have been sold since it shipped in early December 2013.
And now, just over 2 months after the first model shipped, Yota Devices is ready to announce a new model.
The post Confirmed: New Yotaphone Dual Screen Smartphone to be Unveiled Next Week at MWC appeared first on The Digital Reader.
You are subscribed to email updates from The Digital Reader
To stop receiving these emails, you may unsubscribe now.
Email delivery powered by Google
Google Inc., 20 West Kinzie, Chicago IL USA 60610