---
The Morning Coffee – 19 November 2014
Posted: 18 Nov 2014 08:42 PM PST
The Wednesday morning reading list includes a bunch of stories worth reading, like note-taking on the iPad, booksellers responding to HC's direct retail efforts, and more.
The post The Morning Coffee – 19 November 2014 appeared first on The Digital Reader.
In Relaunching Pelican Books, Penguin Breaks With the Past in Pursuit of a Digital Future
Posted: 18 Nov 2014 06:03 PM PST
When it was launched in the 1930s, Pelican Books was the nonfiction imprint for the then-new paperback publisher Penguin. It brought self-improvement and  self-education to a customer base which was unable to afford the more common hardback books (then as now a luxury item).
But in relaunching Pelican Books 30 years after it closed, Penguin has shown that it has either forgotten about or simply doesn't care about Pelican's original goal; aside from one small modernization the new Pelican Books bears little resemblance to the old.
The one modernization was caught by Creative Review last week. They reported that the new Pelican was letting digital drive print:
One of the most interesting aspects to the Pelican relaunch, which we covered in detail in the CR June Monograph, was that on-screen development had influenced the design of the printed editions, and vice-versa.

While the rich heritage of the imprint could have weighed down on the shoulders of the design team – Penguin's non-fiction brand originally ran from 1937 to 1984 and spawned a multitude of great cover design – it was in fact the digital era that influenced its new direction in 2014.

Perhaps even more unusual was that the idea for how the online versions of the books might work came out of Penguin's art department and its work on the new Pelican range, rather than from any editorial or marketing directive.
Given that ebooks are the new paperback, letting digital lead print is in keeping with Pelican's history, and the attention paid to the quality of the digital edition follows logically from that conclusion.
And Pelican is doing some great work with digital, including well-designed footnotes, large interactive maps, and other features:
But that is about the only way that Pelican honored the past; the new digital editions are neither as prevalent as the paperbacks which Pelican produced when it launched 80 years ago nor are the ebooks as cheap (even accounting for inflation).
Pelican's new digital editions are sold directly to the public (good) from a website that works on most web browsers (great) but have to be read online (bad) and cost £4.99 (terrible).
When Penguin first introduced paperbacks in the 1930s, they cost sixpence in the UK and ten cents in the US. It's difficult to find an exact match in today's dollars, but the official inflation index based on the CPI would peg the value of a dime 1935 as being worth about the same as $1.80 in 2014.
Pelican is charging the equivalent of $7.80.
And not only is Pelican charging many multiples of a budget price, they are also restricting their customer base to those who can afford a data plan in order to read the ebooks on their mobile device. This is a far cry from the original paperbacks, which could be found at most newsstands.
In short, Pelican Books only shares the name of its antecedent; it certainly doesn't share the goals. Had Pelican shared the goals of its predecessor, it would produce DRM-free ebooks which can be read anywhere and cost only a £1, rather than producing books which cost the same as and are even less prevalent than most ebooks.
And in case you're wondering, it is fair to compare the old to the new; while I was researching this story I found any number of articles that gushed about the old Pelican Books, how wonderful it was, and how great things will be now that it has been relaunched.
I found articles in The Guardian, the Independent, the Seattle PI, and elsewhere, and guess what?
I'm the only one who actually looked at the new Pelican Books with a critical eye. Everyone else just assumed a connection that did not actually exist.
And in case you're wondering, I wasn't expecting the old and new to have any real connection, nor do I see the above post as a rebuke of Penguin (we're all in it for the money). I just thought that the contrast was worth a comment.
The post In Relaunching Pelican Books, Penguin Breaks With the Past in Pursuit of a Digital Future appeared first on The Digital Reader.
PwC Claims eBook Sales Will Exceed Print in 2018
Posted: 18 Nov 2014 12:55 PM PST
The perennial ebook optimists at PricewaterhouseCoopers are back again with a new projection of the growth of the US and global ebook markets.
This time around the NYTimes is repeating the latest PwC prediction, writing that:
E-books have made impressive inroads into the English-reading world, but their success in Europe — even among wealthy, tech-savvy countries with robust publishing industries — remains spotty at best. In the United States and Britain, sales of e-books represent between a quarter and a third of the consumer book market and, by 2018, will edge out printed and audio books as the most lucrative segment, according to projections by the consulting firm PricewaterhouseCoopers. But the picture is radically different in continental Europe. Last year, digital books made up 8 percent of the consumer book market in France, less than 4 percent in Germany and Italy, and 1 percent in Sweden and Norway.
The NYTimes also posted a graph of the prediction:
While I would be happy if PwC's prediction came true, I feel I must point out that they have made this prediction before.
it is something of an annual tradition for the tea leaf readers at PricewaterhouseCoopers to make the same prediction about the US ebook market, namely that it would exceed the print market in 4 years. In 2012 PwC said that ebooks  would pass print in 2016, and in 2013 the goalpost was moved to 2017. And now PwC has moved the goalpost yet again, this time predicting that ebook sales would exceed print sales in 2018.
Don't get me wrong, I would be happy if PwC was right at one point, but in pushing the target year back by a year they've basically admitted that they've been wrong twice.  That doesn't exactly convince me that they're going to get it right this time around.
And to be completely forthright, I'm not sure I would be able to prove that PwC was right or wrong when 2018 rolls around.  The size and shape of a market like ebooks cannot be feasibly measured accurately. You can make estimates, sure, but it's too fractured to find the full measure.
In any case, I am looking forward to making this post an annual tradition. PwC will post their prediction, and I will point out that they missed in their previous predictions.  We'll all laugh, drink hot cider, and what fun we'll have.
The post PwC Claims eBook Sales Will Exceed Print in 2018 appeared first on The Digital Reader.
Amazon Silk Updated with Private Browsing Mode
Posted: 18 Nov 2014 11:12 AM PST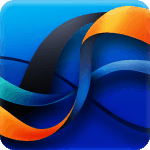 The ugly duckling of Android web browsers got an update today which is going to make it slightly more useful. Amazon announced on the Silk developer's blog that:
In response to customer feedback, we are excited to announce support for Private Browsing. With Private Browsing, you can surf the web without saving a record of your visits. For example, if you use Private Browsing while researching travel destinations for a surprise trip or shopping for presents, these sites will not show up in your browsing history when someone else uses your device.
The new privacy mode is available on all Fire tablets except the original, and it's also available on the Fire Phone.
The new private browsing mode can be found by tapping the 3 dot icon on the navigation bar (the same bar where you'll find the search, home, and back icons), and then selecting Enter Private Browsing: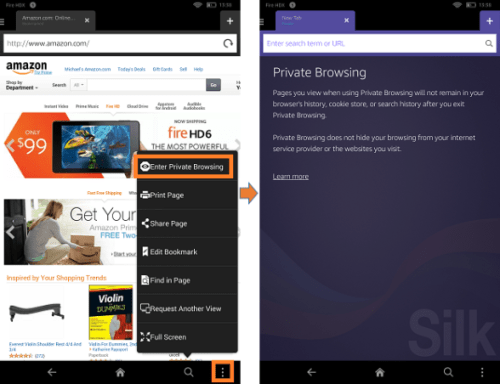 You can exit the private browsing mode by closing the tabs you opened during your browsing session. Silk will prompt you to delete the files you downloaded during the session, which you should probably do.
And now finally we can use the Fire tablets for their intended purpose (porn) without anyone other than your ISP and Amazon being the wiser.  (Silk offers the option of performance boosted by Amazon's servers, and unless you turn that off you're basically sharing everything with Amazon.)
Just so you know, this is called a private browsing mode for a reason. It's not a secret browsing mode, by any means, and the sites you visit can still be tracked by your ISP, the websites you visit (cookies), and any sufficiently crafty individual who is using the same public wifi network.
Truly private browsing would require either a VPN or a TOR node, and even that may not be enough. Earlier today a researcher at Columbia University showed that it was possible to track TOR users through traffic analysis.
On the other hand, that requires a lot more work than the average hacker can bring to bear, so perhaps we shouldn't get too alarmed over it.
The post Amazon Silk Updated with Private Browsing Mode appeared first on The Digital Reader.
Late to the Game: Nokia Launches the N1 Android Tablet
Posted: 18 Nov 2014 09:04 AM PST
Between everyone and their life coach releasing new models, the excess of refurbished, and last year's leftovers, the Android tablet market is glutted with an excess of supply. But that hasn't discouraged Nokia.
The gadget maker announced today that they are launching their first Android tablet. The N1 is an iPad Mini clone which will run Android 5.0 Lollipop when it ships in China later this year.
In what looks like the design work of Intel and Foxconn with a Nokia brand slapped on the outside, the N1 sports a 7.8″ display with a screen resolution of 2048 x 1536 . Behind that screen you'll find a 2.3GHz quad-core Intel Z3580 backed up by a  PowerVR G6430 GPU, 2GB RAM, 32GB internal storage, and a 5.3 Ah battery.
Next to the screen you'll find a 5MP camera, and on the back is an  8MP camera. The N1 has 2 speakers on the bottom edge, and I bet you can guess where the buttons are ports are located.
As you can see in the images below, calling the N1 an iPad Mini clone is not a joke but a near literal description:
The Verge reports that Nokia plans to launch the Nokia N1 in China for $249 in February ( around the time of Chinese New Year) The tablet will roll out to Russia and select European countries after the Chinese release.
As Mike Cane pointed out, that is overpriced for the Chinese market and represents a "fifty-percent price premium over other China iPad Mini clones", of which there are literally dozens.
The price differential won't matter so much in Europe, but even in the West the N1 will still have to compete in a tight market which includes similarly powerful tablets like the Z3580-equipped tablets which Asus announced in June.
If I were a betting man, I would guess that Nokia will do about as well with the N1 as they did with smartphones. But to be fair, it's not like Nokia had another choice for releasing hardware; their existing Lumia tablet designs went to Microsoft along with the sale of Nokia' smartphone division.
The post Late to the Game: Nokia Launches the N1 Android Tablet appeared first on The Digital Reader.
Amazon's NYC Store is Nowhere to be Found
Posted: 18 Nov 2014 07:44 AM PST
Unconfirmed rumors circulated last month that Amazon would be opening a store  in Manhattan, but with Thanksgiving only a week away that store is no where to be found.
Mike Cane stopped by 7 West 34th St, the supposed location of Amazon's store, last week and was unable to find any sign of female warriors. Both of the street level storefronts were occupied by other retailers which showed no sign of vacating for Amazon:
While that is not definitive proof that Amazon isn't moving in to that building, it did inspire me to look for confirmation of the original report (especially since Amazon did not confirm the report). I did some digging of my own, and much to my surprise I can't find any sign of Amazon either.
Please note that I'm not saying that Amazon is not moving in, just that I can't find any proof to show that they are. (Greg Bensinger broke the news in the WSJ, and to the best of my knowledge he has a perfect record for getting these kind of things right.)
But even though I think Greg is right, I still can't find confirmation.
For example, when the rumor was first reported last month, Amazon did not confirm the news. Given that Amazon immediately confirmed the pop-up stores in San Francisco,  the fact Amazon said that "We have made no announcements about a location in Manhattan" could be a telling detail – maybe.
But again, that is not definitive, so rather than just repost Mike's question I went looking for Amazon's landlord. 7 West 34th Street actually has two property management companies leasing space. Vornado Realty Trust manages the office space on the upper floors as well as the retail space at street level, while the other (7 W New York) rents out show room space on the concourse levels.
Neither is returning my emails, so I can't say for sure whether either party is Amazon's new landlord. I also didn't find any work permits or inspection permits which might coincide with Amazon moving in to their location, but TBH I could have missed something; that gov't website was confusing at best.
What's more, as of this morning Amazon was still saying that "We have made no announcements about a location in Manhattan". There's also no mention on the Amazon.com website of a delivery location at that address.
In short, folks, Amazon might be opening a store in Manhattan but I cannot prove it.
I think they are, but in the absence of evidence all I can say is that we should wait and see.
The post Amazon's NYC Store is Nowhere to be Found appeared first on The Digital Reader.
BitTorrent Opens Its Bundle Retail Platform to All
Posted: 18 Nov 2014 06:34 AM PST
There are many ways for authors and publishers to sell their content to readers, including the major ebook retailers, distributors like Draft2Digital, and white-label platforms Gumroad, and now we can add BitTorrent to that list.
After a year and a half of development and limited beta testing, news broke yesterday that BitTorrent opened their BitTorrent Bundle platform to all. Authors and publishers can now apply to join a program which offers one of the more unusual takes on the freemium model, and earn 90% of revenues (less payment processing fees).
Now being called a paygate, BitTorrent Bundle is in some ways a cross between the freemium model used by many mobile games and the paywall used by some websites. It's a flexible model which enables creators to set limits on how much of a work can be consumed before asking for payment (freemium) or move the content behind a paywall after a certain number of views (just like the paywall on many websites).
That is a unique model, and it is being launched at a time when other business models, including streaming music businesses like Spotify, are being questioned.
"Taylor Swift sparked debate over the state of music in recent weeks; the value of a stream, the value of a record. The value of art shouldn't be up for debate. It should be up to artists," said Matt Mason, chief content officer for BitTorrent.
Even though BitTorrent has been discussing their plans for paygates since at least last May, the first Bundle, Radiohead frontman Thom York's Tomorrow's Modern Boxes only launched in late September.
It has since been downloaded 4.4 million times, though we don't know how many times downloaders have paid to receive the extra content. "As with Radiohead's In Rainbows, Thom Yorke's decision was, from the outset, not to disclose sales data. The choice to share that information is at the artist's discretion. As it should be. We have to respect the artist's decision," says Straith Schreder, director of content strategy for BitTorrent.
The BitTorrent Bundle program is still invite only, which you can request here. You'll need to provide basic contact info as well as details about the works you wish to sell.
Creators are being admitted to the program at a controlled rate so BitTorrent can vet the platform, Schreder said. "We are not being selective per se," she says. "Our goal is to make paygates available to all artists. We believe art has value; we want everyone to have the ability to sell their work direct-to-fan using Bundle. As with the rollout of the self-publish email gate feature in September 2013, we're greenlighting paygates in batches. This allows us to QA the platform, and make sure that each publisher is properly set up. We want the paygate experience to be the best possible one for creators and their fans."
With the average ebook size under a megabyte, BitTorrent Bundle isn't going to be of much use to authors. But even so, it's still worth keeping an eye on. Bundle could prove useful for direct sales of audiobooks or graphic novels, each of which run into the hundreds of megabytes.
The post BitTorrent Opens Its Bundle Retail Platform to All appeared first on The Digital Reader.
You are subscribed to email updates from The Digital Reader
To stop receiving these emails, you may unsubscribe now.
Email delivery powered by Google
Google Inc., 1600 Amphitheatre Parkway, Mountain View, CA 94043, United States