---
The Morning Coffee – 14 November 2014
Posted: 13 Nov 2014 07:00 PM PST
Must-read stories this morning include a fun take on the differences between American and Caunaudiaun spelling, growing support for e-tax laws, and a critical take on conferences.
The post The Morning Coffee – 14 November 2014 appeared first on The Digital Reader.
So Wattpad Has the Same Piracy/Plagiarism Problem as eBookstores – What Do We Do About it?
Posted: 13 Nov 2014 06:49 PM PST
PW reported earlier today that Wattpad has the same piracy problem as the ebookstores, Scribd, and pretty much every other site that allows users to upload content:
A zero-tolerance policy on Wattpad, the social media site that claims 35 million readers and writers worldwide, has not done away with the problem of digital piracy on the site. Earlier this month over 41,000 readers downloaded free copies of a novel by New York Times bestselling author Jasinda Wilder, which had been pirated. The incident, Wilder estimated, cost her roughly $168,000 in royalties.

…

Even though Wilder pays two companies to search for illegal postings—one found close to 32,000 of them—it's unlikely that any company could have found Wilder's pirated work on Wattpad. The plagiarizer gave the book a new name, My Dominant Alpha, along with new cover art. The title was also posted by a different user: Amyleigh153. Because Wattpad pirates are now changing basic, but key, elements of the original work, they have become an even more worrisome issue for authors on the website.
While I don't want to deny the problems faced by authors or suggest that this behavior is okay, I do want to point out that PW's report is lacking in context.
As a brief skim of the related tag on Dear Author will tell you, piracy/plagiarism is a known problem, and now that we know that it extends to Wattpad the next question to ask is what authors ( and their fans) should do about this.
Any suggestions?
I've thought up a couple ideas that won't work,but not one that I know will work – or at least will have a positive effect.
What's your idea?
image by Kris Krug
The post So Wattpad Has the Same Piracy/Plagiarism Problem as eBookstores – What Do We Do About it? appeared first on The Digital Reader.
Douglas Preston Blames Amazon for the Delayed Release of His Latest Book
Posted: 13 Nov 2014 02:29 PM PST
Fresh from the successful fight against Amazon, Douglas Preston took to the review section of the Kindle Store today to complain about the delayed release of Blue Labyrinth.
The ebook is available now, but as Preston explained in his review, Amazon is responsible delaying the release of the Kindle edition:
Dear Readers,

Just to be absolutely clear about this: the delay in the Kindle release of Blue Labyrinth was entirely due to Amazon and had nothing to do with Hachette, despite Amazon's assertion to the contrary. Whether this was an honest mistake on Amazon's part or something else is not known. The problem seems to be taken care of now, and we hope Kindle sales will go smoothly from now on.

Thank you all for your patience and for being such loyal readers, which is much appreciated!

Warm regards,
Doug Preston
Preston was responding to the double handful of one star reviews left by frustrated fans. That ebook was due to be released on 11 November, but for some unknown reason it was delayed until about 2 pm eastern on that day.
Ten readers took to the review section to voice their displeasure first thing Tuesday morning (out of approximately 150 reviews as of 13 November), and Preston responded today with a 5 star review which blamed Amazon.
The review has since been taken down by Amazon, but not before someone snagged a screenshot:
As you may recall, Doug Preston is the leader of Authors United, the nonpartisan authors group which formed to peacefully bring  about a deal between Amazon and Hachette.
As a long time observer of publishing, I can assure you that all of Preston's statements have shared a similar balanced and nonpartisan viewpoint.
Thanks, Timothy!
The post Douglas Preston Blames Amazon for the Delayed Release of His Latest Book appeared first on The Digital Reader.
Nook App to Come Pre-Installed on Windows 8 Next Year?
Posted: 13 Nov 2014 01:31 PM PST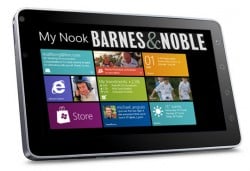 Remember the news from March that B&N and MS had decided to retire the Nook app for Windows 8 and replace it with a Microsoft-built app?
According to my source, plans have changed. That source has told me that starting early next year the Nook app for Windows 8 will be bundled in Windows in select markets.
I obviously cannot tell you who that source is, but I can say that they are located in one of the 30 countries (not counting the US and UK) where Nook Media launched a local ebookstore last November. I can also tell you that my source had been contacted by Anna Blanchard (listed on LinkedIn as the manager for international content acquisition) as recently as this fall.
The timing of the contact is important, for two reasons. For one thing, this shows that B&N and Microsoft may have shifted direction again from that March 2014 SEC filing.
Also, Blanchard is a relatively recent hire at Nook Media; she started in May 2014, following the layoffs earlier this year and preceding the layoff of several managers this week. Yesterday Publishers Lunch reported that several of the old guard at Nook Media have been shown the door, including Theresa Horner, who had joined B&N as the VP of digital content in November 2008 – literally,she was part of the Nook program since before there was a Nook.
On the other hand, it looks like Blanchard is part of the new guard, and will likely still be with Nook Media as it completes whatever transitions it is going through as part of B&N's plans to spin off, sell off, or hit Nook Media over the head and bury it in a ditch somewhere.
Yes, B&N has announced plans to spin off Nook Media and the Nook Press news earlier this week would support that idea, but I am not going to assume with absolute certainty that it is still going to happen. There are too many unanswered questions at this point to say for sure.
Among the unanswered questions are just what happened to the "Microsoft Consumer Reader" which was supposed to replace the Nook app for Windows 8. I was expecting it to have launched by now, but B&N is still promoting the old Noook app. The new app would look like this:
I also wonder where Microsoft's other reading app, the one for MS Office, went. That leaked last September and was supposed to have a Nook connection, but I can't find any sign that it has seen the light of day.
And how exactly do those missing apps relate to Yuzu, the execrable e-textbook app which Nook Media quietly launched earlier this year?
In short, folks, there is enough uncertainty surrounding Nook Media at this time that today's rumor meets certain standards for plausibility and probability.
B&N was contacted before this post was published. They said: no comment.
Stay tuned.
The post Nook App to Come Pre-Installed on Windows 8 Next Year? appeared first on The Digital Reader.
Vook Buys eBook App Developer Coliloquy
Posted: 13 Nov 2014 11:59 AM PST
Vook continued to gobble up its smaller competitors today with the acquisition of Coliloquy*.
Founded in 2011, Coliloquy first got its start in developing interactive ebook apps for the Kindle (as in the Kindle ereaders, and not the Fire Android tablets).  As Amazon wound down the development program for Kindle Active Content, Coliloquy expanded their focus to include developing apps for other platforms, including Android and iOS.
Coliloquy has published over 30 titles in the past 3 years, including A Dark & Dismal Flower by JC Herz, Getting Dumped by Tawna Fenske, and Georgetown Academy by Alyssa Schwartz and Jessica Etting, as well as app titles developed on behalf of Disney and published under Disney's imprint, including RickRiodan's Heroes of Olympus series.
I was also told by Vooks spokesperson Matt Cavnar that Coliloquy has expanded beyond ebook apps to include ebook publishing, which is Vook's main interest. According to Matt, Vook is "laser focused on helping authors with ebooks specifically, so that's the fit for us".
Clarification: Vook is buying only the publishing arm of Coliloquy, and not the rest of the company.
From the description on the Coliloquy website, it appears that Coliloquy saw itself as much a publisher as a tech startup. They were actively seeking manuscripts for publication, but were only accepting submissions from agents or previously published authors:
All of our authors work with one of our traditional editors, as well as directly with our team on narrative structure and technical constraints.
What's more, I think that there are other parts of the Coliloquy platform which interests Vook. Namely, analytics:
Engagement. In addition to point-of-sale data, we focus on engagement—how invested are readers in the story and its characters? What percentage finish the book? Re-read it? Single book sales are great, but in the long-run, we want readers to come back to our characters and stories—to truly engage and interact.
Coliloquy is Vook's second acquisition in the past few months; in September Vook bought the failed boutique publisher Byliner. Shortly after acquiring Byliner, Vook boosted royalties to 85% of net; Vook plans to expand that deal to authors published by Coliloquy.
The post Vook Buys eBook App Developer Coliloquy appeared first on The Digital Reader.
Hachette, Amazon Settle Contract Dispute
Posted: 13 Nov 2014 04:52 PM PST
Hachette and Amazon's bitter months-long dispute over ebook and print contract  terms came to an abrupt end today with the news that the two had buried the hatchet.
The specifics of the deal were not disclosed, so we do not know in whose back the hatchet was buried, but in a statement Hachette CEO Michael Pietsch said that "this is great news for writers".
On the face of it the deal would appear to be a win for Hachette, which according to the statement "will have responsibility for setting consumer prices of its ebooks". Curiously, the statement goes on to say that  the publisher "will also benefit from better terms when it delivers lower prices for readers".
The new terms will go into effect in early 2015, but Hachette CEO Michael Pietsch also said in a letter to authors (scroll down) that " Hachette titles will be restored as soon as possible to normal availability on Amazon, will be available for pre-order, and will be included in promotions on the site, a very positive development as we head into the holiday shopping season".
In short, it looks like Hachette has signed a deal very similar to the one signed by Simon & Schuster a few weeks ago. The details for that deal were not publicly disclosed either, but pundits parsed out what little was said by Amazon and S&S and concluded that that contract likely resembled the terms offered for KDP, where Amazon offers better terms for ebooks priced between $9.99 and $2.99.
So Hachette went through 8 months of financial pain (as Amazon stopped providing services which were no longer covered under a contract), and undertook a vicious media campaign, and all they got was a contract that S&S got through negotiating patiently and honestly.
Whoops.
The letter from Plietsch:
Dear Authors and Agents,

I'm very happy to bring you the good news that Hachette Book Group has reached a new agreement with Amazon for ebook and print sales. While the new ebook terms will take effect early in 2015, Hachette titles will be restored as soon as possible to normal availability on Amazon, will be available for pre-order, and will be included in promotions on the site, a very positive development as we head into the holiday shopping season.

The new agreement delivers considerable benefits. It gives us full responsibility for the consumer prices of our ebooks. This approach, known as the Agency model, protects the value of our authors' content, while allowing the publisher to change ebook prices dynamically to maximize sales. Importantly, the percent of revenue on which Hachette authors' ebook royalties are based will not decrease under this agreement.

Throughout our negotiations, Hachette has strived to reach an agreement that is in the long-term interest of our authors, readers, and this company. The past several months have been difficult ones for the writers Hachette publishes and the agents who represent them. We send our sincere thanks to you for your patience and support as we conducted this negotiation. I feel strongly that this new contract reestablishes our positive relationship with Amazon, an important retailer and industry leader, and that this strong relationship will benefit the writers we publish for many years to come.

–Michael
image by cogdogblog
The post Hachette, Amazon Settle Contract Dispute appeared first on The Digital Reader.
How to Embed an eBook on a Website
Posted: 13 Nov 2014 07:31 AM PST
One of the niftier features of the Kindle Store is the way that it lets you embed a sample of an ebook in a webpage. Now there's an option for indie authors to do the same with just about any Epub file, albeit in a slightly more complicated and less convenient way.
A Japanese developer by the name of Satoru Matsushima has released a self-contained Epub viewer which can be installed on most websites. It's called BiB/i, and all that is required is for you to upload the code for the viewer as well as the ebook you want to embed, and them post the embed code.
The embed code looks like what you would see with the manual (non-automatic) Youtube embedded videos, so some technical skill is required.
I haven't installed it myself on this blog, but as you can see below it does work:
You can find other demos here.
The code works well, and you can even use BiB/i to open an ebook sitting on your computer. Simply open the ebook embedded above, switch to full screen, and then drag another EPub file into your web browser.
This won't work so well for large ebooks (for those it is recommended that you unzip the ebook file before uploading it) but I did just test it myself. I was able to open a couple different Epub files. They were slow to load at first but I could read them.
I've just heard of BiB/i, so I can't tell you if it is in widespread use yet, but I do know of at least one alternative (besides uploading a sample to Scribd and embedding that). There's Epub2Twitter, which lets you embed ebooks in a Tweet, and ReadK.it, which enables authors and publishers to create self-contained ebooks which can open themselves in a web browser (as well as regular ebook apps).
The post How to Embed an eBook on a Website appeared first on The Digital Reader.
You are subscribed to email updates from The Digital Reader
To stop receiving these emails, you may unsubscribe now.
Email delivery powered by Google
Google Inc., 1600 Amphitheatre Parkway, Mountain View, CA 94043, United States