---
Indie Comics Publisher Thrillbent Launches iPad App, Subscription Plan
Posted: 26 Apr 2014 09:09 PM PDT
Lost
amidst all this talk of Comixology and Amazon, Mark Waid announced on the Thrillbent blog earlier this week that the comics publisher had launched a new iPad and a new subscription plan.
The new app offers access to all the same great comics that can be found on the Thrillbent website, and of course the content is free to read. But if you like what you read, the app also offers the opportunity to directly support independent creators via a monthly $3.99 subscription.
Over the past several years Thrillbent has experimented with a few different funding models, including selling DRM-free comics both at a fixed price and a "pay what you want" price. With the launch of the subscription, they will be trying a freemium model.
In addition to the joy of paying for the comics, subscribers will receive access to new issues and new series that are only available to paying subscribers, as well as possible future bonuses. They will also get notifications of new issues, and that is worth a lot to me.
You can find the app in iTunes, and you can subscribe either through the app or the Thrllbent website. And yes, an Android app is in the works.
So, are you a fan?
I first started following Thrillbent when it launched a couple years ago. I was familiar with the work of Mark Waid, and I liked the idea he had about using time as a storytelling element. But as the weeks went by my visits to the Thrillbent website petered out.
I discovered that I don't like getting only part of a story at a time. This turned me off comics in general (it's one of the reasons why I dislike Game of Thrones, too). I also didn't like the lack of a notification system at the time, and I found it intensely frustrating. RSS was invented in 2004, you know, and the web comics I read regularly all use it to get the word out about new releases.
Now that Thrillbent has fixed the notification issue, I might get caught up and subscribe – once there is an Android app, that is.
The post Indie Comics Publisher Thrillbent Launches iPad App, Subscription Plan appeared first on The Digital Reader.
Comixology for Android Updated with new Payment Options
Posted: 26 Apr 2014 05:10 PM PDT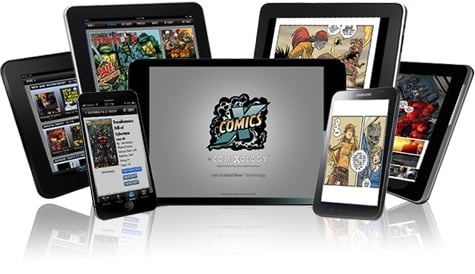 The updated Comixology iOS app may be getting all the attention today but that's not the only update from Comixology and Amazon.
The comic duo also updated the Comixology Android app today with new payment options. The app does away with Google payments, and replaces it with Paypal and credit card payments.
The changelog also mentions a new shopping cart which enables readers to buy several items at once (I wish more ebookstores had one). And of course several bugs were killed in the making of this update.
On a related note, the app has not yet been updated to be tied into Amazon's account database, but I bet that is coming; Audible has similar integration. And while we are on the topic, the Comixology app in the Amazon Appstore was not updated today; it is still tied to Amazon's in-app purchase system.
The post Comixology for Android Updated with new Payment Options appeared first on The Digital Reader.
Harry Potter Reimagined as a 1980s Cyberpunk Anime
Posted: 26 Apr 2014 03:37 PM PDT
Have you ever wondered what Harry Potter would look like if it were a 1980s anime?
Me neither, but if the resulting cyberpunk cartoon looked anything like the clip created by Nacho Punch, I would tune in for a few episodes.
In the following clip you'll find many cyberpunk themes, including hacking, robots, a futuristic version of Diagon Alley, neo-Hogwarts, Cyber-Wizards, and a ripping good story.
I hope you enjoy it as much as I did.
The post Harry Potter Reimagined as a 1980s Cyberpunk Anime appeared first on The Digital Reader.
Amazon Releases New Comixology App for iPad and iPhone, Removes In-App Purchases
Posted: 26 Apr 2014 01:42 PM PDT
It's been
just two weeks since Amazon announced that they were buying Comixology and the retailer is already making their presence felt. Amazon uploaded a new version of the Comixology app to iTunes today, and it's missing something.
Amazon has removed the in-app comic book store from the Comixology app, making it a read-only app. Comic book fans will now find themselves in the same position as Kindle fans, who lost the links to a browser-based Kindle Store back in 2011.
Comixology has confirmed the news on their blog, saying:
We have introduced a new comiXology iPhone and iPad Comics App and are retiring the old one. iPhone and iPad users will now buy comics on comixology.com and download to the app. All your purchased books will be readable in the new app once you've downloaded it and taken the following steps …
As disappointing as this may be, it makes some sense. Comixology was one of the few media companies that had an in-app purchase option. Many, including everyone from Hulu to Kindle to Audible to Pandora, dropped the in-app purchase option (or in the case of the Kindle and other apps, never had the option in the first place).
Many of those companies dropped the option because they could not afford to pay Apple 30% of their sales. Comixology had been one of the exceptions.
And while this is frustrating news, there is a silver lining. Now that Comixology is no longer paying Apple's vig, publishers and creators are going to be getting a larger share of the revenues. Comixology has revealed that they split revenues with creators 50-50,and I am sure a lot of comic book authors are going to appreciate the bump in revenue.
The other upside, as Chris pointed out over at Teleread, is that Comixology is immune to Apple's prudish censorship. Apple has in the past dictated what type of comic could be sold in iOS apps, even forcing Izneo to remove 40% of their catalog under threat of Apple removing the Izneo app from iTunes.
And thanks to Amazon deciding to let Comixology remain independent, it should also be relatively safe from Amazon's own homophobic censors.
And to be honest, this isn't going to inconvenience iPad and iPhone users that much; anyone who wants to buy comics on their iThing can still do so from a web browser. Comixology posted instructions explaining how readers can use iOS's "shortcut" feature to add a link to their home screens. You can find out more here.
After the Kindle Store and Audible, Comixology is Amazon's third storefront for selling digital books, and like Audible Comixology dominates its market. Comixology is widely recognized as the leader in digital comics, carrying 50,000 titles from all the major publishers.
You can find the app in iTunes.
The post Amazon Releases New Comixology App for iPad and iPhone, Removes In-App Purchases appeared first on The Digital Reader.
New Copyright Law in Japan Expands the Publishing Right to Include eBooks
Posted: 26 Apr 2014 09:50 AM PDT
The upper
house of the National Diet of Japan passed a new law this week which expanded certain parts of Japanese copyright law to include ebooks.
At Friday's plenary meeting, the House of Councillors approved a bill which revised Japanese copyright law to recognize that publishing rights cover ebooks. The House of Representatives had passed the bill earlier.
While at first glance it would appear that ebooks are only now being included under Japanese copyright law, that is not quite what is happening here. The content had always been copyrighted, but until now publishers lacked an explicit legal right to take action concerning the books they have under contract. For example, under the revised law, which will take effect next January, publishers will have the legal authority to file suit over pirated ebooks.
The revised law is also intended to promote the distribution of ebooks. Thanks to cellphone novels and other short works, Japan was one of the early pioneers of ebook reading but their commercial ebook market lags behind that of the US and UK.
The publishing right is an aspect of Japanese copyright law which is not found in many other countries; I have in fact never heard of it before. Many countries have their own special twists on copyright; the US and Canada have Fair Use and Fair Dealing, the UK has extended copyright to include computer-generated content, and Japan explicitly spells out the rights of publishers.
According to the Wolters Kluwer published Japanese Copyright Law, under the publishing right:
The publisher as a licensee can invoke the copyright owner's right to claim an injunction against an infringer, since the copyright owner often has no funds to claim an injunction.
In the US this right is spelled out in the contract negotiated between the publisher and the creator, but in Japan it has been codified into law.
At this time Japanese copyright law only recognized publishing rights for printed books and not ebooks, though I am not sure that stopped publishers from filing and winning lawsuits over pirated ebooks.
image by Kimtaro
The post New Copyright Law in Japan Expands the Publishing Right to Include eBooks appeared first on The Digital Reader.
ZTE Funbox Now Available for $159, Offers Useful Yardstick on Fire TV
Posted: 26 Apr 2014 02:48 AM PDT
Amazon may be getting all the buzz at the moment for the Fire TV (and let's not forget the Apple TV with its 20 million units sold last quarter), but they're not all there is. ZTE's Android gaming console recently became available outside of China, and it adds a unique perspective on just how much these things cost.
The ZTE Funbox runs Android 4.3 on a 1.8GHz Tegra 4 CPU with 2GB RAM and 8GB Flash storage. It's reportedly available in China for 698 yuan (about $112), and can be bought from a reseller on AliExpress for $159.
This gaming console has 2 USB ports, an HDMI port, dual-band Wifi, Bluetooth, and an ethernet port. It also features Dolby DigitalPlus audio and support for 4K video (which we could have guessed from the CPU spec). In addition to the remote control, it also comes bundled a gaming controller.
The Funbox outpoints or matches the Fire TV in several areas, including CPU, storage, controllers, connectivity, and price, all with a retail of 698 yuan. That's considerably cheaper than the Fire TV, which tells us that Amazon probably has a profit margin built into the Fire TV's $99 retail price.
Amazon usually sells their hardware on razor thin margins, but I don't think that is happening in this case. If I am right then that tells us something about Amazon's expectations for the Fire TV.
This time around Amazon isn't quite so certain that they will recoup their costs via content sales. That's been their business model for the Kindle Fire tablets and the Kindle ebook readers since at least late 2011, but Amazon doesn't seem quite so certain that the model will work here.
Amazon passed up the opportunity to give Roku a heart attack by pricing the Fire TV for $79 (much like the $199 Kindle Fire did to Barnes & Noble in 2011), and I think they made that decision because they wanted the extra $20 as a cushion.
What do you think?
The post ZTE Funbox Now Available for $159, Offers Useful Yardstick on Fire TV appeared first on The Digital Reader.
You are subscribed to email updates from The Digital Reader
To stop receiving these emails, you may unsubscribe now.
Email delivery powered by Google
Google Inc., 20 West Kinzie, Chicago IL USA 60610