---
Now that Amazon Owns Comixology , What Will Happen To Submit?
Posted: 18 Apr 2014 08:04 PM PDT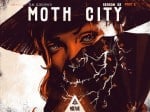 It's been a week since Amazon announced that they were acquiring Comixology , and the surprise deal has left many questions unanswered, including what Amazon plans to do with Submit.
Comixology launched their self-pub platform and/or publishing imprint in March 2013, and over the following year 1,000 titles were accepted for sale.
But now that Comixology is owned by Amazon, it would seem that Submit is redundant. After all, Amazon owns a comics imprint (Jet City Comics launched in July 2013) and a self-pub platform (KDP), so there is little reason to keep Submit around.
Not necessarily. At least one comics creator thinks Submit will be sticking around, and I agree with him. Bleeding Cool invited Tim Gibson, author and artist on ComiXology Submit title Moth City, what he thought:
I think it'll affect Submit hugely, though it's hard to tell how at this stage. I suspect with Amazon's financial success with Self Published Fiction (a real money spinner for them, as seen here) Comixology's Submit platform and its recent growth might have been the cherry on the top of the Comixology sundae.

From a Submit-creator point of view it could be fantastic, especially if our books are integrated into the Amazon.com system and allowed to benefit from their automated suggestion and charts systems that reward momentum and reviews. I think due to our industry's print distribution and monthly releases schedule we, as comic readers, are very new-new-new reactive, but digital and the discovery systems that Amazon has built can allow for longer term growth that rewards quality.
Comixology Submit is a strange beast. It was originally launched as a way for creators to self-publish, but unlike KDP Submit is run with a fair amount of oversight. Not every title is accepted by Comixology, and that in many way's makes Submit more of a publishing imprint than a self-pub platform (and Amazon already has one of each of those).
But I don't think it's going away.
Amazon made it clear last week that Comixology would remain its own platform, and if that is true then Comixology will probably have as much independence as Audible. That audiobook distributor is closely integrated with many of Amazon's systems, including accounts, the Amazon.com website, and the Kindle Fire Android tablets,  but it is still its own entity with its own distribution network and even a self-pub platform (ACX, which launched in 2012).
It's more than likely that Comixology will retain a similar degree of independence even after it has been closely integrated with Amazon.
And while that might offend the "one size fits all" purists, it's probably the right move. If nothing else, the basic structural differences between prose and comics support the idea that they not be combined into a single ebook format in a single store.
The post Now that Amazon Owns Comixology , What Will Happen To Submit? appeared first on The Digital Reader.
The Sony PSP is the Sony Reader that Almost was
Posted: 18 Apr 2014 02:06 PM PDT
In closing
the NA branch of the Sony Reader Store this month, Sony is showing every sign of getting out of a market where they were a pioneer.
Anyone who knows their ebook history can tell you that Sony was one of the companies to lead the second wave of ereaders. They released the Sony Librie in Japan in 2004 and the Sony Reader in the US in 2006, briefly putting Sony one step ahead of Amazon.
But as groundbreaking as the devices were, the Sony Librie and the Sony Reader weren't the sum of Sony's ebook projects. There was of course the Data Discman, a line of portable reading devices sold in the 1990s, but there was another project which never made it to market.
I have just gotten my hands on a trio of screen shots from a reading app which was developed for the PSP but never released.
No, I'm not talking about the digital comic app which was released in 2009; this earlier unnamed and never released reading app dates from 2005, a time very shortly after the first PSP was released and before Sony released the Sony Reader PRS-500.
The Sony PSP was initially unveiled in 2004 and released in various parts of the world in 2005. It was equipped with a 4.3″ LCD screen (480×272 resolution) and ran Sony's proprietary OS on a 330MHz CPU with a graphics chip, Wifi, and a minimal amount of on board RAM and storage. Games were sold on UMD, one of Sony's proprietary 3.5″ CD format, and the PSP could also take a Sony Memory Stick.
There have been several reading apps developed for the PSP in the years since it launched, including some semi-official apps, but this almost became the first:
The font looks kinda ugly by today's standards, but for an unreleased and unfinished app from 2005 that is not bad.
This app was the work of Bluefire. These are the folks that developed the Bluefire Reader apps for Android, iPhone, and iPad, but as you can clearly see they've been involved in ebooks since long before Android or even the first iPhone was released in 2007.
I got these screen shots from Bluefire, and while they were made with an emulator I'm told that the app really could run on a PSP. One developer even set it up so his kids could read books on their PSP.
It's not capable of displaying any known ebook format, only a limited form of XML, but that limitation came about only because Sony shelved the project before it was finished. By the time Bluefire stopped development, the app was capable of displaying text and images. It supported different font sizes, bookmarks, highlights and annotations.
Bluefire never quite got the page turn animation done, so instead this app scrolled chunks of text at a time. But in spite of its limitations, the app did have some subtle refinements. It was even capable of displaying the bookmarks and chapter headings in a scroll bar along the bottom of the screen (see the first screenshot).
And of course there was a library menu with book covers:
So why wasn't this app released, given that Sony released an ereader before and after the time when this app was under development?
All I know is that it was developed nearly to the point that it could be released, and then Bluefire pitched it to the Sony PSP folks – who turned it down.
I can't tell you exactly why (I only got this info second hand in 2013), so I would deeply appreciate any first-hand accounts that could explain what happened. But even without more details I'm not sure that it was the wrong decision.
Even if it had been released I am not sure it would have amounted to much. The PSP was an expensive device, and ebooks weren't cheap or plentiful in 2005. The odds are good that this app would have suffered the same fate as the later digital comics service.
Sony launched a digital comics service for the PSP in 2009 and was shut down in October 2012. That project was a failure, so it seems likely that this app would also have failed due to a lack of people buying ebooks to read on the PSP.
And given the general lack of ebooks on handheld gaming devices today (many independent efforts but few official apps), I'm not sure that the PSP team made the wrong choice. I'm not sure whether it's ergonomics, insufficient interest among device owners, or what, but ebooks just don't seem to be all that popular on gaming devices.
In fact, aside from a bunch of independently developed apps, I only know of one large scale ebook effort on gaming devices, and that was the one that Nintendo launched last year in Japan. I'm also told that the Sony PS Vita has a manga reader, but it's gotten so little attention that I can't say more than that.
The fact that there is so little interest in developing an ebook platform on handheld gaming devices never ceases to surprise me; my first ebook reader was the Tapwave Zodiac, a PSP-like PDA/gaming gaming device.
It ran PalmOS 5 on a 200MHz CPU, and I read Mobipocket format ebooks on it. It had a huge 4″ screen and I loved it.
eBooks got their start on PDAs, so I would have expected that the obvious next step would be an expansion on to handheld gaming devices. But it never happened.
The post The Sony PSP is the Sony Reader that Almost was appeared first on The Digital Reader.
B&N is Considering Smaller Stores
Posted: 18 Apr 2014 10:14 AM PDT
Following
a bad holiday season and poor fiscal year, Barnes & Noble Chair Len Riggio gave an interview to the WSJ earlier this month concerning B&N's future plans.
The company is still casting about for a solution to their predicament. In January of last year they announced plans to shrink for the next decade by closing 20 stores a year, but now that Riggio has replaced Lynch as head of Barnes & Noble it would seem that they are going to try for stores with smaller footprints.
WSJ: Will we see a smaller, 15,000-square foot Barnes & Noble bookstore one day?

Mr. Riggio: Yes, it's possible. You can't tell yet. Remember we had a really good holiday season. One of the things that you've observed is that it seems like the level of digital convergence from books to digital has decelerated. Having said that, a fairly substantial number of the big readers have digital reading devices.
The average B&N retail store is anywhere from 25,000 to 40,000 square feet (B&N College bookstores are a different case, rarely reaching 3,000 sq. ft) so this would be a step down for the stores.
This might be a sign that B&N has found a new way forward, but I wouldn't get your hopes up. They still have not figured out how to price match their own website:
WSJ: Can Barnes & Noble sell all its books, online and in the bookstores, for one price?

Mr. Riggio: I wish we could. It's kind of tough.…If you look at the retailers that are somewhat troubled, those retailers are the ones that are selling name brand products. There are a certain number of customers who say who has the best price? They'll come into the retail store itself with their phones and hit the button…. The more you sell products that are branded outside of the store, that aren't exclusive to the store, the harder it is. We don't have a solution at hand. We haven't come up with one yet.
Funny, Walmart figured this out a while ago, and so have most other retailers, and yet Barnes & Noble has been frustrating customers for over 5 years now.
I wonder if this is a symptom of B&N not being able to adapt to current retail market?
The post B&N is Considering Smaller Stores appeared first on The Digital Reader.
Leaked Photos Reveal iPad Air 2 Components
Posted: 18 Apr 2014 08:36 AM PDT
Newly
discovered photos on a Dutch gadget blog reveal what could be components for the next iPad.
OneMoreThing.nl stunned this blogger this morning with a couple photos of what could be the front panel for the next iPad.
The photos (embedded below) show the front and back of the component, revealing that the touchscreen, display, and the front panel are all integrated into a single component.
The provenance of the photo has not been revealed, but if you look around the edges of the photos you can see that they were taken inside a repair shop of some kind. Given that iPad and iPhone components have leaked via the repair shop supply chain before, this lends some credence to the idea that we're looking at a real component.
It's also worth noting that the iPad Air doesn't have the front panel, touchscreen and display integrated into single component, so this is probably not a part for the current model but more likely a new component designed to make the new model even thinner than the current model.
If Apple sticks with the usual annual schedule, the new iPad Air is probably going to ship later this year.
The post Leaked Photos Reveal iPad Air 2 Components appeared first on The Digital Reader.
Tales of Amazon's Epic Size Have Been Greatly Exaggerated
Posted: 18 Apr 2014 07:33 AM PDT
One of the
common memes in digital publishing is that Amazon, one of the largest book retailers in the US, is a monstrously large retailer which threatens all around it.
Today I would like to take a look at the facts which disprove the meme, and show you just how false it is.
This meme is so widely accepted that it has led people to writing things like:
@RebeccaSchinsky @thDigitalReader It's the size that makes them what they are. Anybody big enough to replace AMZ will be just as bad

— Baldur Bjarnason (@fakebaldur) April 18, 2014
Earlier this year Digital Book World expressed the meme in a slightly different way when they (apocryphally?) quoted an industry expert:
In talking about Amazon's competition, calling the Yonkers, NY branch of Barnes & Noble a "disgrace." For those publishers worried that continued poor results at the nation's largest bricks-and-mortar book retailer might mean its demise, Joseph Esposito speculated a way out.

"I fully expect Wal-Mart to buy Barnes & Noble," he said.

He reasoned that companies like Wal-Mart, H-P and others that Amazon is increasingly competing with will not forever tolerate the e-tailer's encroaching on to their territory and will fight back. In this case, Wal-Mart would be fighting back by acquiring a major Amazon competitor and propping it up.
Please note: Esposito has denied the accuracy of this quote, so don't take it as something he said so much as an expression of an idea that is percolating through the ether.
And even the WSJ is beginning to fall sway to the "giant Amazon" meme:
Amazon has proved a fierce competitor for Wal-Mart, more than doubling revenue to $61 billion from 2009. Today Amazon's market capitalization is $180 billion, compared with $241 billion for Wal-Mart.

The question for Wal-Mart is how it can efficiently adapt its existing infrastructure for online orders. With its own extensive network of warehouses and logistics expertise, Amazon has often been able to beat Walmart.com on number of product offerings and speed of delivery.

The plan under way will augment fulfillment from existing stores and distribution centers with online-only facilities, Mr. Ashe said. "This is not a side project," Mr. Ashe said. "This is how we will be serving customers going forward." Mr. Ashe said that the company will be able to match Amazon's range of products and quick shipping times within about two years.
This meme is reflected in all the digital publishing coverage news which even touches on Amazon, but I won't link to more examples here.
Would it surprise you to learn that all of this talk about giant evil Amazon is based on a flawed assumption, that Amazon is a huge retailer?
Amazon is big, yes, and they are growing fast, yes, but they are not the retail giant that the publishing industry makes them out to be.
As you can see in this chart from July 2013, Amazon is in fact one of many runners up to the title of giant retailer.
Walmart, with nearly $500 billion in revenue, is easily the giant retailer, but Amazon, with 61$ billion in revenue in 2012, is actually smaller than McDonalds. Even in 2013, Amazon wasn't terribly larger than Target.
The reality of the situation is that Amazon is facing fierce competition from many similarly sized companies, including Target, Costco, Best Buy, Safeway, Walgreens, CVS, Kroger, and Royal Ahold. And those are only the general retailers with revenues in the same range as Amazon; I haven't even mentioned the niche retailers like Lowes – or the retailers outside the US.
On a related note, I think I just gave you a practical example of why Amazon is going to do brick and mortar retail eventually – or buy an existing retailer.
In conclusion, if you want to be afraid of Amazon, point to their growth rate and not their size. Amazon's 2013 revenues were up 50% over 2011 revenues, an impressive feat. And if you extend that trend out a few years it starts to frighten even me.
But I would not equate Amazon's size with their evilness, not unless you wish to imply that all the other companies mentioned above are just as evil.
The post Tales of Amazon's Epic Size Have Been Greatly Exaggerated appeared first on The Digital Reader.
iPad Mini Refurbs Now Available from Apple – Including Retina
Posted: 18 Apr 2014 05:11 AM PDT
Want to
buy an iPad Mini but found them just too expensive? I have some good news for you.
Apple's retail website was updated yesterday with new refurbs. It looks like enough customers have returned Apple's expensive hardware that Apple is now selling refurbished models.
You can now pick up Apple's iPad Mini Retina for about 16% off. That's not a great discount, no, but it is about as good as you will get from Apple. They have both the regular and the Retina models in stock,  with the the iPad Mini (Retina/Wifi/32GB) starting at $419 and the non-Retina models starting at $339. (The 16GB models are out of stock already).
I have been thinking of getting one as an upgrade from my busted iPad 2, but I keep talking myself out of it. While I would benefit from the smaller screen (I don't really like large tablets) I think the prices are just too high for me to see it as a good value.
I can pick up a very nice, very functional Android tablet for under $200 (or an adequate model for only $99). Why should I pay $300 or more that to get an iPad Mini?
The post iPad Mini Refurbs Now Available from Apple – Including Retina appeared first on The Digital Reader.
You are subscribed to email updates from The Digital Reader
To stop receiving these emails, you may unsubscribe now.
Email delivery powered by Google
Google Inc., 20 West Kinzie, Chicago IL USA 60610