---
The Morning Coffee – 23 April 2014
Posted: 22 Apr 2014 09:30 PM PDT
Here's a short list to read this morning.
The post The Morning Coffee – 23 April 2014 appeared first on The Digital Reader.
New Browser Plugin Figuratively Kills the Word Literally
Posted: 22 Apr 2014 07:08 PM PDT
The war between those who use the word literally in its correct historical meaning and those who cannot stand to see the word used for exaggeration will likely never end, but thanks to a new browser plugin it's now possible to call a truce.
A newly released plugin for Chrome, Safari, and Firefox is now available to rescue the frayed nerves of grammar nazis. Once installed in your web browser, the plugin replaces instances of the word literally with figuratively. It doesn't work on illustrations or Twitter (I don't know if it works on FB either), but at a minimum it will catch all instances of the term on most websites.
I, for one, am happy to use the term literally in the same manner as Mark Twain, Charles Dickens, and F Scott Fitzgerald used the word, but not everyone feels the same way. And thanks to this plugin, we can both be happy.
That works for me.
P.S. I last posted on this topic in August of 2013 when I pointed out the historical uses of the word literally. When you learn just how many famous authors have used this word to exaggerate it will literally blow your socks off.
The post New Browser Plugin Figuratively Kills the Word Literally appeared first on The Digital Reader.
Sony's $1,100 Digital Paper Has Found a New Home: in HR
Posted: 22 Apr 2014 04:42 PM PDT
When
Sony's expensive Digital Paper writing slate launched in the US last month I knew that its $1,100 price tag and limited feature set would make it hard to find buyers, but it looks like Sony DPT-S1 has found a home where money is rarely a problem: Hollywood.
Sony put out a press release today, announcing a new deal with Ease Entertainment. This firm handles accounting and payroll for studios and other entertainment companies, and they think the Sony Digital Paper is a great idea.
"We are committed to taking what is still a 'paper and file box' industry and moving it into the current generation of tools, a key part of which is Sony's Digital Paper," said Michael Rose, Chairman and CEO of Ease Entertainment. "The combination of our technologies will substantially streamline and improve the onboarding process, which will ultimately lead to reduced production costs. The uses in and around a shooting set, within production offices and at the corporate and legal level, are countless: enhanced regulatory compliance, fewer errors, reduced environmental impact and an increased level of efficiency."
I really have to wonder about the CEO of an accounting company thinking that the Digital Paper is a good value.
The Sony Digital Paper DPT-S1 is based on a 13.3″ plastic-backed E-ink screen and comes with a dual-mode touchscreen, stylus, Wifi, 2.8GB Flash storage, and is limited to only letting users read and edit with PDFs.
At $1,100, the Digital Paper does not present a good cost:benefit ratio- not compared to tablets. You could get two $500 tablets for the same cost and show a much higher benefit from the many additional features and functions on the tablets that the Digital paper lacks.
With that in mind, I wonder just how many devices Ease bought and at what discount. Equipping all of their staff would leave a huge crater where their IT budget used to be, so I bet they only bought a handful of the writing slates.
The post Sony's $1,100 Digital Paper Has Found a New Home: in HR appeared first on The Digital Reader.
Samsung Sees Tizen as a Hedge Against the Post-Google, Post-Android Era
Posted: 22 Apr 2014 02:55 PM PDT
Having announced plans to use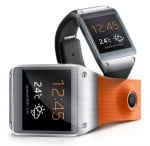 Tizen, Android Wear, and Android on a variety of mobile devices, Samsung has confused many bloggers over the past 6 months as we try to figure out their strategy.
The Korean gadget maker is planning to use both Tizen and Android on smartphones and Android Wear and Tizen on smartwatches, and today they explained why.
The short answer is that Samsung is working to develop a single ecosystem for all their products, including smartphones, tablets, TVs, and home appliances. "So far, Samsung hasn't been sticking to one platform," Samsung Electronics Medial Solution Center President Hong Won-pyo told reporters. "Like Google's Android platform, Tizen could be a common platform that can connect Samsung products in a single category."
What with the rise of Android Wear and Android TV, Google's Android platform could probably have served Samsung's needs – if not for the fact that Android is controlled by Google. Samsung officials said without apps and its own ecosystem based on content, there is little chance to go beyond just as a fast-follower rich in manufacturing.
Samsung may have used Android to dominate the non-Apple tablet and smartphone market, but they don't want to let another company control their future – or their pocketbook. This is why they have been maintaining their own app store, and why they continue to invest in Readers Hub and other content stores.
The post Samsung Sees Tizen as a Hedge Against the Post-Google, Post-Android Era appeared first on The Digital Reader.
Amazon Sales Take a Hit in States With Online Tax, and Other Predictable Outcomes
Posted: 22 Apr 2014 10:22 AM PDT
A newly
published paper has confirmed the age old truism that people shop around for the best price buy less as prices increase.
A team of researchers at Ohio State University have been studying the effects of online sales tax on consumer behavior, and they noted that consumers in states where online sales taxes are collected tended to spend less at Amazon than consumers in states where no online sales tax was due.
According to Bloomberg:
In one of the first efforts to quantify the impact of states accruing more tax revenue from Web purchases, researchers at Ohio State University published a paper this month that found sales dropped for Amazon when the online charge was introduced. In states that have the tax, households reduced their spending on Amazon by about 10 percent compared to those in states that don't have the levy. For online purchases of more than $300, sales fell by 24 percent, according to the report titled "The Amazon Tax."
You can find the paper here (PDF), but I'm not sure that there is really any need to read it. That paper proves a basic theory of economics that we all learned in Econ 101, namely that demand goes down as prices increase.
It's called the demand curve, and that more than anything explains why Amazon fought the various state's efforts to collect a sales tax on online sales. This money was never going to come out of Amazon's pocket, so it wasn't going to hurt them directly, but Amazon knew that the taxes would discourage sales.
Update: It looks like I wrote too soon.  This isn't an example of consumers spending less; they are just more choosy about where they are shopping. Here's a telling quote:
When we look at the sales of Amazon Marketplace merchants, who are generally not subject to the Amazon Tax, the large sales (? $300) of these retailers increase by 60.5% after the tax goes into effect. We conclude that to a small degree, the tax legislation achieved its objective of restoring retail activity to local communities, though most of the gains in "leveling the playing field" are garnered by the online operations of retailers.

Overall, our study shows that Amazon experiences a decline in sales following the implementation of an Amazon Tax. Households substitute Amazon with other retailers: either online retailers who are exempt from collecting sales tax, or in-state retailers (online and brick-and-mortar).
I will read further, but one effect of the Amazon tax is to shift sales from Amazon to their Marketplace (where Amazon charges a commission). In other words, Amazon is still profiting from tax-free online sales.
And this still proves a lesson from Econ 101: consumers shop around for the cheapest price.
The post Amazon Sales Take a Hit in States With Online Tax, and Other Predictable Outcomes appeared first on The Digital Reader.
Universal Studios Opens Harry Potter Theme Park in Japan
Posted: 22 Apr 2014 09:58 AM PDT
If the
Pottermore website isn't enough of a Harry Potter fix for you (and you have thousands of dollars to spare for airfare), I have some good news for you today. Universal Studios nnounced last week that they will be opening a new "Wizarding World of Harry Potter" attraction at the Universal Studios park in Japan.
Starting on 15 July, Harry Potter fans will be able to explore Hogsmeade and Hogswart Castle, including Dumbledore's Office and the Defence Against the Dark Arts classroom. Moving portraits and the Sorting Hat may speak to visitors as they journey through the castle. In Hogsmeade, fans will find shops, the Three Broomsticks tavern, and more, and outside of the castle is the Flight of the Hippogriff roller coaster.
This is going to be the second of 3 Harry Potter attractions; the first opened in Florida in 2007, and another is still under construction at the Universal Studios Hollywood park. You can find more details, including a map and a list of all of the attractions, on the Universal Studios website.
The post Universal Studios Opens Harry Potter Theme Park in Japan appeared first on The Digital Reader.
New Details Leak About the Amazon Smartphone
Posted: 22 Apr 2014 08:45 AM PDT
We
still don't know what Amazon's smartphone is going to cost or what it's name will be when it launches later this year (or even if it will launch), but new details leaked today about how it's going to work.
Boy Genius Report is back again today with new info from their source inside Amazon. They don't have any new photos, but they do have a better description of how the smartphone will function.
Amazon plans to use the combination of internal sensors and the 4 front-facing IR cameras to enable a variety of 3D effects. These effects will be present in several of Amazon's own apps as well as some third-party apps available for download from the Amazon Appstore.
Amazon also plans to use the new tech to enable an entirely new way for users to navigate apps and menus on the phone. Users will be able to tilt the phone in various directions to make the  display additional information on the screen.
For example:
In the phone's email and calendar apps where small icons are displayed with no labels, a slight tilt will reveal labels beneath each icon, informing the user of its function. If the user performs a tilt gesture after searching for a restaurant in the maps app, Yelp ratings will appear on top of the various results plotted on the map.

In Amazon's video store, a tilt gesture displays IMDb ratings on top of movie thumbnails. And when viewing products on Amazon.com, gestures might cycle through images to reveal different product views.
Amazon's smartphone is also reportedly going to use the accelerometer to trigger menus or actions. Tilting the phone one way inside the Kindle app will open the X-Ray menu, while tilting it up or down will make it turn the page.
Moving beyond the sensors, the phone is also going to have several useful ways to take a photo and OCR the text:
Amazon's phone includes a feature that will allow users to capture images of signs and other real-life objects with printed text using the device's primary rear camera. The software will then automatically recognize the text and convert it into a note using optical character recognition (OCR) and other technology.

We're told the software can also perform certain functions with the captured text, such as saving information on a business card to a new contact entry, or translating text from a foreign language into English.
Amazon's smartphone is expected to have a 4.7″ screen and run a modified version of Android on a SnapDragon CPU. This photo of a prototype may or may not be the phone:
The phone is rumored to have any number of features, but at this point few of the features (besides possibly the 3D parallax effects) actually require the phones most spectacular feature: its 4 IR cameras, which you can see in the photo above.
As I have pointed out before (one, two, three), most of the features mentioned so far only require a single camera and the usual internal sensors found in most smartphones. Pretty much every feature that the Amazon smartphone is rumored to have has already been incorporated in someone else's smartphone or can be accomplished with tech already on the market.
I don't know about you, but that makes me wonder whether all the cameras are really going to show up on the production model. It might have fewer cameras, but on the other hand Amazon might be using the extra cameras to perfect the features that have already been tried on competitor's smartphones.
See, that's the nice thing about Amazon releasing their smartphone long after everyone else; Amazon gets a chance to learn from the competition and create a more polished smartphone.
I, for one, am looking forward to June.
The post New Details Leak About the Amazon Smartphone appeared first on The Digital Reader.
Apple Celebrates Earth Day with Full Page Advert in Newspapers Around the World
Posted: 22 Apr 2014 07:06 AM PDT
Apple
has long been making a big deal about pursuing eco-friendly policies like renewable energy sources, but they undid much of their work today with their latest ad campaign.
22 April is Earth Day, and Apple decided that the best way to honor this day is to take out full page ads in major newspapers. There's no word yet on just how many newspapers carried the ad, but I do know that it has shown up in at least NYC and a newspaper in Australia. (I would be willing to bet that the ad was placed in every city where Apple has a retail store.)
According to 9to5Mac, the ad pokes fun at Samsung for not imitating Apple's eco-friendly policies:
There's one area where we actually encourage others to imitate us. Because when everyone makes the environment a priority, we all benefits. We'd be more than happy to see every data centre fuelled by 100% renewable energy sources. And we eagerly await the day when every product is made without the harmful toxins we have removed from ours.

Of course we know we can continue to do better. We've set some pretty ambitious goals for reducing our impact on climate change, making our products with greener materials and conserving our planet's limited resources. So the next time we come across a great idea that can help leave the world better than we found it, we look forward to sharing.
In short, Apple has taken out a full page ad to pat itself on the back for policies like reducing paper usage in packaging. And the ad ran in papers around the world.
Whose bright idea was that?
Hey Apple, I have a suggestion for a way to make the environment a priority: don't buy full page ads.
The post Apple Celebrates Earth Day with Full Page Advert in Newspapers Around the World appeared first on The Digital Reader.
Android eBook App Aldiko Hits 20 Million Downloads
Posted: 22 Apr 2014 05:50 AM PDT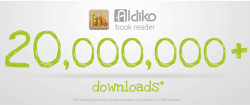 Aldiko is coming up on its 5th anniversary in June, and the developers will have something to celebrate. They just announced that the app had reached a new milestone.
The Aldiko app has now been downloaded 20 million times. Considering that this does not include premium purchases or pre-installed versions of the app, that is an impressive accomplishment.
Aldiko has a far larger install base on Android than either Barnes & Noble or Kobo, a detail I noted when Aldiko reached 15 million downloads in September 2013, and they're not the only indie reading app to best the majors. Moon+ Reader also reports downloads in the 10 million to 50 million range (according to Google Play).
Aldiko and Moon+ are two of the most popular reading apps on Android, second only to the Kindle app – and of course Google Play Books.  But given that Google has arranged to pre-install Play Books on nearly all certified Android devices (I think it's a contract requirement), I'm not sure it's reasonable to include Google when looking at installs as a popularity contest.
The post Android eBook App Aldiko Hits 20 Million Downloads appeared first on The Digital Reader.
You are subscribed to email updates from The Digital Reader
To stop receiving these emails, you may unsubscribe now.
Email delivery powered by Google
Google Inc., 20 West Kinzie, Chicago IL USA 60610