---
The Morning Coffee – 20 August 2014
Posted: 19 Aug 2014 08:10 PM PDT
The Wednesday morning reading list covers a diverse range of topics like the advantages of dyslexia, memorization as copyright infringement, the best reading apps for Android, and more.
7 Great text-based widgets, for those that would rather read their home screen (Greenbot)
The Advantages of Dyslexia (Scientific American)
The best reading apps for Android (Android Central)
A business model I'm sorry we'll never see (Joe Wikert's Digital Content Strategies)
Licensing Boards Think Studying For A Test Is Copyright Infringement, Forbid Memorization Of Material (Techdirt)
Time Inc. Rates Writers on How "Beneficial" They Are to Advertisers (Gawker)
Why Do People Trust Wikipedia? Because An Argument Is Better Than A Lecture (Techdirt)
The post The Morning Coffee – 20 August 2014 appeared first on The Digital Reader.
Fuhu Plans to Flatten the Competition with the 24″ Nabi Big Tab HD Android Tablet
Posted: 19 Aug 2014 01:02 PM PDT
Fuhu has made a name for itself as a maker of kids tablets with screen sizes ranging from 5″ to 10″, but their latest tablet could literally crush the competition.
The Nabi Big Tab HD is an Android device so large that it defies the label tablet. Due to arrive this fall, the Big Tab HD is going to be available in 20″ and 24″ models which will cost $449 and $549, respectively.
The Big Tab HD runs Fuhu's own modified version of Android 4.4 on a Tegra 4 CPU with 16GB internal storage, 2GB RAM, Wifi, and Bluetooth.
While the full specs have not bee released, we do know that the 20″ Big Tab HD will feature a 1,600 x 900 pixel display, while its larger sibling will have a 24″ display with a resolution of 1,920 x 1,080, or about the same number of pixels as on the latest 7″ Android tablets. These monsters will weigh in at 10.5 pounds and 13.5 pounds, respectively.
These are absolutely massive devices, but like the existing products in this niche they are not strictly intended to be tablets. That suggests a certain amount of mobility, and given the anemic 1.65Ah batteries (or the weight) that is simply not realistic.
Rather, the Nabi Big Tab HD is less a tablet than a child-friendly competitor to Viewsonic's VSD220 wireless monitor. That device has a 22″ screen, but it concedes the impossibility of mobility and eschews a battery entirely.
The Nabi Big Tab HD, on the other hand, has just enough battery life for you to use the bundled forklift to move the device from one room to the next. That should be enough, I think.
This tablet also features customized software, including parent and child modes, kid friendly games, educational apps, and more. The tablets also ship with Google Play, and there's also a Nabi app store for access to age-appropriate apps.
The post Fuhu Plans to Flatten the Competition with the 24″ Nabi Big Tab HD Android Tablet appeared first on The Digital Reader.
Blurb Adds Bookstore Distribution to Their Self-Pub Service
Posted: 19 Aug 2014 12:43 PM PDT
The POD service Blurb has just pulled off the holy grail of self-publishing; thanks to a new deal with Ingram, Blurb authors can now distribute their print-on-demand or offset printed trade books to nearly 39,000 retailers around the world.
Blurb is joining Createspace and Ingram's own Lightning Source in offering an option to distribute to bookstores. Launched in 2005, Blurb is best known as a POD service which specializes in graphics intensive titles like coffee table books, cookbooks, and textbooks. They boast a catalog of over 3 million titles from nearly 2 million authors, most of whom are outside the US.
As a result of the deal with Ingram, works distributed via Blurb can be included in Ingram's catalog, and authors will also be able to offer a range of discounts (25%, 36%,or 55%) to entice booksellers to carry their book. New trade sizes and cheaper printing prices from Blurb will help authors make money on print distribution.
In related news, Blurb also testing a conversion service for ebook distribution to the Kindle Store:
Blurb is also offering its users the ability to easily convert a word doc into a .mobi file for readable on Kindle devices. The service is in Beta and is free for now, though Gittins said they will eventually charge for it. "We're just looking for feedback," she said. Blurb is also planning to relaunch its website sometime in October, Gittins said, adding new functionality including online calculators that Blurb authors can use to figure which trim sizes and discounts offer the best profit margins for their books.
Has anyone tried the new service? Are you considering it? Let me know what you think.
The post Blurb Adds Bookstore Distribution to Their Self-Pub Service appeared first on The Digital Reader.
GigaOm is Wrong to Call Kindle Worlds a Bust
Posted: 19 Aug 2014 11:07 AM PDT
When Amazon launched Kindle Worlds in May 2013 many people misunderstood the new service, and it appears that misunderstanding continues to sway journalists even today.
On Sunday GigaOm published an article describing Kindle Worlds as a bust. Working from a recently published research paper, Jeff John Roberts calls Kindle Worlds "a bust for fans, and for writers too".
While it is possible that KW is a bust, Mr Roberts doesn't prove that argument. In fact, his approach is not just wrong but completely irrelevant to the reason Kindle Worlds was created.
Later in this post I will discuss my standards for judging whether KW is a bust, but before we do that let's pin down exactly what we are talking about.
Far from being a portal for fanfiction, Kindle Worlds is a publishing imprint. Organizationally, it belongs to Amazon's publishing divisions, and it is not part of KDP. This is an important distinction because had KW actually been about fanfic then it would have been announced as a self-publishing portal related to KDP.
Instead, KW is about copyright holders (movie studios, authors, publishers, media companies) choosing whether they wish to publish works by outside authors.
As Tobias Buckell explained last year, it's about licensing, not fanfic:
It's really a way for Amazon to disintermediate media tie in novels, where packagers and publishers approach authors to write in an established media universe.

Amazon is using some elements of fan fiction to do an end run around the existing publishing structure of it.
If you look at KW from the viewpoint of licensed content and not fanfic then Mr Roberts arguments tend to fall apart:
In the month of June, authors contributed 46 Pretty Little Liars works to Kindle Worlds, which sounds like a fair number — unless you compare it to the more than 6,000 such works that appeared during this time on two other fan fiction sites.

More broadly, on one of those sites, FanFiction.net, fans posted 100 new stories every hour across all categories. And Amazon? Its entire output for all 24 "Worlds" of content, which also includes franchises like Gossip Girl and Vampire Diaries, was just 538 stories over the course of more than a year.
He is simply wrong to say that "authors contributed 46 Pretty Little Liars works to Kindle Worlds"; that is the number published, not how many were submitted.
We don't actually know how many were submitted; all we know is the number of works that made it through the process and were published. And that's not the same thing.
I do not think counting the number of works produced is the right way to go about measuring the success of a program; if that were the case then a publisher which produces 10 titles a year is only a tenth as successful as one which produces 100 titles each year. (And heck, I know one author who only writes a single novel each year; by Mr Roberts' reckoning she must be a failure compared to authors who write 4 or more books a year, and not a financially successful author with a rabid fanbase.)
Bigger is generally better, yes, but I think a better yardstick would be to track the revenues and count the reviews.  If you can show me that authors and publishers aren't making a lot of money from this, now that would be an argument that Kindle Worlds was a bust.
But Mr Roberts doesn't have that data, so his argument is a bust.
If you have first-hand experience with Kindle Worlds, please let me know whether you think the imprint is making an impression. I don't have any financial data, so I can't answer that question.
The post GigaOm is Wrong to Call Kindle Worlds a Bust appeared first on The Digital Reader.
Delaware Passes Law Which Makes eBooks and Other Digital Content Inheritable
Posted: 19 Aug 2014 07:43 AM PDT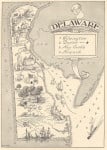 Do you know that clause in the TOS for the Kindle Store and many other digital content stores which says that the content is licensed to you and is nontransferable?
The state of Delaware just negated that clause (in part).
Last week Governor Jack Markell signed House Bill (HB) 345, "Fiduciary Access to Digital Assets and Digital Accounts Act", giving heirs and the executors to estates the same rights over digital content which they would have over physical property.
In a case of life imitating art, the new law basically accomplishes what the Daily Mail fictitiously reported in 2012 that Bruce Willis wanted to accomplish; ebooks and other digital content can now be inherited.
Delaware is the first state to follow the latest suggestion from the Uniform Law Commission, a non-profit group that crafts model legislation and lobbies to enact it across all jurisdictions in the United States. Last month the ULC adopted a new legal standard, the Uniform Fiduciary Access to Digital Assets Act (UFADAA), which laid out what rights heirs should have over digital content belonging to the deceased.
Delaware is reportedly the first state to take the UFADAA boilerplate and pass it. While a few states, including Indiana, Virginia, and Rhode Island, do have some statutes related to the digital assets of the deceased, those provisions are far less comprehensive than the new Delaware law.
But even though those laws are more limited in scope, they will probably continue to have a greater impact on legal rulings. The new law in Delaware only affects Delaware residents and wills being probated there. It does not affect the tech companies registered in the state, according to one spokesperson. "If a California resident dies and his will is governed by California law, the representative of his estate would not have access to his Twitter account under HB 345," Kelly Bachman, a spokesperson for the Delaware governor's office, said by email.
But even with the limited impact, this is still good news for digital rights advocates such as myself. Along with the ReDigi decision, which said that you could resell digital content under certain circumstances, the new law is a major milestone in a growing legal trend.
Year by year, consumers are gaining more rights over the digital content they buy. If this trend continues then it won't be long before consumers have the same rights over digital content as they do over physical goods.
And while that might upset certain middlemen, as a consumer I am quite pleased.
images by kalleboo, Meta Mourphic
The post Delaware Passes Law Which Makes eBooks and Other Digital Content Inheritable appeared first on The Digital Reader.
Exclusive: New Samsung Galaxy Tab 4 Nook to be in Stores Wednesday, Will Cost $179
Posted: 19 Aug 2014 06:22 AM PDT
Barnes & Noble will be unveiling their new Nook hardware on Wednesday morning in NYC, but I won't be there. Instead, I plan to be out in front of my local B&N store at 9am tomorrow, waiting for it to open.
My inside sources at B&N have told me that the new stock has already been delivered to stores. The in-store demos are going to be reset Tuesday night and Wednesday morning, in time for the new hardware to be sold when the stores open.
And while I don't have full details on the special offers that will launch tomorrow, I can tell you the price. According to one source, the Galaxy Tab 4 Nook will cost $179. That is the full retail price of the Samsung Galaxy Tab 4.
According to the info B&N gave out to app developers (link), the Galaxy Tab 4 Nook will have the same specs as the Samsung Galaxy Tab 4.  Weighing in at 276 grams, the Tab 4 Nook will have a 7″ TFT display with a screen resolution of 1280 x 800. It will run Android on a quad-core 1.2GHz Marvell PXA1088 CPU with 1.5GB RAM 2 cameras (3MP and 1.3MP), Wifi, and Bluetooth. And when it comes to storage, the Galaxy Tab 4 Nook will have 8GB internal and a microSD card slot.
So how does that compare to the rest of  the market?
Here's a quick rundown of the leading competition. I'll let you make up your own mind.
Kindle Fire HD (2013) - The Tab 4 Nook will likely have better performance than Amazon's budget tablet. The Tab 4 Nook has a faster CPU, cameras, and thanks to the microSD card slot more storage options, but the Tab 4 Nook loses in the screen dept and on price. The $139 Kindle Fire HD has the same screen resolution but a higher quality display.
Nook HD – This two year old tablet can be had as a refurb for under $100. It sports a much higher resolution screen than the Galaxy Tab 4 Nook, but it will likely prove to have slightly weaker performance. The Nook HD also lacks the cameras and some other ancillary specs of the $179 Galaxy Tab 4 Nook, but it makes up for those shortcomings with a great price.
Nexus 7 (2013) – This tablet is the closest competitor to the Galaxy Tab 4 Nook.  It has a better and higher resolution screen, better cameras, hugely better CPU, and will almost certainly have better performance. And since you can find it as a refurb for $129, it also offers a better price. Update: But, as one reader reminded me, the Nexus 7 does not have a card slot. Thanks, Lynne!
Kindle Fire HDX (2013) – With a retail of $229, the Fire HDX is a media tablet that is not a direct competitor to a general purpose tablet like the Galaxy Tab 4 Nook. And while it does have a better CPU, better screen, more storage, and more RAM, it also lacks the 3MP rear camera on the new Nook.
—
B&N is committed to buying a million tablets from Samsung over the next 12 months. According to the contract details filed with the SEC, B&N will also release a 10″ model based on the Galaxy Tab 4 10.1. The larger tablet is set to launch about two months from tomorrow.
The post Exclusive: New Samsung Galaxy Tab 4 Nook to be in Stores Wednesday, Will Cost $179 appeared first on The Digital Reader.
You are subscribed to email updates from The Digital Reader
To stop receiving these emails, you may unsubscribe now.
Email delivery powered by Google
Google Inc., 20 West Kinzie, Chicago IL USA 60610