---
The Morning Coffee – 14 August 2014
Posted: 13 Aug 2014 08:25 PM PDT
Today's reading list is a mix of the humorous and the serious.  My favorite pieces include a satire of Timespeak, a style guide for bloggers, an argument for killing the comment section on news sites, and more.
P.S. Did you know you can subscribe to a single category's RSS feed? Here's the link:
http://the-digital-reader.com/category/morning-coffee/feed/
The post The Morning Coffee – 14 August 2014 appeared first on The Digital Reader.
Lee Child on Amazon: a Fisking
Posted: 13 Aug 2014 08:22 PM PDT
Of the 909 authors who signed that full page advert slash open letter against Amazon, Lee Child is one of the most respected, admired, and articulate. So when I learned (via The Passive Voice) that he had given an interview on BBC Newsnight and explained why he had signed that letter, I was eager to find out why.
And now I wish I hadn't.
Mr Child uses one BS argument after another. After having watched the interview (embedded below), I now grasp why people have told me that they plan to never buy/read the books written by the authors who signed that letter.
To start, this is how he views the situation vis-à-vis the 909 authors and Amazon:
"I've got a lot of good friends there. But the point is exactly that: If you have a good friend who is misbehaving, you don't immediately shoot them in the head and bury them in the woods. You take them aside and you have a quiet word with them. You say, come on, pal, you're out of line – shape up and behave properly. And that's me and the other 900 authors are saying."
Apparently Mr Child thinks spending a hundred thousand dollars on a full page advert in the Sunday NYTimes is the equivalent of having a quiet word with Amazon.
He's joking, right? I mean, that last sentence has to be the punchline, right?
There's simply no other explanation for it, not unless one of us is on drugs (or perhaps should be on medication). And since I just rolled a SAN check, I know that I'm good, so I have to wonder how Mr Child thought that statement makes any sense.
And that's not the only crazy statement he made:
" They are squeezing the customer most of all by depriving the customer of what she wants, and this is the very bizarre thing. … The customer wants the books that she wants to read, and Amazon is not delivering them right now because of this row."
But, but, but – Amazon isn't depriving customers of anything.
Somehow Mr Child has forgotten that Amazon is not the only retailer in the world. He has confused Amazon not having a title in stock with the customer not being able to shop anywhere else – not even with the marketplace sellers on Amazon.com. Amazon isn't going to slap my hand if I go to another website and buy a title that is out of stock on Amazon.com. So no, this customer is not being deprived.
And right after Mr Child demonstrated that he didn't understand how people shop for stuff, he showed that he doesn't understand economics either:
Interviewer: If someone cant afford it at 10 or 20, they can afford it (Mr Child's new book) at 8 pounds, and you get a new reader.

Child: I don't think there is a significant number of people who are going to say that 8 pounds are that much better than 10, having bought the machine in the first place for however much that was.
Ow, ow, ow. (My brain is trying to crawl out of my ear and run away. Just a second while I stab it with a q-tip.)
Apparently Mr Child is under the mistaken impression that his book is being sold in isolation. He forgets that his expensive ebook is competing against cheaper ebooks, so rather than a consumer making a binary decision to buy or not buy Mr Child's book, said consumer is deciding which of a hundred possible ebooks they might buy.
In that situation, cheaper ebooks have a clear advantage. So yes, 8 pounds is that much better than 10 pounds. (And I don't even know how to address his assumption that books have to be expensive; I'm stumped.)
All in all, I regret having had to watch the interview below.  While I have discussed that letter with several authors who signed it, Mr Child is the first author where I can't simply respectfully disagree.
The post Lee Child on Amazon: a Fisking appeared first on The Digital Reader.
Writer's Digest Partners with BookBaby to Offer Services to Self-Published Authors
Posted: 13 Aug 2014 03:57 PM PDT
BookBaby, a leading ebook distributor, has formed a new publishing services company in partnership with F+W Media' Writer's Digest. Blue Ash Publishing, named for the Cincinnati suburb which houses Writer's Digest's editorial department, will offer a suite of services to self-published authors.
With prices ranging from $417 to $3,137 the new publishing services company will offer a variety of packages from a basic ebook only deal to a premium print+digital offering. Authors will received $100% of net revenues generated on all sales.
BookBaby and Writer's Digiest would have you beleive that this is a great deal, but I disagree: "Blue Ash Publishing authors are truly getting the best of both worlds in self-publishing," said BookBaby president Steven Spatz. "It's a perfect marriage between two leading companies in the self-publishing space, and authors will reap the benefits."
That sounds nice, but after I spent a few minutes looking at the costs of the various packages I began to question whether the bundle of services were really a good deal.
For example, Blue Ash Publishing's $417 eBook package offers a suite of features which are virtually identical to a $249 package offered by BookBaby. The only real difference is that Blue Ash throws in a weekly newsletter and a basic ebook cover design (a $120 cost if bought direct from BookBaby).
Considering that Writer's Digest offers a weekly writer's newsletter for free, I question whether the ebook cover design by itself can justify the markup on BookBaby's services.
I cannot verify who provides all of the services at the higher price tiers, but if they have a similar markup then I question their value. I think it would be worth an author's time and money to find who is actually providing the services so you can deal direct.
While I think paying for a professional service can be a good idea, I also think that it is often better to split up specific services like cover design. Not everyone needs them, which is why I don't like bundled services like the packages offered by Blue Ash.
image by Milestoned
The post Writer's Digest Partners with BookBaby to Offer Services to Self-Published Authors appeared first on The Digital Reader.
Kobo for Android Updated with Immersive Reading Mode, Better Support for Embedded Audio
Posted: 13 Aug 2014 10:50 AM PDT
Kobo quietly rolled out a new update last week for their Android app, and it's one worth our attention.
In addition to the usual bug fixes and other improvements, the new app boasts support for Epubs with embedded audio, faster loading of Epub files, and new stability improvements for fixed layout Epub ebooks.
According to the changelog, the app also now has an immersive reading mode which many other reading apps have added over the past year. It is only available on devices running Android 4.4 and above, so it won't do most of us any good, but if you have the latest Android smartphone or tablet I'm sure you'll appreciate it.
And I'm sure you'll also like the better display support for more accurate rendering in Epub files. You can find the app in Google Play.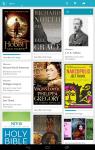 Changelog:
Better display support for more accurate rendering in EPUB/EPUB3 files.
Support for EPUBs with embedded audio.
Improved loading speed for many books.
Immersive full-screen mode on supported Android 4.4 (KitKat) devices.
Stability improvements for Fixed Layout EPUBs
The post Kobo for Android Updated with Immersive Reading Mode, Better Support for Embedded Audio appeared first on The Digital Reader.
Amazon's Conquest of Brick-and-Mortar Retail Stalls as it Gains a Partner, and Loses One
Posted: 13 Aug 2014 08:45 AM PDT
Amazon's partnerships with college bookstores spread to America's heartland today. Purdue University, located in West Lafayette, Indiana, has just become the second US university to sign up as an Amazon affiliate.
The Purdue University Bookstore is joining UC Davis Bookstore in a special program that enables the bookstore to earn a 2% affiliate fee for any purchases that their students make through Amazon. Items bought through the Purdue storefront on Amazon.com, or by Amazon Student members who list their affiliation with Purdue, will generate additional revenue for the bookstore.
In addition to becoming an Amazon affiliate, Purdue is also joining a growing number of schools like UC Davis and the University of Texas at Austin in deploying Amazon deliver lockers on campus, to better serve price-conscious students who have irregular schedules.
"This relationship is another step in Purdue's efforts to make a college education more affordable for our students," said President Mitch Daniels. "With the pressure on college campuses to reduce costs, this new way of doing business has the potential to change the book-buying landscape for students and their families."
Initially launched as a pilot program with UC Davis last fall semester, this program enables Amazon to recruit college students as customers while also providing a funding source for  university bookstores. While it has not attracted very many partners so far, the director of the UC Davis Stores has said that the bookstore earned $82,000 in fees in the first three months, and $57,000 in the second quarter. "We're excited to tell our campus community how this new partnership is paying off," Jason Lorgan said. "When you start your shopping at davis.amazon.com, you're helping our students."
That $137,000 might sound like a lot, but not in comparison to the bookstore's annual revenues of around $20 million. This negligible additional revenue might explain why so few college bookstores have signed up with Amazon.
Amazon is a powerhouse of an online retailer, but they are still weak when it comes to the physical world. Amazon has been addressing this need over the past couple years by deploying vending machines, signing retail partners, installing delivery lockers, testing pop-up stores, and by signing indie retailers to a special affiliate program called Amazon Source.
I recently started looking into Amazon offline retail efforts, and while Amazon Source has had little visible success, the locker program is growing by leaps and bounds. Amazon has installed hundreds of locker across the US, including ones both on and near college campuses.
A handful of schools, including Bellevue College in Seattle and UC Fullerton, now have Amazon lockers on campus, but a larger number of US colleges, like my alma mater, UC Berkley, and UC San Diego find themselves besieged by an Amazon Locker located in a convenience store just a few blocks off campus.
Amazon is likely targeting college campuses because well, students are the future, but also because on-campus dorms aren't the most secure environment. According to one UC Fullerton spokesperson"One of the things we heard a lot from students is students that live in apartment settings that may be using Amazon for delivering packages, that idea of having that package sit at your doorstep while you're in class made folks nervous," said Kurt Borsting, the director of Titan Student Centers.
(Coincidentally, I started researching Amazon Lockers a few weeks ago just to see what I could find. My digging didn't lead to any revelations, but I did identify several of the Amazon distribution centers in my area; they had Amazon Lockers installed out front.)
I'm glad to see Amazon gain a new partner today, because they are not having as much luck with one of their other programs, Amazon Source.
Launched in November 2013, Amazon Source was intended to to enable small retailers to sell  Kindle hardware in store and earn a commission from any resulting ebook sales. Booksellers were overwhelmingly hostile to the idea, so it probably won't surprise you that no additional partners have been announced. In fact, one of the two bookstores named when Amazon Source launched was only technically part of the program.
Amazon Source launched in November with an indie bookseller and a college bookstore named as partners, but in reality the college bookstore was only a token participant.
According to Barbara Racine, the Bookstore Manager at the University of Puget Sound, the bookstore only ever bought a single Kindle as a test – and they still have it. According to the email she sent me in June, the University of Puget Sound is still technically an Amazon partner because "Well, we still have that one Kindle, so maybe we're still part of the project!"
I would suggest that that bookstore was never really part of the program, but the point could be argued either way.
In any case, the Amazon Source program has one known active partner, an indie bookseller in Washington by the name of JJ Books. Amazon won't name any of their other partners, but they did say that:
We have dozens of retailers in the US that are using this program, and this is split between bookstores and non-bookstores. In terms of specific stores, we aren't sharing their info at this time but as the program develops we'll be sure to keep you posted.
I'm not sure I believe that claim. I've asked around, and my source at the American Bookseller's Association did not know of any, and my contact at NACS, the National Association of College Stores, could not name any either. Surely this info would have made the rounds; there are circles where it would be juicy gossip.
But even if Amazon's statement is completely true, with "dozen of" members the Amazon Source program is still much smaller than the competing program from Kobo. According to Neil Strandberg, around 500 indie booksellers are partnered with Kobo. That is around the same number which had signed up by April 2013, and far short of the 1,000 that Kobo had hoped would sign up by the end of 2013, but on the plus side Kobo still has a far larger bookseller affiliate program than Amazon.
The post Amazon's Conquest of Brick-and-Mortar Retail Stalls as it Gains a Partner, and Loses One appeared first on The Digital Reader.
The WSJ is Wrong – Libraries Will Always Trump Kindle Unlimited
Posted: 13 Aug 2014 06:33 AM PDT
 The Wall Street Journal has joined the chorus of voices comparing public libraries to subscription ebook services, and unfortunately its comparison is almost as false as the suggestion published by Forbes that libraries be replaced by Kindle Unlimited subscriptions.
Writing in yesterday's WSJ, Geoffrey Fowler argues that public libraries offer a better value – for now:
But it turns out librarians haven't just been sitting around shushing people while the Internet drove them into irrelevance. More than 90% of American public libraries have amassed e-book collections you can read on your iPad, and often even on a Kindle. You don't have to walk into a branch or risk an overdue fine. And they're totally free.

Though you still have to deal with due dates, hold lists and occasionally clumsy software, libraries, at least for now, have one killer feature that the others don't: e-books you actually want to read.

…

The subscription companies say their services are designed to let you try more books without the barrier of committing to buy. But none of these services yet feel as complete as Spotify, the $10-per-month all-you-can-eat music streaming service I used to explore the latest Miley Cyrus album without the regret of buying it.
There was a spate of articles like this when Kindle Unlimited launched last month, and like Fowler's piece several were tripped up on a key misunderstanding. Those pieces incorrectly assumed that public libraries were just warehouses for books. Like Fowler, those writers didn't consider just how many services a public library offers.
To be fair, Fowler didn't disparage libraries and and he did focus on just a single service public libraries offer, so let's not ding him for missing the importance of unrelated services like resume assistance, community rooms, social activities, etc (which were barely mentioned in the second to last paragraph).
Even so, Fowler still missed the point that public libraries offer a lot of tech support services that Amazon, Oyster, and Scribd simply cannot provide.
For example, Amazon et al can't lend you a PC with an internet connection to browse their catalogs. But public libraries can; 98% of US libraries offer free Wifi and internet access.
Amazon et al can't offer you a way to simply walk up to a staffer and ask them to teach you how to use your new gadget. Sure, Amazon will talk you through using Kindle hardware but it will have to be over the phone. On the other hand, virtually all (98%) public libraries in the US offer tech training.
There's more to reading ebooks than simply acquiring and loading them, and so long as users need tech support public libraries won't just win any contest – they'll blow their competition out of the water.
image by SafeLibraries
The post The WSJ is Wrong – Libraries Will Always Trump Kindle Unlimited appeared first on The Digital Reader.
You are subscribed to email updates from The Digital Reader
To stop receiving these emails, you may unsubscribe now.
Email delivery powered by Google
Google Inc., 20 West Kinzie, Chicago IL USA 60610