---
The Morning Coffee – 12 May 2014
Posted: 11 May 2014 09:31 PM PDT
I have 8 newsworthy stories for you to read this Monday morning, including an interview of the man who invented the browser tab (link), a response to the FCC's net neutrality proposal, (link), an argument that B&N should rally around their retail stores (link), and more.
The post The Morning Coffee – 12 May 2014 appeared first on The Digital Reader.
Revived Chrome Plugin Backs Up Your Digital Comics, Also Strips the DRM
Posted: 11 May 2014 06:29 PM PDT
If you're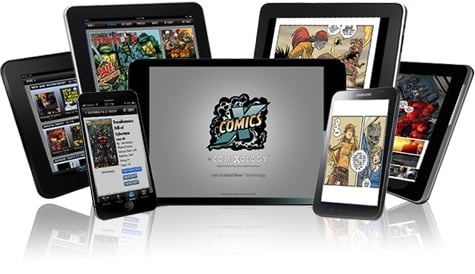 looking for a way to cut ties with Comixology following the Amazon acquisition and the subsequent changes then I have some good news. There's a Chrome plugin on Github which will help you download and backup a DRM-free copy of your comics.
In January 2014 I found and wrote about a Chrome plugin that enabled users to download and backup legally purchased digital comics. Comixology had the plugin removed from Github about a month ago, but a new version of the plugin was posted about 2 weeks ago (yes, before I noticed the old one was removed).
So far as I can tell it is the same plugin, only it's been uploaded by a different person. It's called, appropriately enough, Comixology backup, and according to the readme file it can convert the digital comics to a DRM-free CBZ file (a ZIP file full of page images, basically).
The plugin has to be manually installed, and you will of course need to have purchased the digital comics and logged in to your account. Once you've done that you can finally rescue your comics from comiXolgy's clutches.
Don't get me wrong, I trust comiXology as much as any other content provider; I'm not one of the people who think Amazon is out to slay their recent purchase. It's just that I have this rule that I (usually) don't buy ebooks unless I can remove the DRM. I've had that rule for longer than I have been into ebooks.
You can find instructions and download the plugin on Github.
Thanks, WO!
The post Revived Chrome Plugin Backs Up Your Digital Comics, Also Strips the DRM appeared first on The Digital Reader.
Textbook Publisher Backs Down, Won't Force Students to Return Paper Textbook
Posted: 11 May 2014 02:07 PM PDT
An email
was making the rounds last week from Aspen publishers, a Wolters Kluwer Law imprint.
This publisher sent the email to law professors to tell them about changes that were coming with the new edition of  certain casebooks, including both a new website and the requirement that students return the casebook at the end of the semester (a violation of the First Sale Doctrine).
Naturally this caused a ruckus on this blog as well as among the law professors who received the email,and a couple days later Aspen responded to the protests with a clarification. They insist that their attempt to take rights away from students was merely one of the options a student will have for buying the next edition:
Students will have a choice as to which of these two options to purchase.

1) Through the traditional option, students can purchase any of the 11 titles as individual print casebooks, as they have in the past.

2) Through the Connected Casebook option, instead of purchasing only a print casebook, students can now receive:

A print casebook for the duration of the class term (to be returned by students at the conclusion of the term), and
Access to our new CasebookConnect digital platform. Through this platform students will have:

A fully functional ebook version of the casebook, with note taking and highlighting capabilities, to which students will retain access after the class term has concluded
A digital study companion to the casebook, giving students opportunities to better understand difficult concepts and conduct self-assessments
An outlining tool that allows students to efficiently develop outlines based on their reading of the casebook
That's all well and good, but it doesn't change the fact that Wolters Kluwer is trying to cut into the resale market and deprive students of the rights they have over their property.
I have to agree with Kevin Smith when he criticized Wolters Kluwer:
First, just a reminder that these attempts to undermine the right of first sale are an effort from publishers to gain a sort of "super" property right.  No other property owner expects to be able to sell their product and still be able to prevent the purchaser from making a resale.  To see the absurdity of this, imagine if Ford tried to shut down the market for used cars by including such a restriction in a purchase contract; it would be a quick way to go out of business.  If Aspen really cannot survive in a market where resale is an option — this has been the case in the U.S. for its entire history, as well as in the rest of the world for a long time — it is probably time for them to shut off the lights and go home.
You can find other examples of publishers trying to gain a "super property right" without having to look beyond digital content, but one particularly egregious example was Kirtsaeng v. Wiley.  This case, which was decided by the Supreme Court in March 2013, began when the technical publisher John Wiley sued a student for copyright infringement over Wiley textbooks which had been legally purchased and imported.
Wiley lost that case, but the important point here is that Wiley initially sued for the same reason that Wolters Kluwer is launching the Connected Casebook service. Both publishers want to try to control a textbook after it no longer belongs to them.
The publishers are concerned about having to compete with cheaper copies of their own work, and they're not the only ones. You need look no further than minimally revised but frequently updated textbooks to see that many textbook publishers are doing their best to limit students' resale options.
Luckily for us both Kirtsaeng v. Wiley and the older Bobbs-Merril v. Straus were decided in favor of the consumer and not the publisher, otherwise most textbook publishers would be following in Wiley's and Wolters Kluwer's footsteps.
image by velkr0
The post Textbook Publisher Backs Down, Won't Force Students to Return Paper Textbook appeared first on The Digital Reader.
Onyx Boox i63ML Newton Now Shipping in Russia – Carta E-ink Screen, Android 2.3
Posted: 11 May 2014 06:01 AM PDT
The Chinese ereader maker Onyx continues to delight ereader buyers this week with the launch of a new model in Russia.
The Boox i63ML Newton is the third device to feature a Carta E-ink screen (following the Kindle Paperwhite and the Tolino Vision). It's available today from a number of Russian retailers with a retail of 6,990 rubles (about $199 USD).
The Newton runs Android 2.3 Gingerbread on a 1GHz CU with 512MB RAM. It has 8GB of internal storage as well as a microSD card slot. The 6″ screen has a resolution of 1024 x 758 and comes with a frontlight and an IR touchscreen.
Weighing in at 238 grams, the Newton has a 1.6Ah battery and is about the size of other 6″ ebook readers. Like Onyx's other models, it supports a wide variety of ebook formats, including PDF, Epub, FB2, PDB, and Mobi. The Newton also supports a number of document formats, including CHM, DJVU, HTML, RTF, and Doc.
There's no mention of mp3 support or audio capabilities, which means that the Newton lacks the Ivona text to speech features found in other Onyx devices. But on the plus side this device does ship with Google Play. Given the combination of an E-ink screen and 3-year-old OS, I'm not sure how many Android apps will run on it but at least readers will get to try.
This is the third device to use E-ink's latest screen tech, and it is quite the disappointment. I have been expecting Onyx to release an ereader with a Carta screen, but I was also expecting it to run Android 4.0 or above. Onyx has a smartphone and ebook readers that run a newer version of Android, but the Newton is one of the models that hasn't been updated.
A $200 price tag is rather steep, and if the Newton had been running Android 4.0 that would have gone quite a ways to justifying the price. The newer version of Android would have enabled users to support more apps, and thus add more features.
Thanks, Leonid!
The post Onyx Boox i63ML Newton Now Shipping in Russia – Carta E-ink Screen, Android 2.3 appeared first on The Digital Reader.
You are subscribed to email updates from The Digital Reader
To stop receiving these emails, you may unsubscribe now.
Email delivery powered by Google
Google Inc., 20 West Kinzie, Chicago IL USA 60610