---
The Morning Coffee – 21 January 2014
Posted: 20 Jan 2014 09:14 PM PST
Top stories this Tuesday morning include criticism of Yahoo's news aggregation practices (link), a new copyright infringement lawsuit against Hotfile (link), a new campaign from the EFF to build support for copyright reform (link), a reminder that Amazon is just as bad as Walmart (link), and more.
The post The Morning Coffee – 21 January 2014 appeared first on The Digital Reader.
Hands on with the Archos Smartwatch Family ($49, $99, $129)
Posted: 20 Jan 2014 07:13 PM PST
Smartwatches were a dime a dozen at CES 2014 I saw a dozen different models, literally) and even Archos had 3 models on display. Charbax sat down with Archos at CES a couple weeks ago, but only got a chance to post the video today.
Archos is planning to release 3 different models before the end of the summer. All will be designed to be companion devices for the iPhone and Android smartphones. None will have sound, but they will all share the same basic functionality, which is to display notifications.
The cheapest will cost $49 and feature a Memory LCD screen (from Sharp). It's grayscale, not color, and boasts a 1 to 2 week battery life. Next is a $99 model with an LCD screen capacitive touchscreen, and a battery life of only a few days. If that bothers you then you can upgrade to the $129 model, which will feature an E-ink screen. This model is also expected to have a couple weeks battery life, and no your eyes aren't fooling you; that is a curved E-ink screen.
Archos is intent on making a very limited smartwatch, so they're not going to give the watches any of the features found on your smartphone. That's why these watches don't have a speaker, camera,  or pretty much anything beyond a screen and a buzzer. Such a limited smartwatch might not interest very many consumers, but one upside to the limitations is that Archos should be able to minimize the number of bugs and offer a more stable watch than some of their competitors.
And anyway, I saw smartwatches at CES that were even less capable than the Archos models, which suggests that Archos isn't the only company that thinks a limited device would appeal to consumers.
The post Hands on with the Archos Smartwatch Family ($49, $99, $129) appeared first on The Digital Reader.
First Look at the UbiSlate 7Ci
Posted: 20 Jan 2014 10:27 AM PST
Datawind
has long been talking up the possibilities of a super-cheap Android tablet, but it was only recently that their tablets were available in the US. If you're like me and have been wondering what an American thinks of this "below the bottom of the barrel" hardware, then you might want to check out a new post by David Rothman.
David has been excitedly talking about Datawind's sub-$50 budget tablet for a couple weeks now, and he finally got his hands on one a few days ago. Needless to say, he's impressed. David has already installed the OverDrive app and other reading apps installed, courtesy of Google Play, and he likes this tablet as an ereader.
You can read the full post here.
My unit is still somewhere in the mail, so I am gnashing my teeth that David got his before me.  But even though I don't have one yet I know that I won't see eye to eye with David. For one thing, I see this as a $48 tablet, not a $38 tablet; David is making the tablet look like a better deal by not including the $10 shipping charge.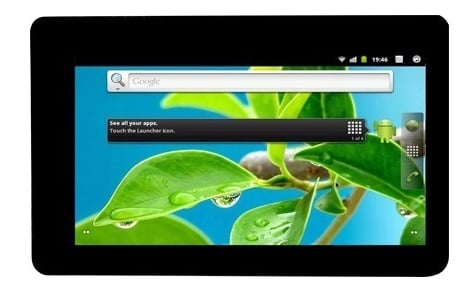 And I'm glad that it works as an ereader, because with the 800 x 480 resolution 7″ screen and the single core 1GHz CPU, it's not going to be good for much more than an ereader (and if you're lucky, Angry Birds). I don't mean to sound pessimistic, but in 2012 I got my hands on several tablets with specs similar to the Ubislate. They were workable ereaders but were often too slow to do anything much more sophisticated than some basic games. Some were even frustrating to use for tasks as simple as email – they were that slow.
There are in fact quite a few tablets with similar specs which can be found on Amazon, Walmart, or other retail sites, but Datawind is getting the hype. This company got its start in supplying an even cheaper tablet to the Indian govt's education ministry as part of the Aakash subsidized tablet program.
That first Aakash tablet was a stinker which never lived up to the hype, but given the price that should really come as no surprise. It had a $50 (retail, the subsidized price was $35) price tag when it finally debuted in October 2011; that was an impressive accomplishment at the time.
The post First Look at the UbiSlate 7Ci appeared first on The Digital Reader.
Chipsip Debuted a Google Glass Competitor at CES 2014 (video)
Posted: 20 Jan 2014 09:16 AM PST
There
were a thousand and one sights to see at CES 2014, and I missed one of the more interesting ones. A small Chinese OEM called Chipsip came to CES 2014 and they brought their new heads-up display.
Charbax caught up with Chipsip in the Rockchip booth. The Smart Glass wearable from Chipsis is based on a dual-core 1.6GHz Rockchip CPU in an over the ear form factor that isn't all that much larger than a Google Glass. The prototype includes Bluetooth, Wifi, a camera, and touch, light, and other sensors. Battery life is under 3 hours, which is not bad considering that this is a prototype.
It looks to me like Chipsip adapted the work they have put into the Android-on-stick products they mention on their website. Unfortunately I wasn't able to confirm that in the video; I'm having trouble streaming it. But I did find the product page on the Chipsis website, and that page says that the Smart Glass runs Android 4.2.2 and can download apps from Google Play.  It can have a screen resolution of 1280×720 – if you want to pay for the expensive projector. Chipsip can also make a cheaper Smart Glass that uses a lower resolution projector – 320 x 480, for example.
Google Glass was a popular item at CES 2014; I saw at least a couple dozen units being worn by bloggers, techies, and digiterati. If Chipsip can offer a cheaper solution the $2500 Google Glass then they are almost certain to find a market.
The post Chipsip Debuted a Google Glass Competitor at CES 2014 (video) appeared first on The Digital Reader.
Amazon Expands Sunday Deliveries into 7 Cities in the UK
Posted: 20 Jan 2014 07:55 AM PST
Amazon
may still working out the bugs for their Sunday delivery program here in the US, but the similar program in the UK is forging ahead.
They issued a press release this morning with the news that they were expanding the 2 month old pilot program beyond London to include Birmingham, Milton Keynes, Oxford, Nottingham, Manchester, and Leeds. Amazon Prime subscribers in those 8 cities can now place an order at Amazon.co.uk and schedule the delivery to be made on Sudany.
Amazon started testing a Sunday delivery service in London in November 2013. At that time they were reportedly using their own vehicles for the deliveries, but the expanded service will be provided via Amazon Logistics.
This UK service operates a number of delivery stations that act as local hubs for deliveries in their area, and it works with regional delivery partners to deliver items directly to customers. This is the first I have heard of the service, but I think I have seen a similar service here in the US. I live in the DC metro area, and on occasion I have gotten Amazon deliveries from a courier and not UPS or FedEx.
Amazon customers in the selected UK cities will see the Sunday delivery option when they check out with applicable items. The new delivery option will be offered next to the One-Day Delivery option, which is included for free as part of Amazon Prime service in the UK.  While the US service costs $79, in the UK it costs £49 and includes free streaming video, access to Kindle Owner's Lending Library, and free delivery on select products.
The post Amazon Expands Sunday Deliveries into 7 Cities in the UK appeared first on The Digital Reader.
B&N's Nook Division Loses Its 4th Senior Manager in Less Than a Month
Posted: 20 Jan 2014 04:54 AM PST
There's
an old saying about a new year and a new beginning,  and Barnes & Noble is taking it to an extreme. Over the past few weeks no fewer than 4 members of the senior management at Nook Media, B&N's ebook sub, have either left the company, been promoted, or announced that they have one foot out the door.
The first to go was Michael Huseby. Barnes & Noble announced on 8 January that Huseby was leaving his position as head of Nook Media to take the CEO position at Barnes & Noble.  A career administrator, Huseby said in a statement that he plans to "enhance and unlock the value of these businesses for our shareholders" and is expected by many industry pundits to manage the orderly liquidation of what's left of the company.
The next to jump ship was Jamie Iannone, who left B&N after 4 years with the company to go manage Walmart's digital operations. And finally, on Friday news broke of a couple more departures. Bill Saperstein, the VP for digital products hardware engineering left the company some time back and (if I found the correct LinkedIn profile) is already working at another company.
And it looks like we might have to kiss B&N's international plans goodbye, because some time in February the managing director of the Barnes & Noble unit based in Luxembourg. Jim Hilt is the VP and general manager for global ebooks at Nook Media, but he won't be for much longer.
Do you know what I find most interesting about the departures and promotion? It's that there's no mention of who will be stepping in to take over (unless I missed something).
Normally the announcement of a departure would include details on the replacement. For example, when Bill Lynch left Barnes & Noble in July the press release included details on B&N's new structure that put Riggio in charge as Chairperson and (because the job was left unfilled) acting CEO.
But in the case of these 4 departures and promotion there's no mention of the replacements. That's not the kind of detail that the WSJ (in the case of the Iannone story) or Publisher's Lunch (the latter pair of departures) would fail to report, and in fact PubLunch was told by B&N "we have no additional personnel announcements at this time".
I suspect that this is a telling detail; no one was promoted or hired to fill the now-empty positions. Instead the job was demoted to whoever was the next in line. Or even worse, they were simply left empty. In either case, that does not bode well for the Nook.
Barnes & Noble's ebook division has been in trouble since at least the 2012 holiday season, when B&N reported a shortfall in revenue.  The Nook limped along in 2013, with B&N reporting decreasing Nook revenue every quarter.  And to cap it off, B&N reported a couple weeks ago that the 2013 holiday season was even worse for the Nook than 2012; Nook revenue was down 35%.
Many pundits had been expecting Barnes & Noble to either sell or shut down the Nook division in 2013, and I think the recent departures could be a sign that a decision is going to happen. My best guess is that it is going to be announced or leaked some time before B&N announces their next quarterly report in late February 2014.
I would hope that B&N sells Nook Media rather than just shutting it down; the list of potential buyers is rather long and surely one of the companies would be interested in the Nook for the tech platform.
So who would buy Nook Media? I don't have a complete list of potential buyers, but I would expect that interested parties would include:
Yahoo, Google, Microsoft, or one of the other internet giants
Ebay, Rakuten, Walmart, Tesco, or one of Amazon's other major retail competitors
Samsung, Qualcomm, Intel, Foxconn, or another chip/device manufacturer
And those are just the companies which would gain the most obvious synergy in acquiring the Nook; there are probably others that I missed as well.
The post B&N's Nook Division Loses Its 4th Senior Manager in Less Than a Month appeared first on The Digital Reader.
You are subscribed to email updates from The Digital Reader
To stop receiving these emails, you may unsubscribe now.
Email delivery powered by Google
Google Inc., 20 West Kinzie, Chicago IL USA 60610