---
Amazon Files for Patent on Predictive Shipping – Starts New Service 2 Years Ago
Posted: 17 Jan 2014 04:26 PM PST
I have in the past joked that Amazon was going to launch a shipping service that delivered your stuff the day before it was ordered, but apparently the joke was closer to the truth than I realized.
The WSJ has discovered a new patent filing from Amazon for a system that tries to predict which customers will order a product some time in the future, thus enabling Amazon to have the item in route from the closest Amazon warehouse before the order is placed:
The Seattle retailer in December gained a patent for what it calls "anticipatory shipping," a method to start delivering packages even before customers click "buy."

The technique could cut delivery time and discourage consumers from visiting physical stores. In the patent document, Amazon says delays between ordering and receiving purchases "may dissuade customers from buying items from online merchants."

So Amazon says it may box and ship products it expects customers in a specific area will want – based on previous orders and other factors — but haven't yet ordered. According to the patent, the packages could wait at the shippers' hubs or on trucks until an order arrives.

…
According to the patent, Amazon may fill out partial street addresses or zip codes to get items closer to where customers need them, and later complete the label in transit, the company said. For large apartment buildings, "a package without addressee information may be speculatively shipped to a physical address … having a number of tenants," Amazon said in the patent.

Amazon said the predictive shipping method might work particularly well for a popular book or other items that customers want on the day they are released. As well, Amazon might suggest items already in transit to customers using its website to ensure they are delivered, according to the patent.
Frankly, I'm not surprised. I first read about this idea in July 2012:
On a more serious note, this patent sounds like a cool idea, but it's not exactly new.  Companies have been anticipating their future needs for centuries. Heck, they've even been using computers to anticipate stock requirements for at least a couple decades. I worked retail back in the late 1990s and even the small convenience store chain I worked at used a predictive system to plan orders.
This patent is mainly a refinement of the current concept of just-in-time logistics. Rather than having a minimal amount of stock in an Amazon warehouse with more on the way from a supplier, Amazon is now going to keep a minimal amount of stock in UPS trucks and distribution centers (and probably the Amazon lockers).
Can you imagine just how many customers Amazon would have to have in order to make this practical?
The post Amazon Files for Patent on Predictive Shipping – Starts New Service 2 Years Ago appeared first on The Digital Reader.
First Firefox OS Tablet Prototypes Now Shipping
Posted: 17 Jan 2014 11:30 AM PST
If you're
looking for an alternative to Android tablets, the iPad, or (Cthulhu Forbid) a Windows 8 tablet then you might want to keep an eye on Mozilla.
For the past few years this web browser developer has been working on an OS based on Firefox. It's already showing up on smartphones here and there, and today I learned that the first tablets running FireFox OS have arrived at Mozilla's offices.
The tablets were built by Foxcomm (isn't everything?). This OEM recently signed a deal with Mozilla to produce the first Firefox tablets and the while the first fruits of that partnership aren't the best tablets in the world they also aren't the worst I've seen.
Foxconn has a quiet history of designing hardware for other companies, and it's good to see how they have progressed over the years. Few recall this, but the original Pandigital Novel, which was the hot 7″ media tablet for 2010, was actually a Foxconn design. That tablet was a stinker with a frankly defective touchscreen. This one, on the other hand, will hopefully be much better.
Specs for the tablet were shared by Mozilla's Asa Dotler, and he reports that we're looking at a 10.1″ tablet which runs FirefoxOS on a 1GHz quad-core Allwinner A31 CPU. The FireTab (my nickname) has 2GB RAM, 16GB internal storage, a microSD card slot, and Wifi. It also has 2 cameras (5MP and 2MP), GPS, Bluetooth,  and a 7Ah battery.  Screen resolution is 1280 x 800, and it has a capacitive touchscreen.
This tablet might also have the code name flatfish, but I'm not sure. The name was attached to one of the images uploaded by Dotler, and it also shows up in the bug reports on the Mozilla website, but it could refer to the version of the OS and not the hardware.
Aside from the RAM, tTe specs for this tablet are about the same as for many low-end Android tablets, and that's a good sign that the FireTab can run on a minimum of hardware.  Yes, this tablet has a quad-core CPU, and not a single-core CPU like some of the cheapest Android tablets, but I'm fine with that. A single-core Android tablet is underpowered by today's standards and should be avoided if possible.
The post First Firefox OS Tablet Prototypes Now Shipping appeared first on The Digital Reader.
Lessons Learned From the Mein Kampf Digital Best-Seller Story
Posted: 17 Jan 2014 09:42 AM PST
Remember
last week's story about Mein Kampf, Adolf Hitler's 1920′s manifesto and memoir, suddenly becoming a best seller in the Kindle Store?
It was a hot news story with everyone from Gizmodo, Huffington Post, and Gawker, to the New York Daily News, the Daily Mail, and the Los Angeles Times bemoaning the fact that such a deplorable (yet clickbait worthy) ebook was generating so many sales. One excitable commentator even went so far as to suggest that it was a sign the second Holocaust was imminent.
If you're like me then you may have ignored the story, which means that you missed the detail that was bogus on several levels.  The copies of Mein Kampf mentioned in the story were only technically best sellers in certain specific categories but not in the Kindle Store overall.
I skipped that story last week becasue I was busy with CES 2014, but David Gaughran took a deeper look and he discovered that the particular copy of Mein Kampf was not a best seller – not even after the news broke. This copy of Mein Kampf never actually got into the top 100 titles in the Kindle Store; it peaked at around 800. In fact, until this story broke that copy had barely managed to crack a sales rank of 8,000.
David beat me to this story in part because he knew about a tool which collected sales rank data from Amazon. And it is this tool that I want to bring to your attention.
Retailers like Apple are something of a black box, but it's relatively simple to track the performance of any book on Amazon. With a tool like KND's Tracker, you can also view the historical performance of a title, once someone has already added it to the system.

As luck would have it, we have the relevant historical data for Mein Kampf.

This particular edition of Mein Kampf wasn't selling at all until October 2013, when the publisher dropped the price to 99c – which is hardly surprising given the number of competing editions out there, many of which are available for free.

It then settled into a range of #7,825 to #9,995 on the Amazon rankings where it stayed until this story broke.

For those not familiar with the Amazon rankings, this equates to just 10 copies being sold a day – not a bestseller by any stretch of the imagination. (Note to journalists: it took me 60 seconds to find this out.)
I don't know whether David's estimates for daily sales are accurate, but that's not the important detail here. What matters here is how he got the data.
David has reminded us of the value of factual information. Anyone who knew about the Tracker service from Kindle Nation Daily could have looked up this title and they would have seen this story for what it really was: nothing more or less than clickbait.
And for that reason alone I am going to bookmark the Tracker and refer back to it on occasion. It's going into my toolbox along with eReaderIQ. That free ebook site tracks prices in the Kindle Store and serves up a historical timeline of price changes for just about any ebook in the Kindle Store.
Can you think of another tool worth mentioning alongside the KND Tracker and eReaderIQ?
Mein Kampf
The post Lessons Learned From the Mein Kampf Digital Best-Seller Story appeared first on The Digital Reader.
New Chrome Plugin Backs Up Your Digital Comics, Also Strips the DRM
Posted: 17 Jan 2014 06:32 AM PST
Do you like
digital comics, but hate the way that comiXology's proprietary DRM locks you in (and puts you at risk of their servers going down)?
Then I have some good news for you. I have just read about a Chrome plugin which will download comics from comiXology. It's called, appropriately enough, Comixology backup, and according to the readme file it can convert the digital comics to a CBZ file (a ZIP file full of page images, basically).
And do you know the best part? The CBZ file will be DRM-free.
According to the readme the plugin has to be manually installed; the developer doesn't think Google would allow this plugin in the Chrome Web Store. I haven't tested the plugin myself, so I can't verify its operation. (I also cannot find any mention of anyone using it, so buyer beware.) You will of course need to have purchased the digital comics and logged in to your account, but once you've done that you can finally rescue your comics from comiXolgy's clutches.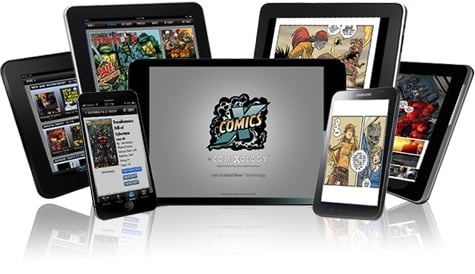 Don't get me wrong, I trust comiXology as much as any other content provider, but I have this rule that I don't buy ebooks unless I can remove the DRM. I've had that rule for longer than I have been into ebooks, and given what has happened over the past few years (closure of Fictionwise and other ebookstores, funky rights issues, content being taken away from paying customers on the whim of a publisher) it's still a good idea.
The DRM issue is part of the reason why I never bought very many titles from comiXology (mainly freebies), but now that I can protect my purchases this might change.
You can find instructions and download the plugin on GitHub.
The post New Chrome Plugin Backs Up Your Digital Comics, Also Strips the DRM appeared first on The Digital Reader.
You are subscribed to email updates from The Digital Reader
To stop receiving these emails, you may unsubscribe now.
Email delivery powered by Google
Google Inc., 20 West Kinzie, Chicago IL USA 60610