---
The Morning Coffee – 17 January 2014
Posted: 16 Jan 2014 09:30 PM PST
Top stories this Friday morning include a post about ebook prices (link), a useful tip about how readers can better use maps in ebooks (link), a must-read story that debunks a Business Insider article (link), and a bunch other stories worth reading.
The post The Morning Coffee – 17 January 2014 appeared first on The Digital Reader.
B&N Continues to Abdicate International Expansion with Windows-Only Nook Promotion in Australia
Posted: 16 Jan 2014 02:38 PM PST
If you live in
Australia and want to invest in content from an ebookstore that no one is sure will be in operation this time next year, then I have some good news for you.
Barnes & Noble has just announced a new promotion for the Australian branch of the Nook Store. Download the Nook app for Windows 8.1, sign up for an account, and you will also get five free ebooks and five free magazines. Want to read on Android, iOS, or on a Nook? Too bad; this offer is only good for the Windows Nook app.
The free ebook titles are Catch the Zolt: The Debt Installment One by Phillip Gwynne, Be Careful What You Wish For by Gemma Crisp, The Slap by Christos Tsiolkas, Back to the Pilliga by Tony Parsons and The Fence-Painting Fortnight of Destiny: A Memoir by Meshel Laurie. The free magazine issues include Australian Geographic, GQ, Good Health, Vogue and Taste.com.au Magazine.
B&N launched a Windows only version of the Nook Store in Australia and 30 other countries in late November 2013, and over the past month and a half they have run several promotions to encourage new customers to sign up. Unfortunately, they have yet to release any other apps in those countries, which means that the international Nook Store is effectively Microsoft's fiefdom.
I think it's rather unfortunate that B&N has neglected to expand support for Android or iOS; I know for a fact that they have customers using the Nook apps and the Nook hardware in those countries who are buying ebooks from either the UK or US Nook Stores.
The post B&N Continues to Abdicate International Expansion with Windows-Only Nook Promotion in Australia appeared first on The Digital Reader.
Infographic: Men Make up 79% of eBook Readers in Indonesia
Posted: 16 Jan 2014 01:49 PM PST
The Indonesian ebookstore Scoop published an infographic this week which offers a snapshot of that country's digital publishing landscape. It's based on Scoop's users, so it doesn't offer a perfect view, but it says more about that market than I knew before.
Scoop boasts a catalog of 650 magazines, 55 newspapers, and 10,000 ebooks which are sold individually or by subscription, including titles by US publishers. The apps for Android and iOS have been downloaded 1.5 million times. About 30% of the downloads were on Android, with the remaining on iOS. The ebookstore has around 450,000 users, 79% of which are men and most of which read on iOS .
The post Infographic: Men Make up 79% of eBook Readers in Indonesia appeared first on The Digital Reader.
Simon & Schuster Announces New Library eBook Pilot with OverDrive
Posted: 16 Jan 2014 11:33 AM PST
Simon
& Schuster took another tepid step into the library ebook market today with the launch of a new pilot program.
This publisher has long been a holdout in the library ebook market, and until April 2013 they were famous for only allowing a single title to be sold to public libraries. Today they announced that they're partnering with OverDrive to sell ebooks to 15 libraries 31 libraries across the US, including some of the nation's biggest, highest circulating library systems.
Participating libraries include Free Library of Philadelphia, Boston Public Library, King County Library System (Wash.), the North Carolina Digital Library, and the Public Library of Cincinnati and Hamilton County, OH. All if the participating libraries are required to have the "Buy it now" button integrated into their library websites. This will enable patrons to buy ebooks via OverDrive should they not be interested in waiting to check out a title. The library will get an affiliate fee from the sale, and the patron will own a license for a copy of the ebook.
S&S plans to make their entire catalog available with the ebooks sold under a 1 year expiring license. Those are the same terms as the pilot which S&S launched in April 2013 with 3M Cloud Library and Axis 360, only now the ebooks are going to be available to library patrons outside of NYC.
Simon & Schuster is the last remaining major publisher to get into the library ebook market. They are joining Penguin and HarperCollins in selling ebooks under an expiring license. Hachette and Random House, on the other hand, sell ebooks at a steep markup, while Macmillan takes the crown. This publisher manages to combine the worst aspects of their competition by selling ebooks for $25 per copy and then having the ebook expire after a year.
image by SLU Madrid Campus
The post Simon & Schuster Announces New Library eBook Pilot with OverDrive appeared first on The Digital Reader.
Half of Americans Own an eReader or Tablet, But Only 28% Read on Them
Posted: 16 Jan 2014 09:14 AM PST
If the
latest survey report from the Pew Research Center is any indication, rumors of the flattening US ebook market have been greatly exaggerated.
The Pew Research Center released a new report today which looks into how and what Americans are reading, and in one fell swoop they cast doubt on a 2014 prediction from one pundit and invalidated the assumptions made by another. A telephone survey of 1,005 US adults has revealed that a growing number read an ebook in the past year, and that nearly half own an ebook reader or tablet.
And best of all, for the 3rd year in a row ereader ownership is up in the US.
A full 28% of respondents of the January said that they read ebook in the past  12 months. That may be lower than the 68% of the survey group who reported reading a paper book, but it is still a significant increase from the 23% in last year's survey who had read an ebook.
That is a rather interesting result, and it makes me wonder whether the AAP sales data from the past year accurately reflects the entire market. Surely all these new readers had to have been buying ebooks, right? What are the chances they were all simply reading free ebooks?
I don't think that's very likely, not even with the current recession, because the Pew survey also showed that ereader ownership has also increased over the past year. 32% of the survey group now own an ereader. That is a nice increase from the 26% of the January 2013 survey group who reported the same.
Tablet ownership has also increased, with 42% respondents saying that they owned an iPad, Kindle Fire, or some other tablet.
The survey goes on to show that women are more likely to read ebooks (33% vs 23%) and they were also more likely to own an ereader (33% vs 29%), but about the same percentage of men and women owned tablets. A later section of the report also showed that women on average read more books (both digital and print) than men.
And people aren't just reading on a tablet or ebook reader. They're also reading more on smartphones than they were 3 years ago. But even with the surge in device usage, ereaders were still the most used reading device with 57% of those who read ebooks reporting that they used one (compared to 55% for tablets and 32% for cellphones).
College graduates were of course more likely to be readers and gadget owners than respondents without a college education, and there was also a correlation between the number of books read and the education level.
And finally, the report found that there was a fair degree of overlap between print, ebook, and audiobook lovers, with only 13% of ebook readers having given up paper entirely:
87% of e-book readers also read a print book in the past 12 months, and 29% listened to an audiobook.
84% of audiobook listeners also read a print book in the past year, and 56% also read an e-book.
A majority of print readers read only in that format, although 35% of print book readers also read an e-book and 17% listened to an audiobook.
The report goes into an extensive ideographic breakdown of the survey group, and you can find it on the Pew Research Center website.
The post Half of Americans Own an eReader or Tablet, But Only 28% Read on Them appeared first on The Digital Reader.
Atmel, Pervasive Displays Launch New DIY Kit w\ E-ink Screens
Posted: 16 Jan 2014 07:16 AM PST
If you've been wanting to build your own wearable with an E-ink screen then I have some good news for you. Atmel and Pervasive Displays have just released a new development kit which combines 3 small E-ink screens with a controller board, priced at a low low price of $65.
What with the decline of the ebook reader market over the past couple years, E-ink has been putting more and more effort into developing new markets for their screen tech. There are now at least a half-dozen different kits for the DIY market which include an E-ink screen, and E-ink has also released encouraged new products in a wide variety of markets including shelf labels, smartphone cases, luggage tags, smartwatches, and more.
And now there's a new one.
The EPD Xplained Pro kit includes 1.44″, 2″, and 2.7″ E-ink screens from Pervasive Displays along with an extension board which is designed to work with the Atmel Studio IDE. This particular kit can't do anything on its own, but from what I have read online and in the user manual I can tell that this kit is designed to work with other Atmel Xplained Pro development boards like the SAM4L Xplained Pro and the SAM D20 Xplained Pro.
From the press release:
E-Paper displays (EPD's) are being utilized for reusable transport items, medical display devices, electronic security badges, smart tags, labels, and just about anywhere paper is being used for conveying important information in industrial and commercial applications. In addition, e-Paper is being used to display retail and commercial product pricing and information, diagnostic charts, barcode and QR codes and work instructions for assembly lines and manufacturing. E-paper provides an advantage over traditional paper displays by reducing expenses for paper materials and labor. E-paper also provides paper-like readability, high resolution, high contrast, 180 degree viewing angle, and is an ideal TN/STN upgrade.
The post Atmel, Pervasive Displays Launch New DIY Kit w\ E-ink Screens appeared first on The Digital Reader.
Amazon is Testing a New Manage Your Kindle Page
Posted: 16 Jan 2014 05:29 AM PST
Amazon has been using the same webpage design for the Manage Your Kindle page ever since they launched the Kindle in 2007, and it looks like they are finally ready to give it a facelift.
A Kindle owner over at MobileRead has discovered that Amazon is testing a new version of the page which combines the device and content management into a single page which should prove easier to use. I haven't seen the new page yet, but AnemicOak has posted a screenshot: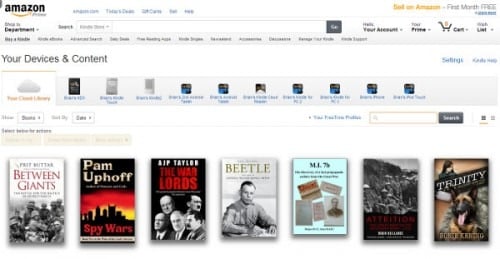 As you can see, there's a menu bar for managing your Kindle apps and devices, and below that there is a section for managing your content. That is a radical change from the old design, which split the content and devices onto multiple pages and featured a text-based lists of items which had to be managed one at a time.
One lucky Kindle user reports that:
One can select as many books as one wants and then take one action for all the selections. That part is new.
I don't know about you but I found the old design to be deeply frustrating because I could only interact with a single item at a time. This made it much more difficult to manage my Kindle account, so I generally avoided using that page unless it was strictly necessary.
So has anyone seen the new page yet?
I have not, but I can see a slightly different version. And I can also report that there is confirmation coming in from Twitter (here, here). Here's what I see when I go to the manage my devices page:
I'm pretty sure that what you're seeing is not the final page but a misplaced component for that page. That menu bar is probably going to have the a manage my content section below it (that's what the first screenshot suggests, anyway).
It's my guess that Amazon is rolling this new updated page out to a few users at a time. I'm still waiting to see it myself, but I have found a screenshot on Twitter which shows that the new page might also feature a list view:
So has anyone seen the new page? What do you think?
The post Amazon is Testing a New Manage Your Kindle Page appeared first on The Digital Reader.
You are subscribed to email updates from The Digital Reader
To stop receiving these emails, you may unsubscribe now.
Email delivery powered by Google
Google Inc., 20 West Kinzie, Chicago IL USA 60610