---
The Morning Coffee – 29 October 2014
Posted: 28 Oct 2014 08:10 PM PDT
Publishers are the focus of this morning's reading list, with Ben Thompson offering a unique explanation for the state of traditional publishers and Bloomberg taking the position that publishers should be saved. Other stories include a call for a Google tax, the ridiculous state of copyright law, and more.
The post The Morning Coffee – 29 October 2014 appeared first on The Digital Reader.
On the Subject of Amazon's Monopoly
Posted: 28 Oct 2014 06:31 PM PDT
The topic of Amazon and monopoly power is frequently on the lips of Amazon's detractors. Unfortunately for them, Amazon doesn't have a monopoly in the traditional sense. In fact, I wouldn't say Amazon has a monopoly at all – not unless you used a metric other than sheer economic might.
I was reminded of that point earlier today when I was reading a recent piece in The Seattle Times. Jay Greene joined the fray, writing about the recent calls for antitrust action against Amazon:
There is little doubt Amazon is a potent force in book sales. In May, Amazon accounted for 64 percent of all electronic book sales in the United States, according to the Codex Group, a research firm that surveys book buyers monthly. In the same month, Amazon sold 62 percent of all print books online, and 40 percent of all print books sold online or in brick-and-mortar outlets.

…

But proving Amazon is a monopoly, let alone an abusive one, wouldn't be easy. In legal terms, the word monopoly relates to a company's ability to control a defined market because of a lack of competition. While there's not a specific market-share number that defines a monopoly, the threshold is typically quite high.
I don't think Amazon has a monopoly, not in either the legal sense nor even in terms of the dictionary definition.
But as I was reading that article, I realized that you could make an allegorical argument of sorts: that Amazon did have a monopoly on customers. Matt Blind made that kind of argument last week on his blog Rocket Bomber:
Amazon has a monopoly — but their monopoly power is not a stranglehold on books.

Amazon owns the customer base for books. Amazon owns the readers.

And now you're about to object to my stark declaration, for obvious reasons: that's not the way markets work. Customers are the free-est of free agents, and no one (except the government) can force you to spend money if you don't want to. Companies don't own customers, they are earned through competitive pricing and excellent customer service.
Amazon might have a monopoly in some metaphorical sense, but it is a most fickle one which can evaporate faster than you can say blue light special. Or at least that is true for most products; books are a special case.
Matt would argue that Amazon's monopoly in books comes not from sales or offering great customer service but from the ecosystem which Amazon has built around books:
Amazon owns you. …

You could leave Amazon. Indeed, to prove some snarky blogger wrong, you could likely go to your shelf (or lean over and pick one off the table) and hold up a book and say, "See this? This book I bought in a store! I didn't get it from Amazon. …"

Of course. But, he asked with a smile and a glint in his eye, did you find out about that book (or discover the author) through Amazon? Or maybe Goodreads?
In short, if Amazon does have a monopoly it comes not from sales but from their lateral expansion into related noncommercial activities like book recommendations and the like.
I'm not so sure that is true either, but then again I don't spend much time on any of Amazon's social networks (Kindle, Goodreads, Shelfari, LibraryThing), I can't comment on the influence they might have on book purchases. I know word of mouth is important but do Amazon's social networks really hold sway over that many book consumers?
I don't know, but it does bring an interesting new argument to the calls for antitrust action. Do you suppose that Amazon's detractors should turn their attention from crying foul over Amazon's economic might to instead call for Amazon to be broken up a la AT&T?
AT&T is a good example of a monopoly that was tacitly allowed to continue to exist even though it was an obvious monopoly. That ended in the early 1980s, leading to AT&T fragmenting into multiple local phone companies, a long distance phone company, and research labs.
The subsequent surge in innovation in telecommunication technology could be used as an argument in favor of breaking up even a beneficial monopoly like Amazon. Wouldn't you like to see a similar surge in the redevelopment of the book industry?
Oh, wait, that's right; Amazon is already forcing the industry to innovate and try to keep up (it's one of the reasons Amazon is so hated). Amazon is a classic example of a company using disruptive innovations to build their market share.
I guess we'll need to hold this argument in reserve for 10 years down the road, when Amazon has stopped growing.
Assuming, that is, that Amazon is still on top in 10 years. I am not willing to assume that will happen.
Thoughts?
images by Mike_fleming,  Mark Strozier
The post On the Subject of Amazon's Monopoly appeared first on The Digital Reader.
EU High Court Rules that Embedding a Video is Not Copyright Infringement (Except When it IS)
Posted: 28 Oct 2014 12:49 PM PDT
In its quest to generate more billable hours for attorneys, the European Court of Justice ruled last week that Europeans  might not have broken copyright law by embedding a Youtube clip from their favorite show in a blog post.
TorrentFreak broke the news late last week that the ECJ had ruled that a common every day activity, embedding Youtube videos, did not count as copyright infringement. As they described the case:
The case in question was referred to EU's Court of Justice by a German court. It deals with a dispute between the water filtering company BestWater International and two men who work as independent commercial agents for a competitor.

Bestwater accused the men of embedding one of their promotional videos, which was available on YouTube without the company's permission. The video was embedded on the personal website of the two through a frame, as is usual with YouTube videos.
That sounds like something we do everyday, right? Unfortunately, while the facts of the case are simple, the actual ruling is anything but.
IPKat, a law blog which everyone in publishing news to follow, weighed in on this story on Monday. They noted that the ruling wasn't specific enough, and that it didn't say that all types of embedding was okay:
This means that embedding videos which are freely available on, for example (and is it was the case here) YouTube, does not constitute an infringement of the right of communication/making available to the public if the work concerned is neither directed at a new public nor communicated by using specific technical means different from that used for the initial communication.

This said, it remains questionable whether embedding copyrighted videos would never be tantamount to copyright infringement, "even if the source video was uploaded without permission of the right owner".
If you're wondering why this an issue, ask yourself when you last saw a Youtube clip of a tv show embedded on a website.
I saw one last week when a blogger I follow posted a review of an old tv series. The blogger wasn't in Europe, but it is still a reminder that people regularly casually infringe without realizing it.
Or at least that's one way to look at it. Depending on where you are, those short clips might not be infringing, even if they are uploaded without permission. In the US, those clips would arguably be covered under a fair use exception, but I am uncertain of whether the clips would be covered under similar statues in Europe.
On a related note, this is not mentioned in the ruling or the coverage but I for one would be interested in a ruling on Gifs. Many people have moved from embedding videos to embedding short animated Gifs on their site. Oftentimes the Gifs are generated from video clips which may or may not be infringing (it depends on where you are).
I would like to see both those questions answered, if only to scratch an intellectual itch. Wouldn't you?
The post EU High Court Rules that Embedding a Video is Not Copyright Infringement (Except When it IS) appeared first on The Digital Reader.
Posted: 28 Oct 2014 10:25 AM PDT
With local services largely focused on a specific countries, Europe doesn't have a  subscription ebook market nearly as competitive as that of the US. But that is slowly beginning to change.

Germany's Skoobe announced today that it was expanding its ebook subscription service into Spain. Readers in that Iberian country can now sign up for Skoobe's service and read ebooks on their Android or iDevice for as little as 10 euros per month.
With 65 thousand titles from 1200 publishers as well as indie authors, Skoobe doesn't boast the largest catalog but it does carry ebooks in German, in English, and Portuguese. BuchReport reports that Skoobe also has 5,000 titles in Spanish from a number of publishers, including Anagrama, Penguin Random House Grupo Editorial, and Roca Editorial. I have no info on the titles available in Catalan or the other languages spoken in Spain.
Launched in Germany in early 2012, Skoobe faces competition from Scribd and Kindle Unlimited in Germany, and in Spain it will have to compete with 24Symbols, Scribd again, and Skoobe will also have to compete against a corporate cousin.
As you may know, Skoobe is owned by Georg von Holtzbrinck GmbH and Bertelsmann, 2 publishing and media conglomerates. Bertelsmann also owns Nubico, a subscription ebook service which launched in Spain in October 2013. As of July, Nubico had around 7,000 titles in its catalog. It charges 9 euros per month and also sells ebooks.
In the rest of Europe, Mofibo is focused on Denmark and Sweden, Bookmate is focused on Russia (but it also eyeing expanding into Scandinavia), and Legimi is doing its own thing in Poland. 24Symbols, on the other hand, is active in Spain and (outside of Europe) Guatemala. It also has a partnership with Beline, a Russian telecom, and plans to launch in Columbia soon, with France and Germany coming thereafter.
Aside from Skoobe, which has announced plans to expand further, and Bookmate, I have not heard of any rumors that the existing services in Europe plan to expand into additional countries.
The post Skoobe Expands Into Spain appeared first on The Digital Reader.
AAP Reports eBook, Audiobook Sales Up in First Part of 2014
Posted: 28 Oct 2014 08:06 AM PDT
The American
Association of Publishers released a new report today with the latest stats on the US book market. As with their past monthly reports, the AAP has released the bare statistics to the press, and from what I can see the news is generally good.
Based on the net revenues reported by 1,209 publishers, the AAP reported on Wednesday that the US trade book industry increased by 4.1% in the first 7 months of 2014 ($3.57 billion to $3.7 billion).
The adult segment showed a drop in sales of 2.2%, while the religious pressed reported an increase of 1.9%. Much of the latter could probably be attributed to an increase in the sale of religious ebooks, which saw a 25.7% increase over the same period in 2013.
The best performing segment was kids/YA, which shot up by 25.8% ($762 million to $958 million). This includes a 59% jump in YA ebook revenues, thought the specific value for that segment has not been shared.
In terms of formats, downloadable audiobooks continued to be the fastest growing format remain with a +26.2% growth over the same period in 2013. eBooks came in a distant second increasing by 7.5% ($871 million to $937 million). Hardback books dipped by a fraction of a percent, while sales of paperback book grew by a not insubstantial 5.3% ($1.08 billion to $1.13 billion).
The post AAP Reports eBook, Audiobook Sales Up in First Part of 2014 appeared first on The Digital Reader.
Apple Allows More Promo Codes for Authors, Shortens iBooks Review Times
Posted: 28 Oct 2014 07:05 AM PDT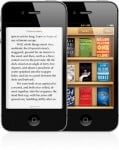 Apple stepped up their ebook game with a couple new policy changes that will help make it easier for authors and publishers to promote their ebooks. The gadget maker sent out an email last week to everyone registered with iBooks and announced some changes and enhancements to the program.
In addition to a warning that iBooks reviewers will be overloaded the week of Thanksgiving, Apple also announced they're speeding up the time it takes to review and accept a title into iBooks. Apple is also offering more promo codes:
To help you get your book to readers quickly, we review 95 percent of all book submissions within one business day. Note that you do not need an ISBN to deliver a book to iBooks.
You can now request up to 250 promo codes per book. Promo codes allow you to provide free copies of your book to reviewers, bloggers, or others to build momentum for your book.
Screenshots can now be delivered or updated after a book is available for sale on iBooks.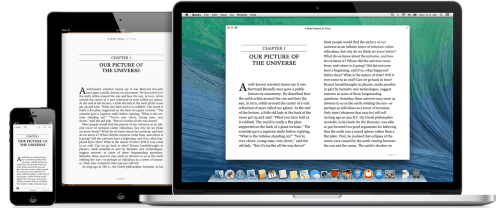 Apple is known for a byzantine approval process where it can take a week or more for an ebook to be approved by Apple's reviewers, with no explanation for the delay, so I am sure that this change will be deeply appreciated by authors and publishers.
And since Apple is either the second or third largest ebook retailer, the promo codes will also prove to have great value as well.
The post Apple Allows More Promo Codes for Authors, Shortens iBooks Review Times appeared first on The Digital Reader.
Hisense Sero 8 Pro Shows Up in China as the Hisense Vidaa
Posted: 28 Oct 2014 06:07 AM PDT
One of the more anticipated tablets of 2014, the Hisense Sero 8 Pro is also one of the more illusive. It's only shown up in public once, at IFA Berlin last month, and now it is beginning to show up on Chinese gadget blogs.
Mike Cane caught sight of the Sero 8 Pro, which Hisense will be selling in China as the Vidaa. The Chinese sources confirm that the Sero 8 Pro will be running Android 4.4 KitKat on a 1.8GHz quad-core Rockchip RK3288  CPU with 2GB RAM, 16GB internal storage, and a microSD card slot.
It will also have a pair of cameras (2MP front and 5MP rear), Wifi, Bluetooth, and a Retina resolution 8″ display with a screen resolution of 2048 x 1536.
Measuring just just 6.35mm thin, the Sero 8 Pro won't be the thinnest tablet on the market but it is close. It's only slightly thicker than the iPad Air 2 and Dell's new Venue tablet, each of which measure 6.1mm thick.
There's no word yet on when the tablet will ship in China or the US, but the European launch is scheduled for November. The retail price will be 199 euros, which leads me to speculate that the US price will likely be $199.
That is going to be a rather pricy tablet  when it ships, and it will in fact cost more  than some name brand Android tablets.
That is a break with Hisense's last several tablets, including the Sero 8, the budget priced complement to the Sero 8 Pro. I wasn't exactly in love with the Sero 8 when I reviewed it in July, but I found it to be a decent value.
The post Hisense Sero 8 Pro Shows Up in China as the Hisense Vidaa appeared first on The Digital Reader.
Posted: 28 Oct 2014 05:12 AM PDT
It's been just over a month since Kobo's perennial problem with blocking downloads of purchased ebooks came to a head, and it looks like that problem has been resolved.
I was checking my Kobo account this morning and I noticed that virtually all of the ebooks could now be downloaded from the website and transferred to another app or device.  Considering that this time last month about a third of the titles lacked a download option, that represents a major change.
In my library, two ebooks still have no download option. One is no longer available, and the other is a graphic novel which is probably in Kobo's own proprietary format.
What about your Kobo library?
I would really like to get feedback from Kobo customers, because Kobo hasn't announced the technical fix yet and so far as I know the issue was only resolved in the past week or so.
As I look back at my past coverage I see that the download issue was still present as late as the 17th when a commenter noted that they had to use the workaround I posted in order to download the DRM-free ebooks they had bought.
Speaking of which, if you find that you still have ebooks with no download option there is a solution. You'll first have to download the ebook with the Kobo for PC app, and then you can use a 3rd-party Calibre plugin to transfer your purchased ebooks to calibre. (This is a different workaround than the one required for Nook ebooks, which still suffer from blocked downloads.)
That plugin will also convert the ebooks to the standard Epub format and strip the DRM so the ebooks can be read on any device you like.
So, can you download your Kobo ebooks?
image  johntrainor
The post Kobo Resolves Download Issue appeared first on The Digital Reader.
The Morning Coffee – 28 October 2014
Posted: 27 Oct 2014 06:24 PM PDT
In contrast to yesterday's news coverage (which was unintentionally hyper-focussed on Amazon), the reading list is diverse this morning.
Be sure to catch the post on authors you wish would resume writing,  11 things you didn't know about ebook buyers, why digital publishers should be included in prize lists, as well as the other posts.
The post The Morning Coffee – 28 October 2014 appeared first on The Digital Reader.
You are subscribed to email updates from The Digital Reader
To stop receiving these emails, you may unsubscribe now.
Email delivery powered by Google
Google Inc., 1600 Amphitheatre Parkway, Mountain View, CA 94043, United States