---
The Morning Coffee – 17 October 2014
Posted: 16 Oct 2014 08:09 PM PDT
I have a good reading list for you this morning, including a look at a new way to go from idea to published book via e-singles, one author's experience with seeing her serious lit book be classified as genre, copyrights run amok, the only liveblog of Apple's launch event which is worth reading, and more.
The post The Morning Coffee – 17 October 2014 appeared first on The Digital Reader.
Are Publisher Advances Truly Critical?
Posted: 16 Oct 2014 03:19 PM PDT
The argument against Amazon seems to rest on the proposition that if trad-pubs aren't awarded excess returns, over and above the actual free-market value of their products, then there will be no money to pay authors to write "serious literature," irreparably harming our culture and society.
This is really a very dense proposition with all kinds of unstated and unanalyzed assumptions behind it. It would take a lengthy and complex essay to thoroughly deconstruct all these notions, and few would have the patience to read it. But it's worthwhile to quickly review some of the main issues.
1. How much "serious literature" do advances truly subsidize?
There isn't any comprehensive public accounting but from various sources we get a general impression of where advances actually go. A large portion is paid to popular novelists like James Patterson and John Grisham and popular nonfiction authors like Edward Klein. Another big slice of the advance pie is served to entertainment and sports celebrities who put their names to various books that are supposedly nonfiction. And prominent politicians often get remarkably large advances for memoirs and ruminations. Calling any of this "serious literature" is stretching the term to the point of rupture.
To be sure, there are truly serious writers of nonfiction, such as Doris Kearns Goodwin, who get good advances — but only if they're working on "bankable" books that are almost sure to have wide appeal and bring in big sales figures. This is not a big slice of the pie, however.
And there are superb, highly-honored authors who have a great deal of difficulty in getting advances large enough to support research on serious topics that aren't guaranteed of a large market. In recent years the "midlist" author has been relegated to a sweatshop ghetto, where $30,000 counts as a good advance, regardless of the literary merit of the work.
So overall, publisher advances do fund some genuinely serious literature — but the bulk of advances go for books that don't qualify under any reasonable definition of the words, and many books of high merit cannot attract a significant advance because sales prospects don't seem to be very bright.
2. Why do the publishers have to act as investment banks for books anyway?
The publishers rig the game in such a way that in most cases authors can turn only to them for advance funding, even for books that clearly have major sales potential. They do this for bestseller-potential titles by setting royalty rates so low that there's little chance that the nominal royalties will ever catch up with the advance. Thus if a bestselling author financed her book from another source she couldn't make enough from royalties on sales to pay a good return on the investment; the publisher would simply appropriate most of the value of the book. (Big-name authors could push back on royalty terms, but most find it simpler and safer just to go for big advances.)
For midlist titles the publishers simply exercise their market power to avoid promoting them enough to make for good sales prospects. Thus their royalties usually aren't enough to pay off even their meager advances. Again the publisher is assured of a large share of the value because his costs are kept low. The value of any particular midlist book may be low, but it does mount up when a lot of books are involved.
This is not of course what we hear from Foer or other attempts to justify trad-pub without actually understanding much about the business. It's only the benign, benevolent publishers who would advance authors money against unwritten books, they claim. This is remarkable nonsense. Players in finance long ago learned how to make good profits by investing money in risky propositions. If the publishers ever paid economic royalty rates there would be no shortage of sources of advance funding for books that had even modest prospects for success. And the financial system would certainly do a better and more efficient job of it.
Regardless of royalty rates of course, speculators are not going to be attracted to the book that's socially important but has little prospect of sales. But publishers very rarely finance these either, except on the whim of someone in a position of power. Authors of serious but not popular books have to look to foundations, their day-job employers, or their own resources. It's hard to see a real alternative for such books.
3. Is Amazon threatening the excess profits publishers need?
Trad-pubs need to collect substantial economic rents — excess profits over and above their costs of operations and capital — so they can bestow generous largess on worthy authors. Or so they and their apologists would have us to believe. (Most of them no doubt believe it themselves, as they don't seem to be very deeply knowledgeable or analytical.)
This isn't a place for a thorough analysis, but analogies can be illuminating. How about an analogy with the Great Satan itself, Amazon?
Like most diversified corporations, Amazon doesn't break out results by division or line of business in its reports to the SEC. The overall outlines of how the business operates are clear, however (and very different from what most people imagine). As is usually the case for "growth companies," Amazon's objective is to grow sustainable free cash flow from operations (not accounting profit) as rapidly as possible and to do so it reinvests most of its free cash flow in expanding operations. (The idea that Amazon has to cut its growth so it can report profits and pay dividends is market lunacy; as long as it can keep growing its stock will rise. Only if investors lose confidence in its growth prospects will the market for its shares soften.)
How does Amazon generate large cash flow? Not by pricing high, but by buying cheap and selling large volumes. The publishers, however, believe it serves their objectives to charge high unit prices. Amazon thinks the publishers lose more through reductions in the number of books sold than they gain by jacking up the price per book — and they know that Amazon does. In the end Amazon believes that both they and the publishers will make more by selling more books at lower price per book, and they have data from their immense volume of book sales to back this up. Data-schmata, the publishers say: they simply want higher net prices per book.
That's all there is to the dispute, at base. Amazon isn't trying to cut publisher profits, but they want to change the strategy for getting them. They claim (no doubt sincerely) that this will be at least equally good for the publishers — as well as better for Amazon. Make the pie bigger, they say, and there will be enough for all. And in the process customers will be better off (unless they get psychic income from paying more rather than less for a book, as some no doubt do), which is also part of Amazon's strategy.
The publishers no doubt have their reasons for resisting Amazon's embrace, but we have to guess what they are because instead of explaining to us they've been encouraging the likes of Authors United and David Streitfeld to put out confused and confusing red herrings. One thing we do know, however, is that it doesn't really have anything to do with protecting the wellsprings of serious literature.
(Disclosures: I have a business economics and management background, but not in publishing. I've published in the past with W.W. Norton but in recent years have self-published on Amazon's CreateSpace and KDP platforms. I have no beneficial interests in any firm engaged in publishing or book retailing.)
The post Are Publisher Advances Truly Critical? appeared first on The Digital Reader.
Apple Launches New iPad Air, iPad Mini, Will Start Pre-Orders Tomorrow
Posted: 16 Oct 2014 04:08 PM PDT
Apple's tablets got their annual refresh today. The gadget maker has launched a couple new tablets, and they will be putting them up for pre-order tomorrow with shipments to start next week, although only one is worth buying.
The new iPad Air 2 features a faster CPU and a better rear camera, and both tablets feature a TouchID sensor integrated into the home button and more storage. The prices will remain the same, and the previous models are going to hang around and sell for a lower price (last year's iPad Air, for example, now costs $399).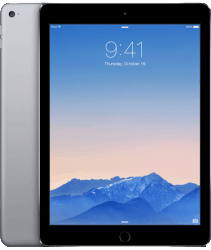 To start, the iPad Air 2 continues Apple's push towards ever thinner tablets. It measures a mere 6.1 mm thin, 18% thinner than its obviously over-sized predecessor. It features an improved display that reduces reflection by 56% while providing sharper images, and a faster A8X chip. Said chip is built on a 2nd-generation 64-bit architecture which features a GPU 2.5 times faster than that of the A7 and is 40% faster than the A7 in terms of CPU performance.
The iPad Air 2 also features a new 8MP iSight camera (up from 5MP) which has an f/2.4 aperture and can record 1080p HD video. As was hinted in yesterday's leak, the camera is also supported by new drivers which will enable users to shoot time lapse and 120 FPS slow motion video. It can also take 43MP panorama shots and take a quick burst of photos.
The iPad Air 2 will go up for pre-order tomorrow and ship next week. The wifi model will ship with 16GB/64GB/128GB of storage with prices ranging from $499 to $699. The 4G/LTE model will have the same amount of storage and cost between $629 to $829.
Along with the new iPad Air 2, Apple also unveiled a new iPad Mini today in California. It's also going up for pre-order, and if the asking price of $399 is too high you can also get the previous model for $299.
The new iPad Mini features the same bump in storage as the iPad Air 2, but aside from that it doesn't have a whole lot of improvements over last year's model. It has the fingerprint sensor, but aside from that Apple's comparison chart shows that the new iPad Mini is really only a marginal improvement on the older model.
I choose to see that as good news; it makes it easier to choose the older and cheaper model and save $100.
The iPad Mini 2 is available now at $299, and starting tomorrow you will be able to pre-order the iPad Mini 3 for $399 and up. The wifi model will ship with 16GB/64GB/128GB of storage with prices ranging from $399 to $599. The 4G/LTE model will have the same amount of storage and cost between $529 to $729.
The post Apple Launches New iPad Air, iPad Mini, Will Start Pre-Orders Tomorrow appeared first on The Digital Reader.
The Seven Deadly Social Media Sins, and Why Authors Should Avoid Them
Posted: 16 Oct 2014 11:16 AM PDT
Authors and publishers are frequently told that they should engage with readers on social networks, but sometimes it's not easy to know the right way to go about it. And so when this video from Pittsburgh ad agency Brunner crossed my desk this morning, I thought it was worth watching and sharing.
The following video (found via Digiday) was written with brands in mind, but I think most of the points apply just as well to authors and publishers. After all, when we're on Twitter, we (and I am including myself) should conduct ourselves with a similar level of care.
The video explains what we shouldn't do, and it details why. According to Brunner, the top 7 sins are:
Speaking with multiple voices
Paying for likes
Liking your own content
Taking too long to respond
Disappearing negative posts
Taking undue credit, and
Overselling
I won't ask if you've committed any of the sins on this list so long as you promise not to point out my errors. Sound good?
TBH, I am guilty of number four, and one could argue that I am also a frequent violator of number 7, but that point would be up for debate. One of the competing schools of thought for social media promotion says that news sites are supposed to be pushy, and by that standard I am not nearly pushy enough.
The post The Seven Deadly Social Media Sins, and Why Authors Should Avoid Them appeared first on The Digital Reader.
Best-Selling Indie Author Barbara Freethy Launches Print Imprint
Posted: 16 Oct 2014 09:57 AM PDT
Barbara Freethy announced on her blog earlier this week that she had started a new imprint to oversee publication of her works in print formats. The latest addition to Freethy's Fog City Publishing company, Hyde Street Press, will have its titles distributed by Ingram Publisher Services.
As one of the few authors to claim membership in the million book club in both the Nook Store and the Kindle Store, Freethy was recently named Amazon KDP's best selling author of all time. According to the press release she has sold 4.8 million ebooks since going indie in 2011, and now she is expanding her empire to include paper books.
Freethy says on her blog that she had been working with Ingram for several months on this venture. "Since I began independently publishing my books, I've wanted to reach the large contingent of readers who still like to browse their local bookstores or retail outlets for books, but it was a difficult goal to reach–until now, she said. "With Ingram's help, I'll be able to reach those readers, wherever they like to shop."
According to the press release, Hyde Street Press is set to release six to eight titles next year. The first 4 titles will be released in spring 2015 include books from Freethy's Callaway Series: On A Night Like This,So This Is Love, Falling For A Stranger and Between Now and Forever.
Freethy's not the first author to launch her own imprint, and she certainly won't be the last. In fact, it is fairly common for an indie author to list their works under a publishing imprint rather than their own name. A brief check of the Author Earning Report from July shows us that 13% titles on the Kindle store's best seller lists came from publishers with a single author, while 25% came from indie authors.
While it would be difficult to prove. it is highly likely that most of that 13% are actually indie authors with the entrepreneurial drive to also craft a publishing imprint.
The post Best-Selling Indie Author Barbara Freethy Launches Print Imprint appeared first on The Digital Reader.
Hands On With the Google Nexus 9
Posted: 16 Oct 2014 07:46 AM PDT
Google announced their latest Android tablet earlier this week, and while the English language blogosphere is still waiting to touch the winder-tablet a few lucky souls in Vietnam have gotten their hands on this 9″ tablet.
Sforum has posted a hands on video of the Nexus 9. It doesn't exactly share a lot of the more intricate details, but the video does give a good idea how the Nexus 9 will look in the real world.
But if video is not your thing, at the end of the post you'll find photos from another Vietnamese blog, Tinhte.
This mid-sized tablet is made by HTC, and it runs Android 5.0 Lollipop on an Nvidia Tegra K1 chip with 2GB RAM and 16GB internal storage. Its 8.9″ display has a screen resolution of  2048 x 1536, and the tablet also sports a pair of cameras (8MP and 1.6MP).
Weighing in at 425 grams, the Nexus 9 measures 7.9mm thin and has a 6.7Ah battery. It's going to go up for pre-order on 17 October. The Wifi model will cost $399, and the  3G/LTE model will cost considerable more.
That high price and high end spec list makes this tablet a rather odd replacement for the Nexus 7, does it not?
To be honest I am not sure that last year's Nexus 7 is actually going to be replaced; the 7″ tablet market is so glutted that you can find last year's Nexus 7 as a refurb for under $130. That kills any value in launching a new model, which is why I think that Google has decided to replace their 7″ tablet with a 6″ smartphone.
Yes, I would bet that the Nexus 6 is in certain ways a replacement for the Nexus 7. With a price tag of $650 (there's no Wifi-only version), it's certainly not a replacement in kind but it's about the same size.
It's a shame about the price, though; I would have wanted to try a 6″ Nexus tablet. The longer and narrower screen geometry could have made for some interesting one handed usability.
The post Hands On With the Google Nexus 9 appeared first on The Digital Reader.
You are subscribed to email updates from The Digital Reader
To stop receiving these emails, you may unsubscribe now.
Email delivery powered by Google
Google Inc., 20 West Kinzie, Chicago IL USA 60610