---
The Morning Coffee – 17 December 2013
Posted: 16 Dec 2013 09:32 PM PST
Top stories this morning include a post on why you shouldn't read The Hobbit (link), a roundup of feed reader services (link), the first 3 installments in Dean Wesley Smith's series on thinking like a publisher (link), a look at what newspapers were doing wrong 50 years ago (link), and more.
The post The Morning Coffee – 17 December 2013 appeared first on The Digital Reader.
Jodge Cote Orders DOJ, Apple Back to the Court After They Can't Resolve Apple's Complaints
Posted: 16 Dec 2013 04:51 PM PST
Apple's rear
guard action in the ebook price fixing anti-trust lawsuit entered a new round late last week.
The US Dept of Justice released a letter late last week responding to Apple's legal filings and complaints about Michael Bromwich, the court appointed external monitor. The DOJ described Apple's efforts as "a systematic and untoward campaign to publicly malign Bromwich and prevent him from carrying out his responsibilities". It's implied that this effort is in support of  the appeal Apple filed last Thursday, which Apple is hoping will overturn the 10 July ruling that found Apple guilty of conspiring to raise ebook prices.
In short, the DOJ said that Apple was grand standing. Funny, that's what I wrote a couple weeks ago.
The letter, which was signed by U.S. attorney Lawrence Buterman, goes on to add that the DOJ had not found any valid issue among Apple's complaints:
"The United States and Plaintiff States have reviewed Apple's filings, and have spoken on multiple occasions with both Apple and Mr. Bromwich concerning Apple's objections," Buterman wrote. "Based on our review, Mr. Bromwich's actions to date have been wholly within the scope of his authority under the Final Judgment, and at all times appropriate and consistent with his impeccable reputation."
This latest dust up comes as a result of of a motion Apple filed in late November. Apple complained about the fees charged by Michael Bromwich, the court appointed anti-trust monitor, and with the manner in which he was doing his job.
Apple wasn't too happy with the fees he was charging nor with the way Bromwich was going abut his duties. Apple complained that he was acting as if he was "an independent investigator whose role is to interrogate Apple personnel about matters unrelated to the injunction in an effort to ferret out any wrongdoing, all at Apple's expense".
Judge Cote lightly rebuked Apple for that filing, telling Apple about a week later that they should have raised the issues with the DOJ and not with the court. But when DOJ officials reached out to Apple to discuss its concerns, according to Buterman  Apple "refused to articulate how it wanted the External Compliance Monitor to proceed moving forward."
Apple was also unable to explain what resolution it wanted on the fee dispute; instead, Apple's attorneys "repeatedly stated that it had broader 'constitutional' and other concerns with the trial and the imposition of a monitor." Buterman also noted that Apple has not responded to Bromwich's email which attempted to resolve the conflict.
As a result, this case is at another impasse and will end up back before the judge.
After a phone conference Friday afternoon, Judge Cote asked Apple and the DOJ to submit briefs by the end of the month, and she scheduled oral arguments for 13 January. Judge Cote also denied Apple's request for a stay of the original 10 July ruling which found that Apple had conspired to raise ebook prices, meaning that Apple has no legal defense for their ongoing refusal to cooperate.
At this point the case is at a standstill as we wait for Apple's day in court. As much as I would like to prejudge this case, it's too soon to say how the judge will rule.  As one reader pointed out when this topic last came up, not all legal experts are convinced that the DOJ had a solid case. (Thanks, Mackay!)
image via Flickr
The post Jodge Cote Orders DOJ, Apple Back to the Court After They Can't Resolve Apple's Complaints appeared first on The Digital Reader.
eReatah Relaunches as Entitle – Still Won't Let You Download the eBooks They "Sell" You
Posted: 16 Dec 2013 11:40 AM PST
When
eReatah launched their book club style subscription service in early September they promised that users would be buying and owning ebooks rather than paying for access in the likes of Spotify, Oyster, and the like.
This service is leaving beta this week with a new name and a redesigned website (the old one was horrendously bad), but sadly they are still no closer to keeping that promise than they were 3 months ago.
Entitle, as eReatah is now known, has raised $5.3 million in capital, and it offers a subscription plan that more closely resembles Audible than Oyster. This startup has a catalog of more than 100,000 titles, including both backlist and frontlist works from HarperCollins, HMH, IPG, Ingram Content Group, and Simon & Schuster.
It sells a subscription plan that lets customers add 2 to 4 titles per month to their library. Prices start at $15 per month, and the ebooks can be read on Entitle's apps for Android, iPad, or iPhone.
Entitle is boasting that they offer recent releases from major authors including the likes of Stephen King, Dan Brown, Doris Kearns Goodwin, Walter Isaacson, and Janet Evanovich. This is a claim that Oyster and Scribd  will have trouble matching with their Netflix-style subscription plan, so I'm sure that it's going to appeal to a lot of readers.
Unfortunately, this service suffers from the same limitation of Oyster and Scribd. Like its competitors, Entitle doesn't actually sell you the ebooks. Sure, you can access the ebooks after your subscription expires, but you are stuck with using Entitle's apps.
Want to read on your ereader? Sorry, that's not possible. Want to download a copy for safekeeping? You can't do that either. Would you like to read on your Windows smartphone? You can't because Entitle hasn't released an app for that platform yet.
Do you want to remove the DRM? Sorry, that's not possible, which means that Entitle isn't really selling the content. Like Oyster and Scribd, Entitle is selling access to the content.
And as recent events have shown us, so long as the vendor controls access to the content you don't actually own it. it was only yesterday that Boing Boing informed us about an Amazon Video customer that lost access to a video when Disney yanked the rights.
The customer was under the mistaken impression that he had bought the video, but apparently that was not the case:
Bill sez, Last "December I bought some favorite Christmas specials for my kids with the idea they could watch them every year. Went tonight to watch one ('Disney Prep and Landing 2' if you're curious) and it was gone from our library and couldn't be found on the site at all. Amazon has explained to me that Disney can pull their content at any time and 'at this time they've pulled that show for exclusivity on their own channel.' In other words, Amazon sold me a Christmas special my kids can't watch during the run up to Christmas. It'll be available in July though!"
Update: Amazon has worked to restore access to the content they took away (AllThingsD). That's good, but it doesn't change that they took it away in the first place. Also, this is not the first time that Disney has taken back previously purchased content (AppAdvice).
Like Entitle, content in Amazon Video is trapped inside the vendor's apps. That's what made it possible for Disney to take back the content that was "sold", and Entitle is stuck in a similar position.
I'm not saying that Entitle is going to have the same problem, but I am saying that until you can get the content out of their apps, until you gain control, you don't actually own it. This issue is why I don't "buy" videos from Amazon, iTunes, or most other services, and it is why I am avoiding Entitle.
What about you? Do you think this is a good value, given the risks?
Update: Entitle is saying that, if you use a trick (which I have never heard of before), you can take the ebooks you downloaded to an Entitle app and then sideload them into another app which supports Adobe DE DRM. This assumes that all the components of the DRM process work correctly, that you have the original device, that the app still works, and that Entitle's VendorID is still valid. If one of those break then you cannot transfer the ebook. It's a long way from downloading ebooks the way that Amazon, Kobo, and B&N allow.
The post eReatah Relaunches as Entitle – Still Won't Let You Download the eBooks They "Sell" You appeared first on The Digital Reader.
Datawind Launches a $38 Android Tablet in the US
Posted: 16 Dec 2013 09:42 AM PST
Datawind, the
tech partner behind India's Aakash educational tablet program, is releasing their first tablet in the US this week.
The UbiSlate 7Ci attempts to answer the question: How cheap is too cheap?
This 7″ tablet costs a mere $37.99 when bought from Datawind (plus $9.99 shipping), and I wouldn't expect to be amazed by the performance, build quality, or components. The 7Ci runs Android 4.0 ICS on a single-core 1GHz CPU with 512MB RAM, a VGA webcam, Wifi, almost no storage, and (most importantly) no Google Play access.
Its 7″ screen has a resolution of 800 x 480, far below what you should look for on any decent quality budget tablet. This tablet also has a microSD card slot, which is a good thing given that much of the 4GB of internal storage is taken up by the Android OS firmware.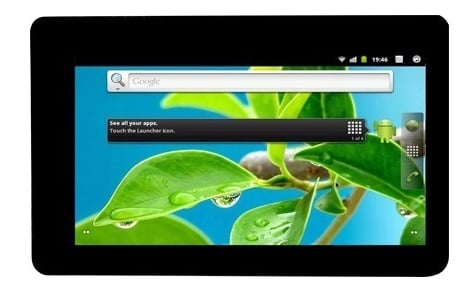 And worst of all, this tablet lacks Google Play. That's going to make it harder for users to get apps and content (but not impossible). On the other hand, perhaps not having Google play won't matter much; this tablet is underpowered by today's standards so it probably can't run most apps.
This tablet is truly going to be a stinker by the standards of 2013, but what else would you expect from the price?
The post Datawind Launches a $38 Android Tablet in the US appeared first on The Digital Reader.
Amazon's Multi-Million Dollar Publishing Experiment Fizzles as Indie Titles Claim Amazon's Best-Seller List
Posted: 16 Dec 2013 08:03 AM PST
We still
have a couple weeks left in the year so this might be premature, but Amazon has just posted their list of the best-selling books of 2013.
This year's list looks very different from last year's, which was dominated by 50 Shades of Gray. This time around mystery and suspense ruled, with Dan Brown's Inferno taking first place. This is the third time he's claimed that position, with the first being The daVinci Code in 2004.Here's the top 10 from the adult list:
Inferno by Dan Brown
And the Mountains Echoed by Khaled Hosseini
The Cuckoo's Calling by Robert Galbraith
The Husband's Secret by Liane Moriarty
Lean In: Women, Work, and the Will to Lead by Sheryl Sandberg
The Hit by David Baldacci
Sycamore Row by John Grisham
Entwined with You by Sylvia Day
Never Go Back by Lee Child
The Storyteller by Jodi Picoult
And here's the top 10 from the YA/child list:
Allegiant by Veronica Roth
The House of Hades by Rick Riordan
Diary of a Wimpy Kid: Hard Luck by Jeff Kinney
Rush Revere and the Brave Pilgrims: Time-Travel Adventures with Exceptional Americans by Rush Limbaugh
Never Too Far by Abbi Glines
Out of Breath by Rebecca Donovan
Clockwork Princess by Cassandra Clare
Forever Too Far by Abbi Glines
Twisted Perfection by Abbi Glines
The Son of Sobek by Rick Riordan
You can find the complete lists over on Amazon's website.
I've been looking at the list this morning and I noticed something interesting. Of the 40 titles listed, only one was published by Amazon (so far as I can tell). That would be Out of Breath by Rebecca Donovan, which reached number 6 on the YA list.
I find that detail rather interesting because by my count no fewer than 9 titles were published by indie authors. (I could be wrong; some of the smaller imprints mentioned might or might not be owned by the author in question.)
Nearly a quarter of the titles on the lists were published by independent authors. (What's even more interesting is that 2 authors, Morgan Rice and Abbi Glines, took 6 spots on the YA list all by themselves.) That's more than some of the major publishers can claim, but more importantly it's more than Amazon can claim.
As you might recall, a couple months ago Larry Kirshbaum left his position as the head of one of Amazon's imprints, Amazon Publishing. I didn't think much of the speculation which at the time suggested that Amazon's publishing efforts had fizzled, but now that Amazon has shared their best-seller lists I might have to change my mind.
The above lists has arguably shown that Amazon is not any better at picking and promoting books than any other publisher, even with Amazon's home court advantage of owning the retail operation.
If Amazon's goal is to disrupt publishing then you would think they would have to do a better job than existing publishers.  That did not happen in 2013.
Would anyone care to predict whether it will happen in 2014?
The post Amazon's Multi-Million Dollar Publishing Experiment Fizzles as Indie Titles Claim Amazon's Best-Seller List appeared first on The Digital Reader.
You are subscribed to email updates from The Digital Reader
To stop receiving these emails, you may unsubscribe now.
Email delivery powered by Google
Google Inc., 20 West Kinzie, Chicago IL USA 60610